Salespage Snapshot: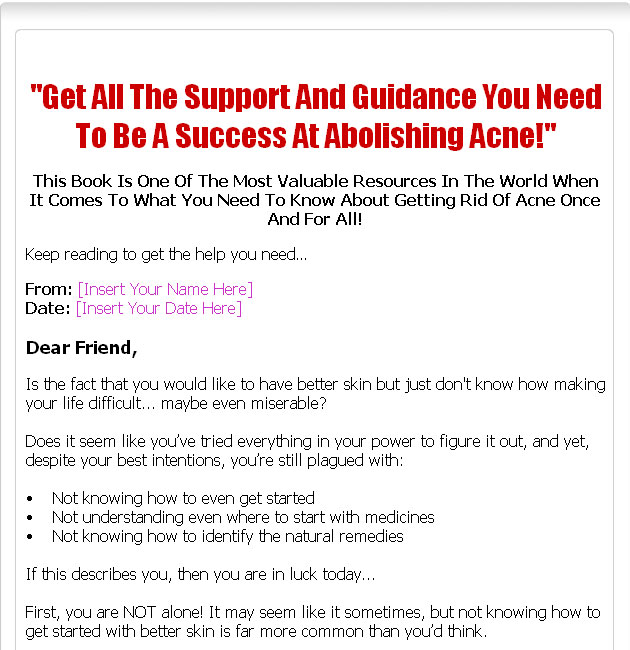 >>> Click Here To View Full Sales Page…
Table Of Contents
Foreword
Chapter 1: The Basics
Chapter 2: Acne Medicines That Work
Chapter 3: Quick Tips To Get You Started
Chapter 4: Myths
Chapter 5: Change Your Lifestyle
Chapter 6: What To Eat
Wrapping Up
Sample Content Preview
Chapter 2: Acne Medicines That Work
Synopsis
Acne is a sort of skin lesion caused by blockage of sebum gland follicle duct. The gland gets infected by P.Acnes, a bacterium discovered naturally in the skin. There are a lot of medicines available in the market for acne cure. The medicines are generally available as acne creams, acne lotions, acne cleansers, acne pills, acne injections etc. The acne cream components might include the accompanying medicines.
Medicines
Benzoyl peroxide, triclosan and chlorhexidine gluconate are antibacterial drugs that kill the bacteria present in acne. Benzoyl peroxide acne lotion is thought to be the best medicine and has a high effectiveness rate of almost 75%.
Salicylic acid, glycolic acid and additional mild acids acne lotions work by peeling skin on a micro level and thereby opening the pore. They're utilized for mild to moderate acne.
Erythromycin, clindamycin and tetracycline are antibiotics that are either applied topically in the form of acne lotions or taken by mouth in the form of acne pills. They're utilized to kill the bacteria. However P.Acnes has acquired resistance to most antibiotics. Antibiotics are given in cases of serious acne along with benzoyl peroxide acne lotion.
Cyproterone, drospirenone and cortisone are given in hormonal treatment for acne. They're configured to cut back the production of sebum. Hormone treatment is more effective in women.
Tretinoin, adapaline, retinol and isotretinoin are retinoids. They're available in the form of acne lotions or acne creams. They're designed to regulate the life cycle of follicle cells to preclude hyperkeratinization of follicle cells.
All these are available as acne lotions, acne cleansers, acne creams, pills, injections and so forth. Many are available over the counter. Self medication may be dangerous. Consult your physician before using any medicine listed here.
There are a lot of dietary supplements like Acuzine available in the market to aid the medicines listed above. They work by supplying vital components required by the skin to recover. They might consist of components like anti-oxidants, vitamins E & C, hydrolyzed collagen, ALA, DMAE, Aloe vera, Bioperine and so forth.
Chapter 3: Quick Tips To Get You Started
Synopsis
Here are 5 hints for taking control of your acne beginning now.
Some Hints
1. Physical exertion – Keeping in shape may help fight acne by driving back negative stress levels that may come from negative self-regard and depression. But, a few safeguards need to be in place to ward off acne that may result from your physical exertion routines. Watch what you put on your body with reference to clothing, sports gear and equipment.
For instance, tight lycra and nylon exercise outfits may look great in the movies and on magazine models, but if you're susceptible to acne issues, avoid these synthetic fabrics that tend to trap in body moisture and heat resulting in a bacterium frenzy. Rather, choose loose clothing made of cotton or natural blends to let more air progress to your skin.
And when you're done with your workout, get out of clothing wet from perspiration or water sports. Shower and change into dry, clean apparel. And keep your sports gear and equipment clean, too. Dirty headgear, for example, may irritate forehead areas prone to acne issues. So toss headbands into the washer after physical exercise sessions.
2. Cosmetics – To avoid pore-clogging and skin annoyances that are similar to acne and that may lend to acne, utilize products labeled noncomedogenic or oil-free. Shimmering facial colors may contain a flaky mineral called mica that may cause skin irritations and choke off pores. Other additives in coloring that may induce similar reactions are coal tar derivatives, carmine and heavy cream in blushes.
More preventative measures include utilizing a lip gloss that promotes a matte finish rather than a high gloss for less pore-clogging; note the more the shine, the more then comedogenic material and the more the pores may choke off.
Beware that eye creams may bear heavier concentrations of moisturizers than regular creams and lotions, meaning they've greater potential to choke off pores in the surrounding facial areas.
3. Diet – fields of study demonstrate that diet doesn't play a role in either the cause or the treatment of acne. But, what is recommended for acne preventative care is this: what is best for your body is better for your skin, particularly since your skin is the largest organ of your body. So remember to watch your diet and eat healthy vitamins, minerals and additional supplements. This will help to prevent and help subdue acne breakout.
4. Hygienics – A healthy skin regimen ought to include no harsh scrubbing or over-washing, as this may cause possible skin irritation or potential over production of oil to replace what has washed off, choking off pores in the process.
Products with gentle exfoliation components are OK to utilize; i.e. not scratchy nut or fruit shell pieces that may tear skin. And skip alcohol products if possible; these may take off the top layer of your skin and cause your glands to produce more oil, choking off pores in the process.
If you do spot acne-troubled areas, don't mess with them. Remember that these are already weeks in the making, and squeezing or picking blemishes may force the tainted area to regress back inside, further afflicting the region and possibly leave a scar. If essential, seek help from a dermatologist for alternate treatments.
5. Shaving – Shaving for both genders is really an excellent way of exfoliating or removing dead skin to help with the prevention and spreading of acne rather than leaving the remains to choke off pores. And for some light acne cases already in process, shaving may help rid whiteheads and blackheads from the face.
A word of care: for areas with infection or high inflammatory activity (redness, sensitive, open acne, sores, etc.), don't shave. Or at the very least, utilize a shaving soap for sensitive skin!
Other Details
- 1 Article (DOC)
- 1 Ebook (DOCX, PDF), 27 Pages
- 1 Lead Magnet Report (DOC, PDF), 15 Pages
- 1 Autoresponder Email Messages (TXT)
- 1 Salespage (HTML)
- Ecover (JPG)
- File Size: 21,719 KB