Salespage Snapshot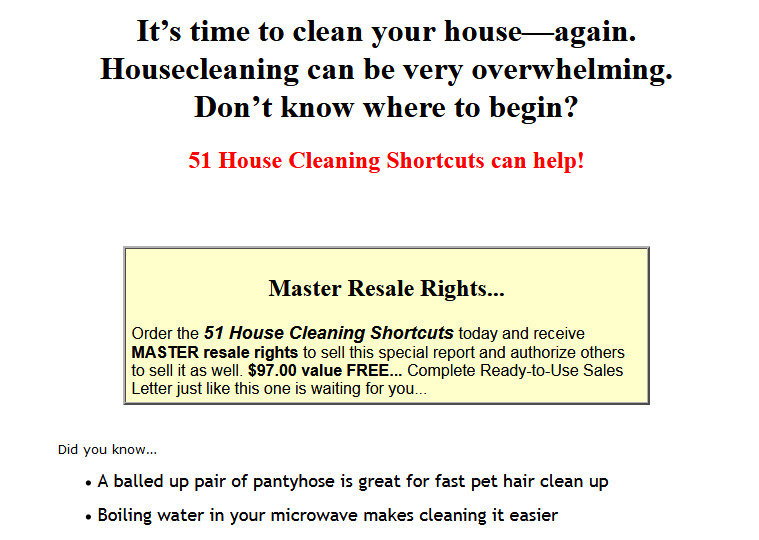 >> Click Here To View Sales Page...
Sample Content Preview
10. Sweep Entryways
Most entryways are small and take less than a minute to sweep. Grab your broom and dustpan and you'll be finished before you begin. You can even cheat and sweep dust onto the carpet, then use the carpet-sweeper to clean it up.
11. Shake out a Floor Mat
Floor mats are sometimes forgotten during cleaning. If you have an extra minute, grab a mat or two and shake them out outside. This will reduce the amount of dust in your home as well as keep those mats fresh and clean.
12. Collect Garbage in a Room
If you don't have time to clean a whole room but want to make it look a little bit better, clear out the garbage. Grab a trash bag or a waste paper basket and start stuffing. You'll find that this improves the look of a room dramatically.
GOOD HABBITS TO START
As you start developing simple housecleaning habits, you'll notice that your work will get easier and easier. This next set of tips will give you some great ideas of good habits to start.
13. Delegate
Housework can be a huge job. Learn to delegate. Make chore charts for everyone in your house. Even small children can help pick up toys and other things. As you learn that you don't have to do it all, housework will become much easier.
14. Fill the Sink
A good habit to start is filling your sink with hot soapy water every time you start to cook. This way you can "clean as you go." As you get done with each pot or dish, wash it quickly. This makes clean-up a snap.
15. Spray the Oven
Time for take-out? If there's a day when you're not using your oven, give it a quick spray of oven cleaner and forget about it. The next day, before you turn on your oven, give it a quick wipe down. You'll find that the baked on stuff comes off much easier.
16. Have a Charity Box
It's a good idea to keep a box or bag in your front closet that you put things you don't need anymore. This really helps get rid of clutter in your home. When the box is full, simply drop it off at your local good will store.
17. Rinse Your Plate
This may be a small tip, but it can help in big ways. If you simply make it a habit to rinse your plate after dinner (and have all family members do the same), it will make washing them a lot easier. No one likes trying to wash dried food off of dishes.
18. Tackle the Small Jobs
Housework can be overwhelming. Learn to break it down and tackle the smaller jobs first. As you do, each job will become easier. Also, if you clean the small messes before they get big, it'll be a lot easier to clean up.
19. Keep Cleaner in the Shower
A great shortcut for cleaning your tub and shower is to keep a bottle of shower cleaner handy. After you take a bath or shower, spray it down. You can take it a step further and keep a squeegee in it as well.
20. Fast Pick Up Before Bed
If you make it a habit to do a quick pick up before going to bed, it'll really help. You'll find that it's easier to wake up and feel good about the day if even one room is clean.
21. Line Your Fridge
If you make it a habit to line your fridge shelves with paper towels, it'll make it a lot easier to clean. This will work especially well in the crispers, as the paper towels will soak up any extra wetness.
22. Take a Trash Bag With You
As you leave the house, make it a habit to take the trash out. This is a simple tip, but why make extra trips if you don't need to? This is also a great job to delegate to a teenager. They're always coming and going anyway.
KITCHEN
Your kitchen gets used every day. Without maintaining small messes, you can have a big cleaning job every day. This next set of tips will help you keep your kitchen clean and manageable.
23. Microwave
Here's a good shortcut to cleaning your microwave: Fill up a cup of water and put it in there on high for a few minutes. The steam from the cup will loosen any stuck-on food, and then you can just wipe it away.
Other Details
- 1 Ebook (PDF), 19 Pages
- 1 Audio (MP3)
- 1 Salespage (HTML)
- Year Released/Circulated: 2020
- File Size: 3,713 KB
License Details:
[YES] Can be sold
[YES] Can be used for personal use
[YES] Can convey and sell Personal Use Rights
[YES] Can convey and sell Resale Rights
[YES] Can convey and sell Master Resale Rights
[YES] Can modify/change the sales page
[YES] Can be packaged with other products
[YES] Can be added into paid membership websites
[YES] Can be offered as a bonus for buying another product
[YES] Can be used to build a list (giveaway eBook then upsell Audio MRR)