Salespage Snapshot: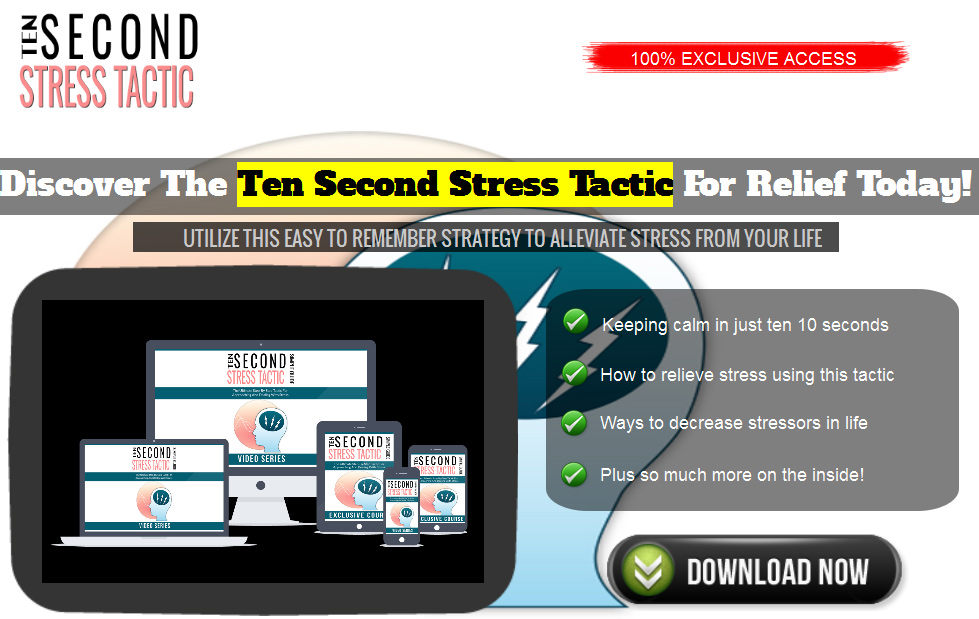 >>> Click Here To View Full Sales Page…
Sample Content Preview
Obviously, just about everybody wants to be successful and live a life full of happiness. You'd be hard-pressed to find somebody that wants to live miserably. But through the process of life, you'll start to feel overwhelmed, stressed, tired, short-tempered and perhaps even burned out. You'll come home from work, or finish your day off by feeling worn out, irritated, and lousy. In turn, your productivity will be down. And with that, you can't progress in life, to an extent.
If you let stress overwhelm your life and cause damage that you can't repair, it will prolong your goals and dreams, or maybe even crush them entirely. In all honesty, any career success, independent of your ultimate goal is truly not worth the negatives that the prolonged stress can create.
Countless people all around the world talk everyday about how they can't sleep at night because they find themselves overloaded with tasks to complete. Their stomachs are in knots as they try to juggle picking up the kids from school, and picking up that extra hour or two at work.
At the same time, a lot of people stick to their guns and refer to this "overly busy" aspect of their life as a prideful achievement. Juggling all of it continuously but deep down actually falling apart from the stress and overwhelm.
Sure, it's not a bad thing to balance a ton of tasks for a few short days to meet a deadline or get a lot of things down in preparation for something. But the whole "heroic" and "noble" pursuit of taking on too many things at the same time is without a doubt detrimental to both your mental and physical health, and your business and goals as well.
We often confuse business with productivity, and that's exactly what happens when we try to squeeze too much into one short day. We end up decreasing our productivity, and even the efficiency of our work. Not to mention, the whole process becomes a lot less enjoyable as a result.
The most amazing part of learning how to manage stress in an easy way is that you'll find yourself in your optimal learning and performance zone much more frequently than you were before.
Research has actually discovered that we have a specific zone in which we function at the most productive rate. Any time we spend outside of that zone because of stress and overwhelm, multi-tasking, or being distracted, is just time spent in mediocrity.
Every time you practice this strategy that I'm revealing to you today, you'll find that the blood is returning to your brain as each technique is signaling to the body that the fearful, stressinducing situation is over and the calm has returned.
Now that I've rambled enough about stress and the premise of it's creation, I want to move forward on to the actual tactic. However, to do that, I need to provide you with just a little bit of background for all of it to make sense.
Creating A Vision For Your Life or Business
Let me be realistic here with you, though I have been this entire time already. You need to create a vision for your life and business that is actually compelling to you. Something you can stick to, even if it's just short term. You need to have goals regularly that you can achieve and also goals that you work towards.
You should align your vision with your value and passion. This will help you to wake up with purpose each morning, ready to tackle the day and achieve your goals, even if it's just one step at a time.
This vision will help you to overcome any obstacle that happens to pop up in the way of your path to righteousness. It will help you to stay focused and on the right track. Whether you're already employed at a job, or you're working for yourself.
Even if you're trying to align yourself with what's happening in your personal life, the vision should apply across the board. You need to have an exciting vision in order for you to truly feel like you have purpose in life.
With that excitement comes another challenge…
How do you contain your excitement and align your goals so that they don't end up overwhelming you with long nights and weekends working?
I know that the feeling of overwhelm from finding direction and balance in life can be a good thing and also a bad thing. If you truly find the right thing and get your focus in line, it can create a level of "good" stress. Which will fuel your motivation and keep your passionate towards bettering yourself.
The problem with this is that too much too quickly can result in unnecessary stress in the form of a tight stomach, a more heavily beating heart, and so much more. Have you ever actually taken notice to the way that you body reacts to your different forms of excitement or stress, whether good or bad?
Some of the energy is good, but it needs to be channeled in the right ways and then utilized only when you need it to give you that extra boost.
Alright, so with all of that said, the following tactic is an incredibly powerful way to actually channel that energy.
Our focus here should already be to create positive stress and levels of excitement. So now you should channel that energy to become more productive and reduce the general "wear and tear" that this sense of excitement can have on your body.
So, what does this special trick consist of? Simple… breathing technique.
Now before you laugh, which isn't a bad thing, just bare with me here. When we feel stressed, our breathing usually becomes shallower. We tend to start breathing faster and less deep, and then ultimately only use roughly 20% of the oxygen in our lungs.
The result here is actually two-fold:
1. You only circulate a very limited amount of the oxygen that's in your body.
2. Your body goes into "defense mode" because of the shallower breathing which is often a signal of danger to our natural instincts.
To combat that scenario from fully taking over, you can simply try to stop what you're doing for just a few seconds. From there, just start breathing deep full breaths by inhaling slowly and rising (or puffing) your belly or chest out.
Put your hand on the top of your stomach and feel as it rises up and down. Breathe deeply, and slowly for about 10 seconds or so. Doing this sends signals to the body that the "coast is clear" and everything is okay. This will allow you to hopefully take better control of the situation before it gets the better of you. In turn, you'll be able to maintain in your high-productivity zone of focus and direction. The zone in which you can actually clearly think and act rationally towards situations.
At this point you may be thinking about how stupidly easy this is. And yes, it is! Since you know what the "10 second tactic" now consists of, let's practice it right now just for review.
Other Details
- 1 Ebook (PDF), 8 Pages
- 2 Audios (MP3)
- 2 Videos (MP4)
- 4 Squeeze Pages (HTML)
- 6 Promotional Ad Materials (Banners)
- Feature Images, Vrial Images Pack, Social Swipes kit
- Year Released/Circulated: 2016
- File Size: 103,537 KB
License Details:
1. You CANNOT put your name or pen on the product as the creator.
2. You CANNOT edit the contents of the product in any way
3. You CANNOT change the title and sub -title of the product.
4. You can sell the product (Report) i n PDF format .
5. You are granted the master resell rights, rights or to resell with personal use rights. Nothing else.
6. You CANNOT offer private label rights to this product. You are granted only the Master Resell Rights.
7. You can add the product into a membership site (paid only) .
8. You can add the product into your bundle or package and sell for a higher face value.
9. You can offer the Basic Resell Rights to the PDF Report.
11. You CAN give the product away for FREE , in exchange for an optin (email address) or lead.
12. You CAN offer the product as a bonus to anoth er product you are selling. Or as a bonus when people purchase through your affiliate link.
13. You CANNOT sell the product on auction sites such as eBay.com.
14. You CANNOT use sell product in a dime sale event , under any circumstances or situations at all .
15. You CANNOT sell this product as a WSO , under any circumstances or situations at all .