Salespage Snapshot: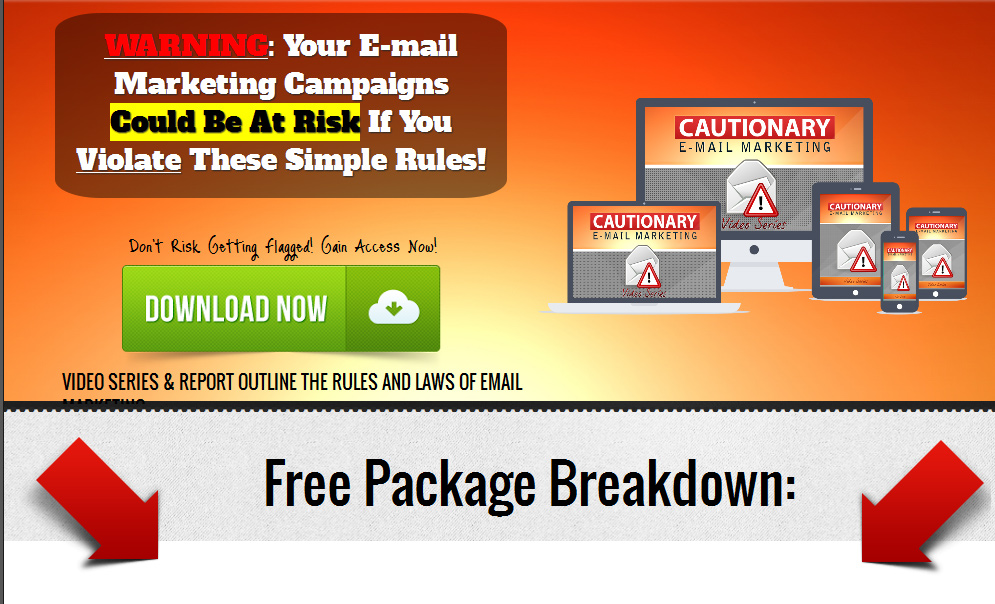 >>> Click Here To View Full Sales Page…
Sample Content Preview
There are a number of sites that promote or list different newsletters for people to subscribe to. You can also join up with other newsletter publishers with common target markets and list your newsletters together on each of the publisher's sites.
The implied endorsement is nearly the most powerful way to boost return on investment within advertising and email lists.
Presenting a great value to your niche market and becoming the "must have" newsletter is going to be important in building your list. This kind of value travels fast by word-ofmouth. Not to mention having a product, that is so attractive valuable tha people are raving after it.
The product that creates it value on it own and repays and doubles it´s value: after all you are not after the product solely, you are buying a value for yourself, a service , a solution.
Essential Rules For Successful (And Proper) Email Marketing
You own an online business (or you're on the way to owning one) and you know that to make money you need a list of people, a list of passionate buyers who are hungry for your offer and will devour it when you send it out.
How do you create such a list? And even more important how do you maintain your list of prospects?
It's not as easy as you probably thought at first. You must have a squeeze page where people opt in to your list. On that page you should tell your prospects that the information they provide will be kept private and that they will receive only the newsletters they subscribe to but not a whole lot of spam from different sources. Don't forget to use the double opt in model because people may not remember that they opted in to your list. Using the double opt-in method you ensure that all people on your list gave you the permission to send them your emails.
Your auto-responder email messages should be mini sales letters including a solid content to keep your list subscribed. And finally, you want to send the emails at a regular basis, but not too often, so your subscribers don't forget who you are, or worse, get overwhelmed by your messages.
It requires much time, testing and measuring to choose the right email marketing strategy and set it up in the right way but it is well worth the efforts in the end.
Let's talk now about 3 simple but incredibly important rules to set you on the right path with the email newsletter:
1. Keep the lines width up to 65 characters.
Most people read many emails every day. So, your purpose is to compose your email message so that it is not boring or fatiguing to read.
The last thing that your recipient wants to do is scrolling his eyes from one side of the screen to the other. No matter how good your content is, if it is fatiguing to read, it risks to be abandoned after a few lines.
The optimum width of the line is around 65 characters.
You just type 65 symbols, for example asterisks or dashes, across the top and then measure your text returns against this. MS Outlook Express, NoteTab and some other email programs allow you set the line wrap to any character width you require. So, you don't have to hit enter every time you think you need to.
Another thing to keep in mind is that some email programs force line wrapping at 60 to 65 characters on emails received. So if you send an email wrapped at 100 characters your reader will receive an email that is broken down. This makes it look unprofessional.
2. Don't write in ALL CAPS.
It's bad email etiquette. It's like you're shouting at your reader. Nobody likes to be shouted at and if you are trying to sell something at the same time, you won't make any sales, and even worse, you may lose some subscribers.
Some caps, underlining and bolding is necessary but don't abuse it! Too many caps, exclamation points, underlining and bolding work against you. An email all in caps would destroy the reader's confidence very quickly.
3. Always check your spelling and grammar.
Have you ever seen a website, sales page or email with spelling mistakes? What do you think about the professionalism of the owner or email sender?
Some people may not pay attention to the mistakes, but for some people one spelling mistake will completely destroy the credibility of the message.
It is very important to spell check your messages before sending them. And even better if you have someone else to proof read your message before you send it out.
A fresh look always helps discover the slips and mistakes that you might miss.
Your reputation and sales are in direct proportion with your messages.
The better your message is, the higher the credibility of your readers is and, thus, more sales you make. So, take the time to get it absolutely right.
Is Your Email Marketing Considered Spam?
Email marketing can be very effective as long as it is not viewed as spam. This is critical because when your email marketing is viewed as spam, it will not likely be read by the recipient and may not even reach the recipient if it is trapped by the Internet service providers spam filter. For this reason it is critical for business owners to work hard to ensure the email marketing they use is not viewed as spam by either the recipient or the recipient's Internet service provider. This article will take a look at email marketing and specifically how business owners can ensure their emails are not viewed as spam. The distribution list for an email marketing campaign is one of the critical elements which can help to ensure the emails sent by the business owner are not viewed as spam. Before this can be accomplished it is important to understand exactly what spam is. Spam is essentially email which is unsolicited and sent for the sole purpose of advertising or promoting a product or service. Internet users receive mass quantities of spam on a daily basis.
For some Internet users this quantity of spam is a huge source of frustration. Other Internet users have become so used to the amount of spam they receive that they barely even notice these emails. Neither of these scenarios bode well for business owners who are using email marketing campaigns to promote their products or services. Internet users who are angered by these spam emails may react harshly and report your emails to their Internet service providers. Internet users who do not even notice spam are likely to either automatically delete your emails and may block your email address to prevent future emails from getting through to them.
Paying special attention to your email distribution list and only including recipients who had specifically asked for additional information will help to keep your emails from being viewed as spam. One way to acquire email addresses for the purposes of orchestrating an email campaign is to ask interested customers to register with your website and specify whether or not they wish to receive future emails with additional information, advertisements or other useful tips. This ensures the recipients of your emails are genuinely interested in your products and services and are not likely to view your emails as spam.
Another way to ensure your emails are not viewed as spam is to offer recipients the option of being removed from the distribution list with each email. This is important even when the recipients specifically asked to receive these emails because they are entitled to change their opinion at any time.
Offering the email recipients the opportunity to remove themselves from the email distribution list whenever they want is worthwhile because it allows recipients to have some control in the situation.
This is a stark contrast to spam in which the recipients feel as though they have no control over the situation and no way to stop the spam from bombarding their inboxes on a daily basis.
Other Details
- 1 Ebook (PDF), 14 Pages
- 3 Graphics (JPG, PNG)
- 1 Squeeze Page (HTML)
- Twitter Tweets, Cheat Sheet, Email Series, Download Page, Affiliate Products
- Year Released/Circulated: 2016
- File Size: 7,488 KB
License Details:
1. You CANNOT put your name or pen name on the product as the creator.
2. You CANNOT edit the contents of the product in any way
3. You CANNOT change the title and sub-title of the product.
4. You can sell the product (Report) in PDF format.
5.You are granted the master resell rights, resell right or to resell with personal use rights. Nothing else.
6. You CANNOT offer private label rights to this product. You are granted only the Master Resell Rights.
7. You can add the product into a membership site (paid only).
8. You can add the product into your product bundle or package and sell for a higher face value.
9. You can offer the Basic Resell Rights to the PDF
10.You can produce audio and/or video content from the materials found in this product.
11. You CAN give the product away for FREE, in exchange for an optin or lead.
12. You CAN offer the product as a bonus to another product you are selling. Or as a bonus when people purchase through your affiliate link.
13.You CANNOT sell the product on auction sites such as eBay.com.
14.You CANNOT use sell product in a dime sale event, under any circumstances or situations at all.
15.You CANNOT sell this product as a WSO, under any circumstances or situations at all.