Salespage Snapshot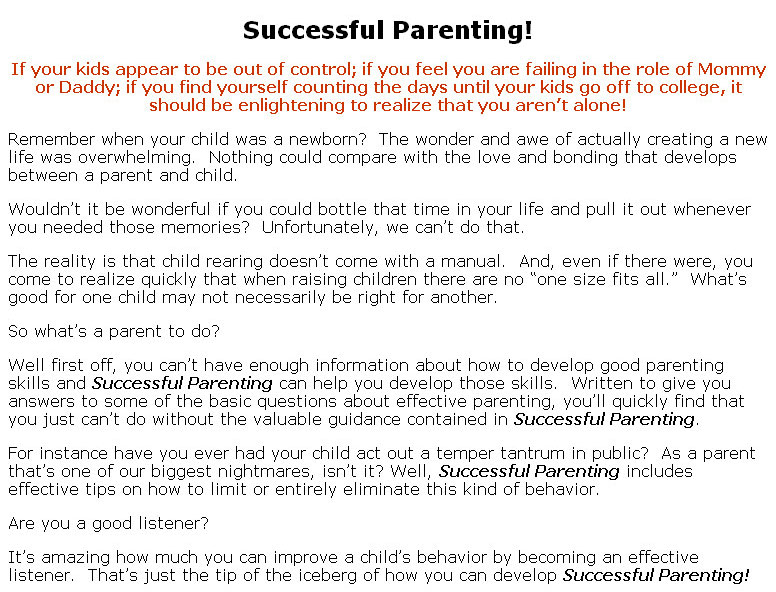 >> Click Here To View Sales Page...
PLR Ebook Table Of Contents
Handling Temper Tantrums
Conquering Thumb Sucking
How to Stop a Biting Habit
Building Self Esteem
How to Be A Good Listener
Making Quality Time for your Children
How to handle conflict
The Pitfalls of Physical Punishment
Teach Your Child Teamwork Thru Chores
Making Discipline Effective
Why Children Lie
How to Teach Respect
Setting Parameters
Healthy Hobbies to Share with your child
Don't Forget to Praise Your Child
PLR Ebook Sample Content Preview
Handling Temper Tantrums
How to Handle Your Child's Temper Tantrums
Every child undergoes a period when he is becoming less patient and is somehow frustrated at how limited his abilities can be. This disappointment and struggle to grasp greater control of things is vented through an activity referred to as temper tantrums.
Experts claim that temper tantrums often manifest in children aged one to three years. Temper tantrums are usually the nightmares of parents who often also grow impatient over their children's terrible behavior.
Temper tantrums are manifested through crying, screaming, and breath holding, hitting and kicking. The loud screams and cries usually annoy people. The parents almost always want to just run out of the location where their child is throwing tantrums. Alas, they can never do that.
Psychologists remind parents that temper tantrums are a normal part of the child's growing up years. Some children may throw up regularly, but there are also some who occasionally burst out.  It's also true that some children are more prone to developing the habit of throwing temper tantrums and some tend to cease the habit.
Other Details* Sales Page:
Included, HTML, MS Word Doc
* File Format:
MS Word Doc, PDF
* Number of Pages:
61
* Download File Size:
187 KB