Salespage Snapshot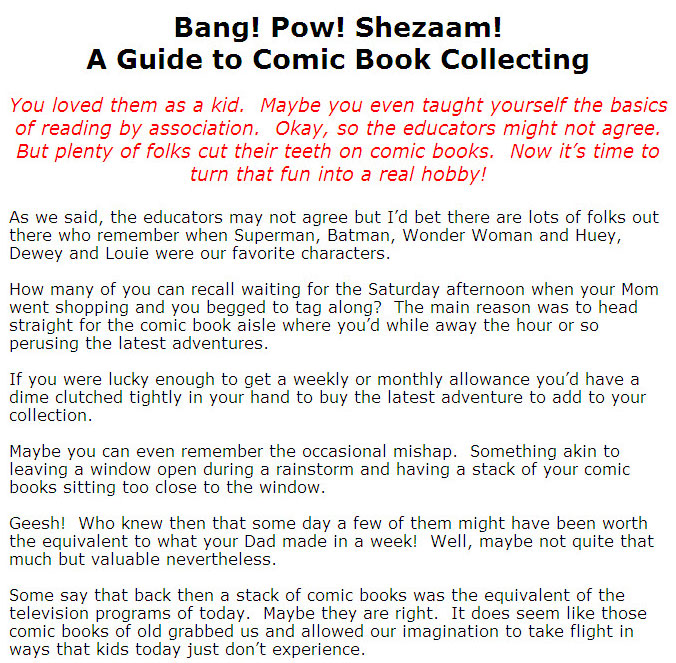 >> Click Here To View Sales Page...
PLR Ebook Table Of Contents
History of Comic Books
Comic Book Publishers
Pricing Guides
Buying Comic Books
Selling Comic Books
Comic Books for Kids
Comic Books for Adults
Grading Comic Books
Protecting Comic Books
Comic Book Appraisal
Comic Book Heroes
Comic Book Villains
Comic Book Collection Software
Comic Book Authors and Illustrators
Comic Books in the Movies
PLR Ebook Sample Content Preview
History of Comic Books
The History of Comic Books
The comic books that we know today are at least as old as movies. However, you have to consider that prehistoric cave paintings and woodblock prints.
The Start
Comic books started as visual narratives of social issues. Hence, the hieroglyphs and the cave paintings came into existence. However, with the improvement of writing techniques and the inclusion of letters, these stories became more informative and more entertaining to read. The improvement of press and the medium on which these stories were printed on gave rise to the comic books that we know.
Richard Fenton Oucalt created The Yellow Kid in 1896. He was the first to use conversation balloons in comic books. This innovation revolutionized the way stories were told. This set the standard for a new way to tell stories. However, it wasn't until a few decades of its life that comic books started to deviate from its traditional humoristic approach and delve into other genres.
The Themes
Comic books started as being humoristic. As it evolved, it delved into slightly deeper levels. It focused on the telling of the stories between children and their pets. From this part of history, the designations of family strips, kid strips, animal strips, boy-dog strips, boy-dog-boy strips, boy-family-dog strips, and anything else that could be derived from that genre. Such designations still exist today such as Calvin and Hobbes.
Other Details* Sales Page:
Included, HTML, MS Word Doc
* File Format:
MS Word Doc, PDF
* Number of Pages:
64
* Included Graphics:
Ecovers, PSD
* Download File Size:
2,744 KB