Squeeze Page Preview: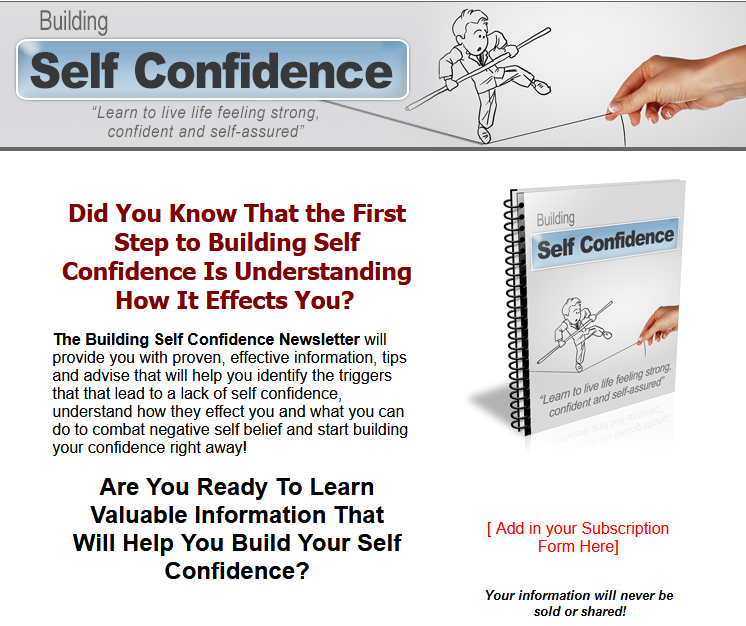 >>> Click Here To View Full Squeeze Page…
Features:
* 12 Issues Full Of Great Content
– Just add in your contact info and plug it in to your favorite auto responder. Each issue contains 500 words or more!
* One Ready To Go Squeeze Page
– Just add in your opt in form, upload to your server and your done!
* One Ready To Go Thank You Page
All ready to remind your subscribers to check their email and confirm their subscription. It even has built in revenue!
* 4 Researched Click Bank Products
These are top selling products on Click Bank that I've personally researched and chosen for each series.
Sample Content Preview
Hello "autoresponder code here",
In the last issue, we talked about simple steps to building self-confidence and self-confidence. In this issue, we are going to talk about overcoming a lack of self-confidence.
Self-confidence is one thing that most people think other people have except for themselves. As we have discussed before, all of us were endowed with special attributes though we rarely recognize these special gifts in ourselves.
We are all capable of being self-confident. It isn't something that was given to the person sitting next to you and not you even though sometimes it may seem that way. It's something we all have. While you may not possess it at the moment this doesn't mean that you don't have the capacity to develop it.
To overcome low self-confidence you must be able to have faith in yourself. You need to feel good about your being you. This all boils down from appreciating the things that we are capable of doing and in accepting the fact that some things just wont change however hard we try changing them.
One good example is a physical condition that you have to struggle with. A couple of things may help you with them but this would not erase the facts that your physical conditions may hamper you from developing your confidence.
Ask yourself, what makes you more confident?
Our standards of confidence will affect virtually all aspects of our happiness. Say, we find more value from being good looking then it is best that you start resolving your low self-confidence by making yourself more beautiful. Luckily, for us there are various methods of transformation and enhancements.
However, if your standards deal more on the innate beauty a person may have like goodness of attitude or skills and talents, you may start revamping yourself by strengthening these areas.
Low self-confidence is often aggravated by our failures. Failing is inevitable and it must be dealt with a light heart. If you always take your failures seriously and amplify them by ruminating at your mistakes, then it is likely that you are close to self-destruction. Practice an attitude that celebrates on victories but forgets about your own stupidities.
People are subject to committing mistakes, you must understand that. Your failures must not be used as an excuse to stop trying. Think of your losses as blessings that you must accept and be thankful that they come across your path. This is one proof that the Creator spends more time on you than you would have first imagined.
Instead of allowing these to trouble you, treat them as your learning grounds for not committing mistakes. Then don't allow these failures to hold back your growth.
You see, in the end it all lies in the attitude we take to deal things out. We must be very careful with the way we handle things. If we think of ourselves negatively and those feelings interfere with our lives, we will never overcome our lack of self-confidence.
Make sure you look for your next issue soon. We will be talking about gaining self-confidence from within.
Until then,
"your name here"
"your email address"
"your URL here"
Other Details
- 12 Part Autoresponder Email Messages (TXT, DOC)
- Squeeze Page (HTML, PSD)
- Ecover (PSD, JPG)
- Affiliate Programs List
- File Size: 10,300 KB