Squeeze Page Preview: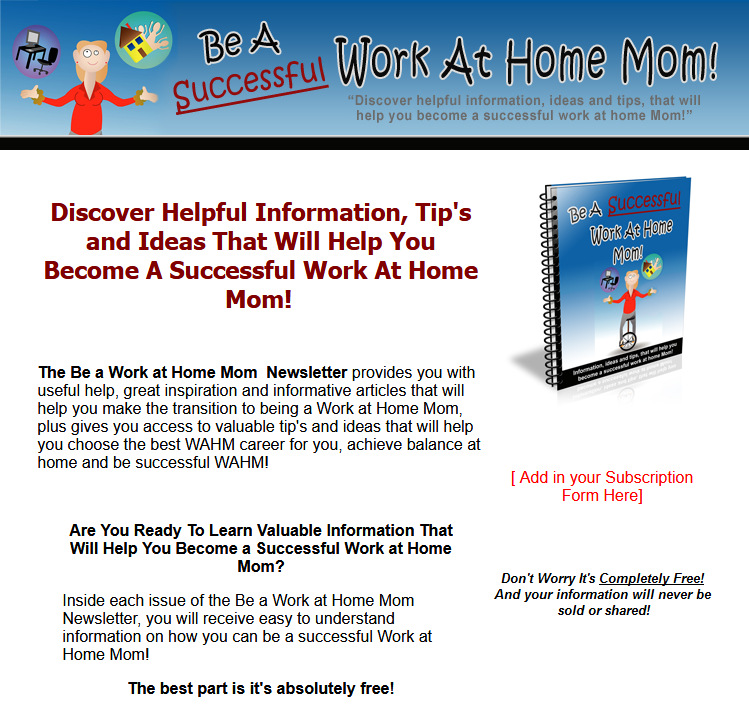 >>> Click Here To View Full Squeeze Page…
Features:
* 12 Issues Full Of Great Content
– Just add in your contact info and plug it in to your favorite auto responder. Each issue contains 500 words or more!
* One Ready To Go Squeeze Page
– Just add in your opt in form, upload to your server and your done!
* One Ready To Go Thank You Page
All ready to remind your subscribers to check their email and confirm their subscription. It even has built in revenue!
* 4 Researched Click Bank Products
These are top selling products on Click Bank that I've personally researched and chosen for each series.
* Extra Copy And Paste Article Content
You will get:
– Extra titles
– Extra opening paragraphs
– Extra closing paragraphs
– Extra fill in paragraphs
(these would make great tips that you add in to your follow ups system for more frequent contact with your readers)
Sample Content Preview
Hello "autoresponder code here",
In the last issue we talked about choosing the right WAHM business.
In this issue we are going to go over some of the drawbacks
associated with becoming a work at home Mom.
As we well know, working at home is an extremely fast growing trend
for women around the globe. However, many people jump on the
WAHM bandwagon without considering all of the drawbacks to working
at home. While some of us are naturally inclined to work at home,
others find the transition more difficult to make. As we have discussed
there are many benefits to working at home, but the drawbacks need to
be considered as well before you make your final decision.
The first drawback to looking for a work at home career is that your
current career may not easily transfer to a work at home situation. If you
work in the medical field or you are a police officer, being a WAHM
might not be an easy transition unless you are willing to change careers
entirely.
However, sales and administrative positions transfer well, as do
creative jobs like design and writing. For those in jobs that can't make
the work at home switch, you'll have to think carefully about what you
want to do when start working at home and start investigating that field.
Cost is another important factor in deciding if working at home is right
for you. Although many mothers start working at home to save on
childcare, there are added costs to being a WAHM. If you need health
insurance, it will have to come out of your pocket instead of being paid
by your employers. There are also many taxes that you will have to pay.
Your record keeping must be excellent in order to keep track of your
income and expenses, and to fill out your income tax return at the end of
the year.
Working at home with children is not always as easy as it seems. If you
have young children that aren't in school yet, it may be difficult to work
when they are awake. This can mean lots of busy nap times and late
nights to get your projects done when they are sleeping.
Of course family members can help take care of your children from time
to time, but the responsibility of both your children and your job will be
firmly in your hands. With older children, it is sometimes easier to work
from home. But you will still have to start and maintain a fairly balanced
schedule in order to get everything done.
WAHMs have to be very self-motivated and disciplined in order to get
their work done on time and correctly. If you are the type of person that
is motivated by outside factors (such as a supervisor), then working at
home may not be your cup of tea. When you work at home, there is no
one there to look over your shoulder and make sure that you are still
working. Distractions like the television, Internet and housework can be
hindrances to your work at home success.
Isolation is another problem for WAHMs. Working at home alone can
get frustrating and lonely. Make sure you are comfortable with spending
time alone, and that you take steps to combat isolation. If you are
especially prone to being depressed, then the isolation that comes with
working at home may make you feel withdrawn and sad. Taking steps
to combat loneliness is an important part of any WAHM's success.
After considering these factors, you may decide that working at home
is not right for you. However, thousands of people deal with these
drawbacks and still have successful work at home careers. These
reasons should not stop you from becoming a WAHM if that is really
what you want to do. Just make sure you understand the realities of the
work at home lifestyle before you commit to it.
Make sure you look for your next issue soon. We will be talking about
opening an online store.
Until then,
"your name here"
"your email address"
"your URL here"
Sample Extra Titles
What You Need To Know About Being A Work At Home Mom And Why
Being A Work At Home Mom – An Overview
The Ultimate Guide To Being A Work At Home Mom
5 Simple Facts About Being A Work At Home Mom Explained
The Secret To Being A Work At Home Mom
5 Essential Elements For Being A Work At Home Mom
Ideas, Formulas And Shortcuts For Being A Work At Home Mom
All About Being A Work At Home Mom
New Step by Step Roadmap For Being A Work At Home Mom
What You Don't Know About Being A Work At Home Mom May Shock You
The Idiot's Guide To Being A Work At Home Mom Explained
The Dirty Truth on Being A Work At Home Mom
The Being A Work At Home Mom Trap
The Low Down on Being A Work At Home Mom Exposed
Dirty Facts About Being A Work At Home Mom Revealed
The Undeniable Truth About Being A Work At Home Mom That No One Is Telling You
What Everybody Else Does When It Comes To Being A Work At Home Mom And What You Should Do Different
Unknown Facts About Being A Work At Home Mom Revealed By The Experts
The Hidden Truth on Being A Work At Home Mom Exposed
The Secret of Being A Work At Home Mom That No One is Talking About
And More…
Sample Extra Paragraphs
Before you start your life as a gift basket Wahm, make sure that this
business is something that you really want to do. If you've never made
gift baskets, but like the idea, try making one or several for your next
gift-giving event. This will also be an opportunity to show off your gift
basket making skills to your friends and family. While you are planning
and making your gift baskets ask yourself if this is something you can
see yourself doing on a regular basis.
————————————
You'll also need to decide on set prices before you begin advertising
your services. If you are doing repairs, you can charge a certain price
per task. If you are custom sewing clothing, you can either charge a flat
fee or charge by the hour. For larger projects, like wedding dresses,
charging by the hour can work out to be a better deal for both you and
the client.
————————————
Before you start advertising, make sure that you have the supplies that
you'll need. If you have an older sewing machine that has "bad days"
when it doesn't work right, you might want to consider getting a new
machine so you can work more efficiently. The cost of a new machine is
worth it compared to the time that you'll save. Plus, the new sewing
machine is a tax write-off. You probably already have the sewing
notions that you'll need to get started. If you need something for a
specific project, you'll just buy it at the time.
————————————
Getting a business license is an important step in making yourself into
an official Wahm. The process is simple and there are many tax
benefits to becoming a legal businessperson. You will also get your
supplies at wholesale and be able to get discounts on other business
related expenses.
————————————
Finally, it takes time to build up a list of children who attend your
daycare. There are many home daycare centers to choose from in
every town, and once parents find a good center they normally stay
there long term. Finding new clients can be difficult, especially if you
don't take care of infants or babies. Getting clients can be easier when
you are licensed, but to begin with you need to rely on networking with
parenting groups, people at your church, people in your community and
friends in order to build your business.
And More…
Other Details
- 12 Part Autoresponder Email Messages (TXT, DOC)
- Squeeze Page (HTML, PSD)
- Ecover (PSD, JPG)
- Affiliate Programs List
- File Size: 9,400 KB