Salespage Snapshot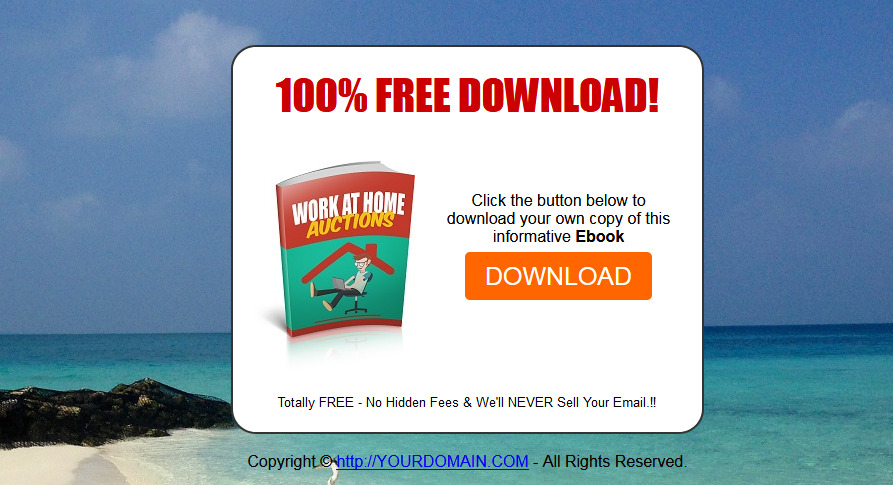 >> Click Here To View Sales Page...
Table of Contents
Table of Contents. 2
3 Finding Product to Sell 4
Drop Shipping Basics. 4
Finding Good Manufacturers And Wholesalers To Do Business With. 5
Where To Look. 6
Avoiding Scams. 8
Foreign Or Domestic?. 10
Types Of Sources. 10
Type of Goods Available for Drop Shipping. 11
Determining the Quality of Dropshipped Goods. 13
Determining Shipping and Customer Service Quality. 14
4 Managing Auctions. 15
Creating Effective Auctions. 15
The Look And Feel Of A Good Auction. 16
Out-Maneuvering Your Competition In Saturated Markets. 17
Value-Added Product 17
Bonus Materials. 18
Staying Current With Auctions. 19
Pulling Poorly Performing Auctions. 19
Making Sure You Get Paid. 20
5 Advertising. 22
Search Engine Optimization and Auctions. 22
Informative Articles. 23
Good Pictures. 24
Leaving Your Calling Card Everywhere. 27
Link Trading and Networking. 28
6 Shipping. 29
Letting Someone Else Ship. 30
Handling Backorders. 31
Fair and Profitable Shipping Charges. 32
Doing the Shipping Yourself 32
Labels And Addressing. 32
Safe Packaging. 33
Shipping Providers. 34
International Shipping Extras. 36
7 Monitoring Sales Progress. 39
Metrics and Reports. 39
Sample Content Preview
Not all dropshippers are alike, even when selling the same items. When you do find companies that are willing to do dropship work with you, find out how long they've been in business and how long they've been doing dropshipping for clients. You may be the first test case of a company that's been in business for a long time. While there are great potential rewards for those who go into partnership with start up companies, you need to know the risks – it could be a very bumpy ride with a very new business.
Ask very pointed questions and evaluate the timeliness and professionalism of the responses you get. Companies that are able to respond to your questions in a quick, forthright manner are the same ones that will be able to jump right on an issue when a problem or dispute arises. They should also be able to tell you, in no uncertain terms, exactly what products they sell, if not all of them, are available for dropshipping.
Where To Look
Since most people begin their searches looking up wholesalers and manufacturers online, it may come as no surprise that this is actually not the best way to find companies to begin a dropshipping relationship with. In fact, very few companies that do wholesaling or manufacturing maintain websites, since that sort of thing is more suited to retailers. Many of these companies prefer to conduct business by phone or mail, with some not wanting to sign a deal unless they meet you in person.
You'll want to choose a company that lies somewhere in the middle of that spectrum, since you're looking to start your business up for as close to nothing as possible. Expect to get some leads of the Internet, but be resigned to do much of your following up on the phone.
One useful place to generate some leads on where to find dropshippers in the list of companies that eBay maintains on approved, legitimate resellers. You may, find the returns on items from these companies to be somewhat lower, due to the increased competition from other eBay dropshippers. You'll do far better to blaze your own trail.
While some websites offer lists for sale that purport to be full of hundreds or thousands of dropshipping companies, most such lists are, if not downright fraudulent, of poor quality. They usually contain inaccurate or out of date information that won't help you at all or will send you calling around on your own dime, only to be rejected, time and time again. Like finding contacts in mid-level marketing, if someone is offering you a list to make things "easy" for you, it is almost without fail far less useful than they claim it to be.
If you have an idea of what sort of product you want to list, you can look directly for manufacturers of such an item by checking out the Yellow Pages or finding a listing on the Thomas Guides. From these listings you can get a number to call where you can simply ask if there's a local distributor for the product in question.
Though somewhat disingenuous, call back later without identifying yourself and the earlier caller and ask if they do (or would consider doing) dropshipping. This question will undoubtedly lead to several dead-ends, but the fruitful calls are golden, since they often don't show up on any existing "lists" that people sell you the chance to look at. This type of "lead-generation" is invaluable. You'll certainly get the hang of it after the first few calls.
Once you get a list of companies that will dropship, take a look around on eBay and check to see if any of them are already selling there. It will be all but impossible to compete with them if they are. You may wind up crossing several suppliers off your list, but this will save you a great deal of time and effort, as well as money in dubious fees.
Next you'll want to see how each of the dropshippers you've generated a lead on compare as far as pricing is concerned. It's best to do this for a very similar or identical item, if possible. You'll be surprised at how much the price can differ from one to another. Be careful to consider any hidden shipping costs or initiation fees that may apply from one manufacturer to another. If there is a large fee to join a company's lineup of dropshippers, you might as well look elsewhere – there are plenty of manufacturers and wholesalers who won't charge – you just have to keep looking.
Some dropshippers maintain that companies that charge an initiation or subscription fee have a larger selection of goods to choose from, decreasing the amount of time you'll have to spend looking for such companies – it's up to you, but to really get the most for your dropshipping dollar, legwork on your part is money you don't have to part with.
Avoiding Scams
Since dropshipping has become something of a buzzword around eBay in recent years, it should come as no surprise that this has attracted scammers. Thankfully, those who would prey on budding dropshippers don't bother being very subtle about their scams. Let's face it: they think you're stupid and conduct themselves as such.
In short, you should never, ever, have to pay money up front for getting product listings or the names of dropshipping-friendly companies that you can do business
with. Just because they don't typically advertise online or make it a point to become well-known among consumers doesn't mean that legitimate manufacturers and wholesalers want to chase your business away. Remember, the whole point of this is to not put a bunch of money up front.
One giveaway of a scammer is web-copy or sales letters that promise particularly fast or high rates of return. These "get-rich-quick" schemes are just that – schemes. There are a few legitimate companies that do specialize in aggregating lists and directories of companies that are willing to do dropshipping to your customers. Such organizations are more interested in your relative success than promising you "thousands" of products to stock your store with or "fast, easy money you can make in your pajamas." If you feel you're being fed a line of bull about quick riches, you can be reasonably certain there's a scam involved.
Other Details
- 25 Articles (TXT)
- 1 Ebook (PDF), 39 Pages
- 1 Squeeze Page (HTML)
- 2 Ecovers (PNG)
- Year Released/Circulated: 2018
- File Size: 1,710 KB
License Details:
[YES] Can sell and keep 100% of the sales.
[YES] Can edit the squeeze page.
[YES] Can be bundled into another paid package and sell at a higher price.
[YES] Can be used as a bonus to another product you are selling.
[YES] Can be sold in a Dime sale event.
[YES] Can be added into a paid membership site.
[YES] Can pass on the Master Resell Rights privilege to your customers.
[YES] Can be given away for free AGAINST an email address (lead generation)
[NO] Contents of the product can be edited, modified or altered.