Salespage Snapshot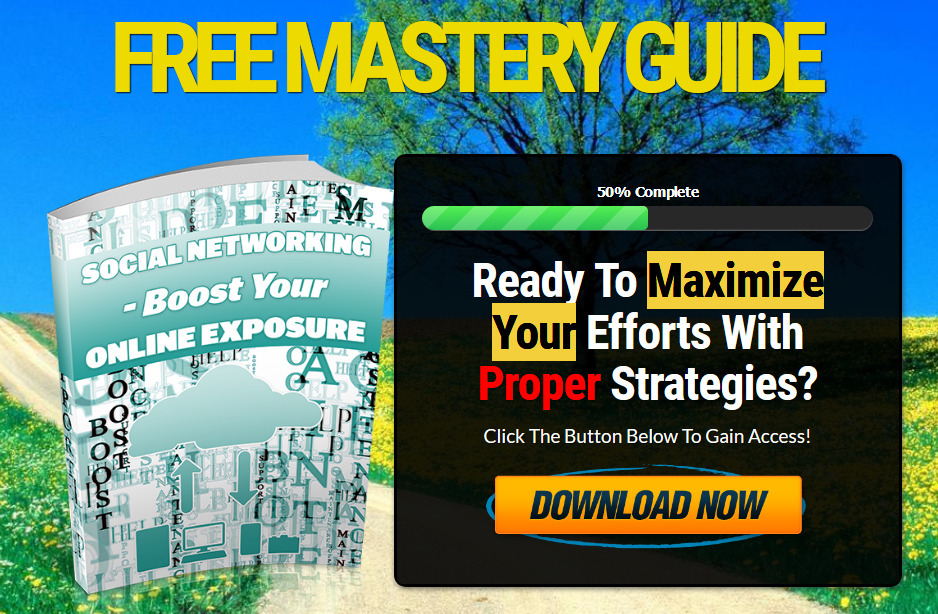 >> Click Here To View Sales Page...
Sample Content Preview
FACEBOOK
You can set up a profile fairly easily on Facebook and hook into all the people you know just by downloading your email address book. They will be invited to friend you and once they do, you have a good basis to start generating more friends. So, create a compelling and attractive profile that falls in line with the demographic you are trying to attract. Then, once you have a core group of friends, so you don't look socially inept, you can start to try and figure out how to get more contacts within your specific demographic so that you can start promoting your offerings.
Before we start to get into that, just be aware that spamming people or soliciting them directly is against the terms of the service agreement. You will have to start to engage in the art of the soft sell in order to be able to work within Facebook. One key to making more friends is not to put up a profile that labels you as an online Internet marketer right away. People do check out the profile to figure out why you want to friend them, and if they see that, they are likely to run the other way. Make it authentic, but be more casual, friendly, and less business oriented.
Okay, you've joined and now you want to start building exposure. Again, the key is to get more contacts into your contact list. You'll be limited to 5,000 in Facebook, so make it good, but there are other ways to go beyond that limit and remain on Facebook. One thing you don't want to do is ADD TOO MANY FRIENDS AT ONCE. This is a red flag to the Facebook administrators who will ban your account for being a spammer. So, let's repeat:
When adding friends, choose only 20 or 30 a day so as not to get yourself banned!
BUILDING CONTACTS IN FACEBOOK
Here are few ways to start building contacts in your demographics to increase your online exposure:
• Join the right networks – When you first start, Facebook will ask you to pick a network(s), which will either be a school or a geographical location. Pick an area where you are thinking of doing the most business, or where you have the most contacts. Once in that network, you can get friends from there by browsing profiles that area available for people within that network.
• Leverage friends of friends – So, you've signed up, gotten a few friends, and noticed that (wow!) one of your friends has thousands of friends. Take a look at the friends list and see if you know of any or if they are in your network. Then, ask them to friend you. Remember to keep it slow and steady, less than 20 or 30 a day.
• Join groups – Join groups and then post to the wall. Befriend group members in the same group. There are even groups for people with no friends who want more friends, but that's not targeted to your demographic. You should pick a group that is targeted to your demographic.
• Have fun! – Set up applications and join fun games and activities that expose you to more people online. It's best to pick an application that has something to do with your niche, so that you are attracting the right core group. So, if you were interested in marketing green products, you might join the L'il Green application to meet more people there by maintaining their online plants. There are literally thousands of applications you can investigate and leverage to create more friends on your targeted list.
PROMOTING YOUR OFFERINGS ON FACEBOOK
Whether it's a website landing page, a blog with affiliate marketing, or any other type of product or service you want to promote, you start with the contact list. Then, you use the features of the site to help get the word out by starting to use the features that tend to be more "newsy" and viral. For Facebook, these features start the ball rolling quite nicely:
• Status updates – There is a feature where you get to broadcast to your friends what you are doing. You can also add links there to different pages on the Internet. Try to include valuable information and not just a link to a sales page, because it can get you some unwanted notice from the admins. But, other than that, you can use it to lead traffic back to your website, blogs, articles, and any other content you want to promote on the web.
• Comment on other people's updates – What's the point of sending out information only to your own friends? Why not hook into other friends and add a link where appropriate? When you comment on the status, it goes into the newsfeed and their friends see it too. It also gets put on their wall. Just don't spam or solicit overtly and you should be fine.
• Share a link, post – Like some web post you saw online? Why not share the link or post on your wall? Your friends will see it in the newsfeed and it will stay on your wall too.
• Upload photos and comment – Photos tend to gather much more attention than text. So, add some good photos and link them to your niche or market. If they get commented on a lot, they can go viral fairly quickly.
• Create your own application – It's not as hard as it sounds since it's basically just a collection of images. Then, you add it to the application market place and wait for others to install it. You can put your URL in various places and gather a lot of promotion this way.
• Promote a blog on Facebook – There are a number of people who have set up blog networks on Facebook and can be a great way to network your blog with other bloggers, create more friends from subscribers, and promote the heck out of your blog. If your blog has advertising on it, you can even make some nice change.
TWITTER
Twitter is the nanobyte social network for people with attention-deficit disorder. Seriously, it is a very curt way to keep in touch with people by sending 140 character messages that can be "followed" by interested parties all over the Internet. This may seem like the weirdest form of social network, but it has landed people jobs in a matter of hours in a tight economy, and in some cases, given people a virtual peek at a mass media event from a first-hand up-to-the-minute account of serial messages aptly labeled "tweets."
BUILDING CONTACTS ON TWITTER
In order to build your contact list on Twitter, all you have to so is either add your email list to search for them on Twitter, or you can search by name. You can also just start with one friend you know, who knows mutual friends and then start following them. Generally, when you follow someone, they do you the courtesy of adding you to their follow list too. But, if you don't know anyone on Twitter, and you only have a few friends there, how do you expand your list, and more importantly make it targeted to a specific demographic?
The answer isn't obvious because Twitter has no groups or categories that people join. You can use the search box at the top right corner of Twitter to search for locations, words, or names that might show up in a Twitter profile, but not everyone really goes as far as to make a good profile.
Another way to do this is to use a tool called TweetScan. There you can search topics, people, places, and everything. This looks for these items within the tweets and so you can find better demographics this way. And, if you're not sure, when you add a person, whether they're a friend of a friend or found through some other tool like TweetScan, all you have to do is follow conversations for a while to figure out if they really are in your demographic.
PROMOTING YOUR OFFERINGS ON TWITTER
Here again, you can't spam people. You're going to use some of the same strategies, though, to get more exposure. Exposure here would be the number of people following your tweets, not the number of tweets you follow. So, to promote yourself, you have to join the conversation! You want to start posting some interesting conversation related to the demographic you are trying to target in 140 character chunks. The more people who get interested in your feed, the more people follow you. There are groups that you can join also outside of Twitter that get many of their members from Twitter. This would be a perfect example of getting into an area where you can harvest followers. All you have to do is find such groups, join them, and then get them to follow you too.
Since there are no obvious groups on Twitter, you can find some that specialize in grouping Twitter feeds by category topic or location, and they also allow you to add your URL there too! That's a perfect way to promote your Twitter feed. Once such place is a wiki called Twitterpacks and is located at http://twitterpacks.pbwiki.com. Since you're limited to 165 characters, it becomes even more important to make the links you post in the tweet as small as possible. You can do this using services like http://www.tinyurl.com which coverts longer URLs into more manageable links. This is indispensable if you are tweeting about some new post or site you've updated with your marketing offerings. Just remember not to do this all the time, or you'll be labeled a spammer and your followers will dump you pronto, probably not soon after they report you to the administrators. So, while you can do this off and on, doing it 100% of the time is a sure way to get your account bumped. The same is true if you follow too many people at one time or add too many followers at one time. These are classic red signals that you are a spammer and unwelcome in social networking sites. So, keep it real and keep it cozy.
Other Details
- 1 Ebook (PDF), 11 Pages
- 1 Squeeze Page (HTML)
- 2 Ecovers (PNG)
- Year Released/Circulated: 2019
- File Size: 3,093 KB
License Details:
[YES] Can sell and keep 100% of the sales.
[YES] Can edit the squeeze page.
[YES] Can be bundled into another paid package and sell at a higher price.
[YES] Can be used as a bonus to another product you are selling.
[YES] Can be sold in a Dime sale event.
[YES] Can be added into a paid membership site.
[YES] Can pass on the Master Resell Rights privilege to your customers.
[YES] Can be given away for free AGAINST an email address (lead generation)
[NO] Contents of the product can be edited, modified or altered.