Salespage Snapshot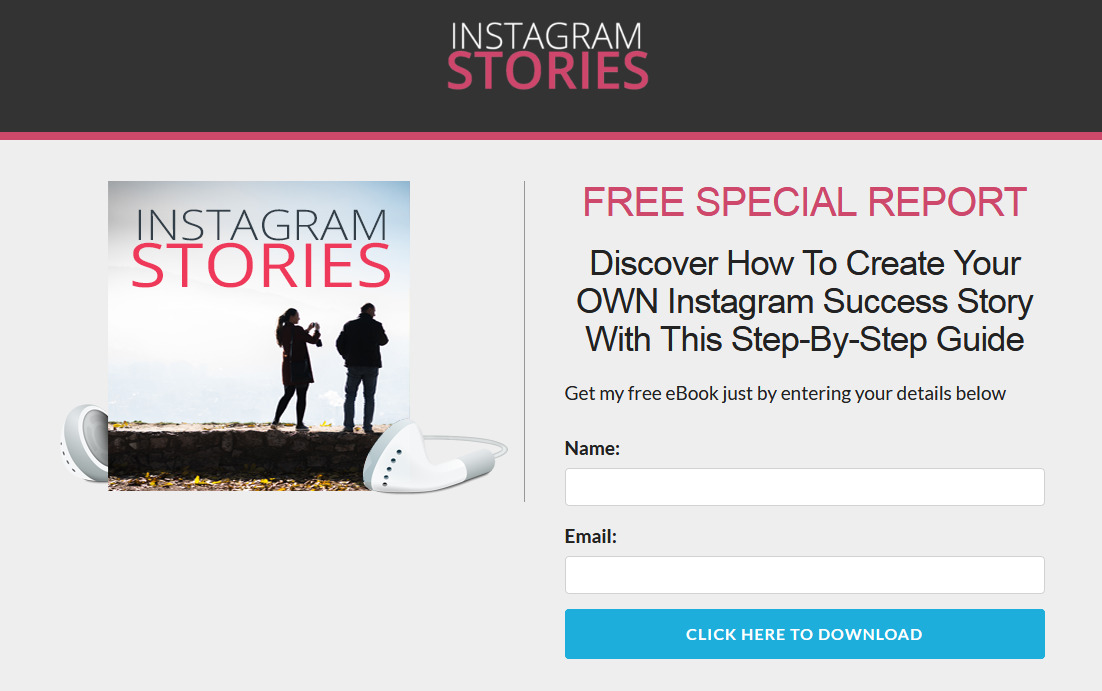 >> Click Here To View Sales Page...
Sample Content Preview
So going back to the example we're working with here: the fitness brand. What is the 'dream' in this case?
Simple: if you have a fitness brand, then your dream is to be healthy, to look amazing, to be physically intimidating and to have more luck in relationships.
People who are physically very fit will look and feel amazing. They will wake up first thing in the morning with tons of energy. They will put on clothes and look excellent in them. They will draw positive attention from the opposite sex. They will perform better in their careers by virtue of looking more attractive: all these things are going to help them to get what they want in life and to feel great doing it.
And when you learn how to sell that on Instagram, you can build a massive loyal following and sell pretty much anything…
How to Sell the Dream on Instagram
So how do you sell that dream on Instagram? And why is Instagram a platform that allows you to do this better than nearly other platform?
Partly, it is the visual nature. You know what they say: a picture can tell a thousand words. You can tell your audience that they should be fitter and healthier but that will pale in comparison to the emotional impact you'd get from showing them that healthy and fit lifestyle!
Likewise, Instagram will lend itself naturally because Instagram is all about making the everyday and the mundane look desirable and artistic.
That's what the 'filters' that you get from Instagram are all about. When you apply a filter to a photo, you are making it a little 'hyper real' and thereby increasing the emotional content. You are taking what you do and you are making it look that much more idealized. That is how you sell the dream, that is how you get an emotional response and that is how you build a following.
So if you have a fitness brand, what you need to do is to paint the lifestyle that you are selling. That means uploading photos of people running on beaches topless with beautiful sunsets behind them. These people have got incredible abs, bronze skin and maybe they're running next to a stunning man or woman, laughing.
The same channel might show a guy in a suit but bursting out of it thanks to his bulging biceps, with incredible determination.
It might show a woman doing yoga in front of a sunrise while drinking a smoothie.
It might show a photo of someone training hard in the gym and looking incredible doing it.
To someone who wants to be fitter and healthier, to someone who wants to feel better about themselves, you are painting their ideal future. Your objective is not to make them feel inadequate about themselves: your objective is to make them feel inspired and to help them to dream about that perfect future.
Therefore, they will be moved to do what they can to get there and hopefully they will follow your advice to get there. When your advice becomes 'buy this product', they will be motivated by those powerful emotions to do just that. You have aligned their goals and dreams with your product and brand and in doing so, you have made it incredibly desirable.
How to Tell a Thousand Words
So what does this look like in practice?
A good place to start is by identifying your brand and your mission statement. Make sure that you know precisely what your brand is and what it is that you hope to achieve through your product. Don't just be about the money: have something more than that that you want to do for people. Have a purpose and a goal, so that your followers can feel almost as though they are joining a movement when they hit that 'follow' button.
Create a brand that people can feel excited about.
Once you've done that, you can identify the kinds of pictures and videos you need to start uploading. This will allow you to make sure that you remain on-brand at all times and on-message. Consistency is highly important here, as if you are constantly posting about different subjects, then you will find that your followers become frustrated and unsubscribe.
If someone follows a fitness brand on Instagram, they do so because they are interested in fitness and they want to see more of that type of content. They do not do it because they want to see photos of your dog.
Stay on-message then and post every single day at least. To help you do this, something you can do is to take a bunch of photos in a few days and then keep them in a folder to fall back on on the days when you don't have much that you can use. Spend a day with a high quality photo and build up a selection of photos that way.
As for the type of that you take, you need to make these look as professional and as well composed as possible. Professional photos will help you to build authority and trust in your niche and will make you feel like a legitimate outfit, rather than some hobbyist taking photos in their spare time.
Meanwhile, you need to know how to frame and compose your shots in order to get the maximum emotional benefit…
Hardware
The first way to increase the quality of the photos that you are taking is to get a high quality camera. A great camera will be one that has a good sensor, a high quality lens and lots of options allowing you to control things like the shutter speed. Usually, this is going to mean either a DSLR camera, or a bridge camera.
Using this and then uploading your photos via a USB will result in much higher production values than simply relying on your phone – and especially if you also invest in some good lighting. Getting a lightbox can help a great deal as that way you're not always going to be relying on it being sunny weather outside in order to take your photos.
Having a good camera phone is a good idea too though, as many of the photos you take will probably be spur of the moment and things that you snap while out and about – especially if you have a personal brand and if you live the lifestyle you preach. Take your camera to the gym and get the occasional photo so that people can feel like they're a part of your workouts!
Some Tips for Taking Great Photos
Perhaps more important than the equipment is the wetware – the person behind the camera. You need to know how to tell a story and how to make it into something that inspires people.
So what does it mean to tell a story? It means that your photo needs to communicate more than is in the frame.
Think about that shot of someone doing sit ups on the beach in the evening. What does that tell you about this person and about their lifestyle?
Sure, it says that they have great abs and they look good too. But it also tells you that they live somewhere beautiful and that they have the free time to actually enjoy that area of natural beauty. It also tells you that they have plenty of energy – enough energy to be working out at this time. And it tells you that they're dedicated.
All these things are desirable and especially if they're tanned, good looking and wearing great clothes too!
Other Details
- 1 Ebook (PDF, DOC), 8 Pages
- 1 Audio (MP3)
- 1 Graphic (PNG)
- 1 Squeeze Page (HTML)
- Year Released/Circulated: 2020
- File Size: 5,988 KB
License Details:
You're granted master resell rights, resell rights or to resell with personal use rights.
You may add this product to your PAID membership site
You may giveaway the product as a bonus when people buy through your affiliate link
You may edit the included opt-in / squeeze / landing page
You may giveaway the eBook for Lead Generation purpose
No, you may NOT edit the contents of the eBook
No, this product does NOT include private label rights. You are granted Master Resell Rights only