Salespage Snapshot: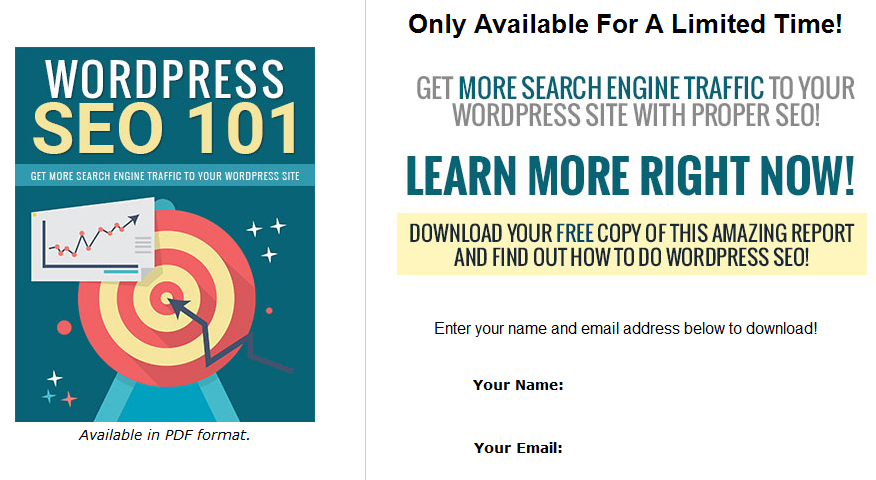 >>> Click Here To View Full Sales Page…
Sample Content Preview
Choosing an SEO Plugin
There's a plethora of plugins out there to help you control the SEO of your WordPress site, but they come down to two very popular choices:
WordPress SEO by Yoast
All-in-One SEO Pack
Both are very similar in features, and either one will work fine for SEO purposes. They are slightly different in terms of features, so you might want to briefly try both just to see which you like better.
Yoast has a slightly better overall rating on the WordPress website, and is used by over 1,000,000 blogs. All-in-One is also currently used on over 1,000,000 blogs. As you can see, they're both very comparable.
Dan Shure of Evolving SEO did a complete side-by-side comparison of Yoast vs. All-in-One here:
http://www.evolvingseo.com/2014/02/14/all-in-one-vs-yoast-seo-test-drive/
He found a definite benefit of using Yoast over All-in-One. In fact, Yoast won by a large margin when weighed against All-in-One on a large number of SEO factors.
If you look in the comments, he mentioned he can see All-in-One working well for smaller sites or bloggers, but Yoast is definitely the best option when SEO really matters.
This article was written in 2014, and things can change rapidly in the world of SEO and plugins, so it's still a good idea to test options yourself. This article just provides a good starting point to help you decide for yourself. (It also gives you a basic understanding of the importance of some SEO factors.)
Whichever plugin you choose, be sure to read its instructions well and be sure you're using every possible feature included. Too many people install the plugin and expect it to work automatically, but there are things that must be tweaked, and you'll need to include some extra information every time you make a post such as the main keyword you want that page optimized for.
Google Webmaster Tools
Webmaster Tools isn't just for WordPress sites, but it's important that you sign up for it, just the same. Webmaster Tools will allow you to keep track of any issues your website might have, set certain preferences for your site, and keep tabs of certain things such as what keywords people are using to pull your site up in Google.
If you have the WordPress SEO plugin by Yoast, it's easy to verify your site in Webmaster tools. Log into Webmaster Tools here:
http://google.com/webmasters/tools
Select the "Alternate methods" tab and choose "HTML tag". Copy the meta tag shown in the box by highlighting it and pressing CTRL-C, or pressing COMMAND-C on a Mac, or right clicking and choosing copy.
Now go to your blog and log in. Under the SEO tab in your WordPress admin (Yoast SEO) choose Extensions. You'll see several fields where you can enter codes for various sites. Enter your code in the Google Webmaster Tools section, and then go back to Webmaster Tools and click VERIFY. Viola! All done.
Google Analytics
Another critical element of SEO is having analytics so you can track your progress and figure out exactly how you're doing. Google Analytics is the most common tool for this.
Unfortunately, changes to Google's privacy settings have destroyed a lot of the usefulness of Analytics. It used to be that you could see almost every keyword used to find your site. Now, you can only see a handful of keyword searches.
Still, Analytics is useful for a variety of reasons. It will allow you to see how much traffic you're getting, where your traffic is coming from, what your bounce rate is (the percentage of people who leave your site without viewing any other pages), and other important information.
There's a plugin from Yoast that will allow you to easily add Analytics to your WordPress site. You can download the plugin, as well as find installation and usage instructions, from this URL:
https://yoast.com/wordpress/plugins/google-analytics/
Page Speed
Another major element of SEO is the speed at which your page loads. Google wants its visitors to enjoy the sites they visit, and if a site takes too long to load, visitors will often leave quickly. This increases bounce rate, and also makes Google unhappy.
To check your page speed, including discovering actionable information you can use to speed up your page, take a look at Google's Page Speed Insights.
https://developers.google.com/speed/pagespeed/insights/
Using this will help you figure out what needs to be changed in order to speed up your site. It might involve getting a new host, or it may be as simple as optimizing your images or installing a caching plugin.
W3 Total Cache is one of the most popular caching plugins. It will turn your dynamic pages into static ones, meaning they load faster.
https://wordpress.org/plugins/w3-total-cache/
Crosslink Posts
Once you have the foundation of your SEO set up, it's time to make sure you're doing all you can every time you make a post to ensure the best outcome for your SEO.
That means making a few key posts that you might think of as cornerstone posts, and then referencing those posts in other similar posts.
For example, let's say you have a post called "10 Ways To Increase Traffic". It might be very in-depth, detailed information about using ten different social networks to increase a website's traffic.
Then you could write smaller blog posts on each of those traffic sources and link to your cornerstone post by saying something like:
"Facebook is just one way you can increase your traffic with social media. Check out my post '10 Ways To Increase Traffic' for more ways to explode your website's traffic."
Not only will this help lower your bounce rate, it will also benefit you by giving a boost to the SEO potential of your cornerstone posts.
Social Signals & Backlinks
You know it's important to get backlinks to your site, but did you know the source of your backlinks and the text used to link to your site is just as important as getting a lot of links?
You want to make sure you get backlinks from quality sites, and from a wide variety of different domains. You also want to be sure you're NOT using the exact same text to link to your site every time, because this can appear spammy. Instead, vary the text used to link to you between a few similar keyword phrases, and potentially the name of your site, too.
Social signals are also increasingly important. The more likes and shares you get on a large variety of platforms and from a large number of accounts, the better.
Other Details
- 1 Ebook (PDF, DOC), 19 Pages
- 7 Part Autoresponder Email Messages (TXT)
- 1 Squeeze Page (HTML, PSD)
- File Size: 7,856 KB