Salespage Snapshot: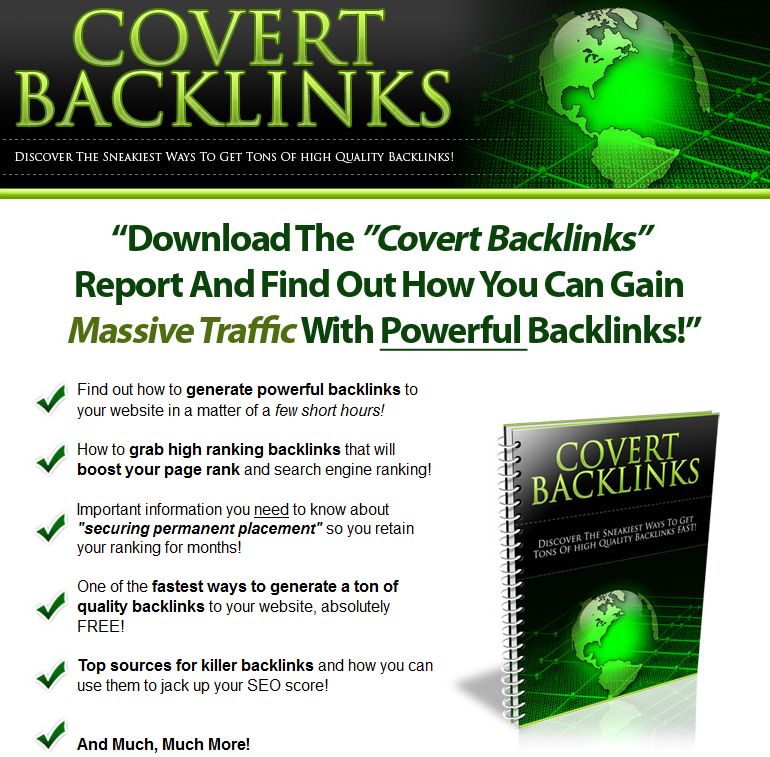 >>> Click Here To View Full Sales Page…
Table of Contents
The Importance Of Backinks. 3
Generating Backlinks From Social Directories .. 4
Generating Backlinks From Online Blogs . 5
Generating Backlinks From Online Directories . 7
Generating Backlinks From Articles .. 9
Generating Backlinks From Forums … 10
Generating Backlinks From Free Websites 11
Sample Content Preview
My favorite product on the marketplace right now is Directory Submitter available at http://directorysubmitter.imwishlist.com/
With directory submitter, you can choose the number of directories that your website will be submitted to as well as customize additional information regarding your website, giving you full control over the way your site is distributed and submitted.
If you choose to manually submit your websites into online directories, consider purchasing a copy of www.RoboForm.com to speed up the process. (There is a free version that will work on a trial basis).
Tip: Focus on one-way back-links when submitting to directories. It's important to have more links coming into your site than going out from your site (internal links should ALWAYS be greater than external links)
Make sure that you include a relevant description with each submission, including your primary keywords that are focused on your target market. In addition, when submitting your website into online directories ALWAYS choose the category or sub category that is closest to the main directory.
Directory Resources:
http://info.vilesilencer.com/top
Niche Directories:
http://web-directories.ws/Niche/
A few additional directories worth considering include:
http://www.DMOZ.org
http://www.Lii.org
http://www.Info-Listings.com
http://www.Buzzle.com
http://www.MasterMOZ.com
http://www.maxpromo.com
Generating Backlinks From Articles
Article marketing is great way to generate a flood of high quality back links to your website in a very short amount of time.
All you really need to get started create 15-20 articles that combine your keywords within the titles of each article as well as the actual content. You begin by submitting your articles into the major directories, beginning with www.EzineArticles.com and then a day later, submitting the same articles into a number of other directories.
Each article is "tagged" with your back-link by creating an author's resource box that is attached to your article submissions.
Author resource boxes are often the only place where a back-link is permitted, so you need to ensure that your actual article content is compelling and focused on retaining your readers attention long enough to direct them to your resource box featured at the end of the article.
To speed up the process of submitting articles into popular directories as well as being able to "spin" articles into new ones, I highly recommend downloading a copy of the Mass Article Control software program, available at http://www.massarticlecontrol.com Here are the top article directories that you should focus on submitting content to:
http://www.Buzzle.com
http://www.GoArticles.com
http://www.ArticlesFactory.com
http://www.WebProNews.com
http://www.ArticleDashboard.com
http://www.ArticlesBase.com
Generating Backlinks From Forums
Most forums allow you to include anchor text within your signature box making it easy for you to rank for specific keyword phrases. Even better, most forums allow you to include multiple links meaning that you can generate backlinks to multiple websites each time you post on the community board!
One easy method of locating potential message boards and communities is by reviewing the directory of forums located at http://www.big-boards.com You can also search for active discussions in your market by using the Google search engine. Visit http://www.Google.com and enter in search strings including "your keyword+forum" or "your-keyword+message boards" to locate hundreds of possible communities.
Complete Forum Directory (with alexa ranking, etc): http://www.prelovac.com/vladimir/best-webmaster-forums Generating Backlinks From Free Websites
Squidoo
http://www.Squidoo.com
With Squidoo being an authority website with search engines like Google, each time you build a lens, you are able to rank for specific keywords used within your page's title and content itself. It's a very effective strategy for generating back links and generating traffic to your website.
Hub Pages
http://www.HubPages.com
You can create a massive back-link campaign from HubPages, however unlike Squidoo they are a lot more particular with the type of content that you are permitted to include when building your single page websites (referred to as 'hubs')
With hub pages, you are able to include 'tags' which are keywords that describe what your hub is about, however be careful to use an excessive amount of tags or your hub may be removed without notice.
In order to increase your Hubpage author score, you will need to create 5 or more hubs. You need to increase your author score before you are able to generate back-links to your websites, so make sure that you develop a higher author score (by creating hubs) and that you retain a score higher than 75. If you don't, your links will no longer be do follow and you will lose your backlink juice.
I wish you the best of success in building a solid backlink campaign for your website!
Other Details
- 1 Ebook (PDF, DOC), 12 Pages
- 7 Part Autoresponder Email Messages (TXT)
- 1 Squeeze Page (HTML, PSD)
- File Size: 7,962 KB