Squeeze Page Preview: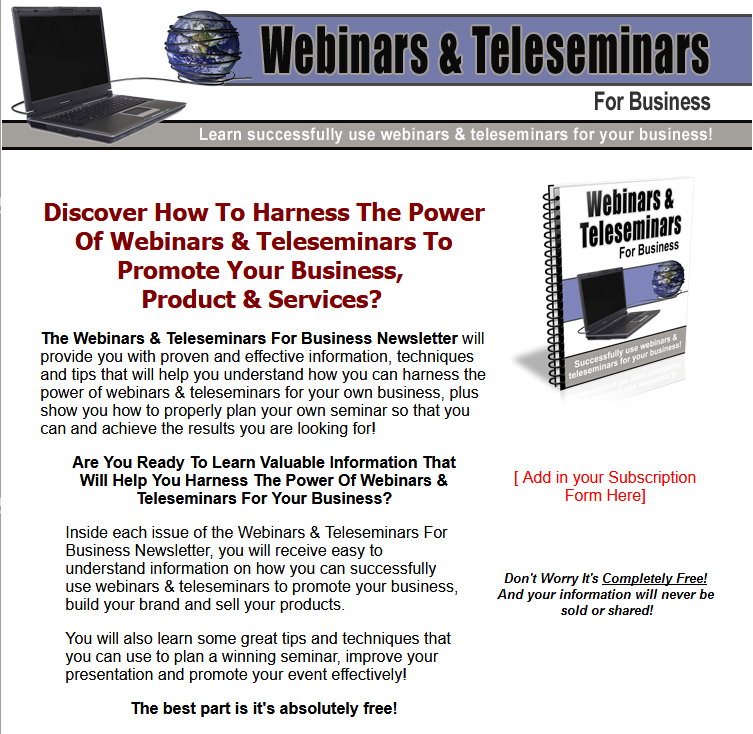 >>> Click Here To View Full Squeeze Page…
Features:
* 12 Issues Full Of Great Content
– Just add in your contact info and plug it in to your favorite auto responder. Each issue contains 500 words or more!
* One Ready To Go Squeeze Page
– Just add in your opt in form, upload to your server and your done!
* One Ready To Go Thank You Page
All ready to remind your subscribers to check their email and confirm their subscription. It even has built in revenue!
* 4 Researched Click Bank Products
These are top selling products on Click Bank that I've personally researched and chosen for each series.
* Extra Copy And Paste Article Content
You will get:
– Extra titles
– Extra opening paragraphs
– Extra closing paragraphs
– Extra fill in paragraphs
(these would make great tips that you add in to your follow ups system for more frequent contact with your readers)
Sample Content Preview
Hello "autoresponder code here",
In the last issue we talked about some of simple steps that will help you
produce your first teleseminar. In this issue we are going to talk more
about webinars and what is involved in hosting one.
As the name implies, webinars are seminars which are web-based.
They are also referred to as online workshops or online seminars.
Webinars have many uses such as building a brand, generating sales
leads, training groups of people, press conferences, corporate
announcements and focus groups.
Webinars are similar to conference based seminar; the only difference
is that the participants listen to the audio through telephones and view
the presentation by their web browser. The main feature of webinar is
the interactive element which is the ability to discuss, give and receive
information. It is different to "webcast" which doesn't allow interaction
between the audience and presenter.
Numerous companies have started offering webinar as an exchange to
the traditional face-to-face seminars. Companies are acquiring the
advantages that webinars give. These vary from flexibility to cost
efficiency. Participants will not have to travel just to attend a seminar;
they can learn on the comfort of their homes and their most convenient
times. Other benefits are cost reduction, ability to reach much larger
audience, lets future playback and can be recorded digitally.
Companies can save a lot from traveling budget and other expenses
relative to training. A computer, an internet access and a phone line
are just the items needed to attend a webinar. Materials like handouts
can be printed and are downloadable and can be maintained as
reference file.
Webinars also help marketers reach larger audience immediately. The
geographically scattered colleagues may be able to work and
collaborate as a team. Announcements can be posted to all the
employees no matter where they are. Attendees and presenters can
collaborate and interact through Q&A, document sharing and live polls;
thus attendees can easily participate and learn from the activity.
The usual model for a webinar may be to offer a 5 week course and
during which diverse lecture and module is uploaded on a specific day,
for example, Monday. Registrants will have 1 week to take in the
information.
If you are not into webinar hosting, you can just attend or let your
employees participate on one. There are those with reasonable price
and some are offered free. There are those which can be viewed and
archived on demand. The archived webinars are made available for the
viewing public; this can be accessed at Archived Webinars Page.
Looking for a webinar to attend will take a little research. If you're
always receiving invitations to online seminars, wait for the provider's
broadcast of an event. Also keep your eyes on upcoming webinars on
trade magazines. Check websites for any webinars that have
appealing topics since technology and universities are holding them.
Before registering on a webinar, do your homework first. Research the
credentials of the presenter and the costs accompanying it. Even if the
online seminar is free, try to analyze if it will be worthy of your and your
subordinate's time.
At first glance, webinars may seem less effective and meeting a person
is better. But in various ways, the discussion group is a more effective
method of communication. The discussion boards allow exchange of
knowledge and information wherein the speaker also participate. The
discussions are maintained online and anyone can review it anytime;
this will let information propagate in many ways physical meeting
cannot.
Webinars are quickly becoming the latest choice in web conferencing.
Through its accessibility and low cost, companies can hold interactive
meeting. Take advantage of the internet communication through
attending or having your own web based seminars. You can also let
your employees attend them for their development. Just do your
research first and let your webinars help you with your success.
Make sure you look for your next issue soon. We will be talking about
marketing your products and services with webinars and teleseminars.
Until then,
"your name here"
"your email address"
"your URL here"
Sample Extra Titles
The Idiot's Guide To Webinars and Teleseminars Explained
Unknown Facts About Webinars and Teleseminars Revealed By The Experts
The Hidden Truth on Webinars and Teleseminars Exposed
The Secret of Webinars and Teleseminars That No One is Talking About
The Unexposed Secret of Webinars and Teleseminars
The Webinars and Teleseminars Diaries
Webinars and Teleseminars – An Overview
The Ugly Side of Webinars and Teleseminars
An Unbiased View of Webinars and Teleseminars
What's Really Happening With Webinars and Teleseminars
The Ultimate Guide To Webinars and Teleseminars
5 Simple Facts About Webinars and Teleseminars Explained
What To Do About Webinars and Teleseminars Before It's Too Late
The Secret For Webinars and Teleseminars Revealed in 5 Simple Steps
The Ultimate Solution For Webinars and Teleseminars That You Can Learn About Today
Be The First To Read What The Experts Are Saying About Webinars and Teleseminars
The Truth About Webinars and Teleseminars
Find Out Who's Talking About Webinars and Teleseminars And Why You Should Be Concerned
5 Odd-Ball Tips on Webinars and Teleseminars
The Webinars and Teleseminars Chronicles
Kids, Work and Webinars and Teleseminars
7 Shocking Facts About Webinars and Teleseminars Told By An Expert
The Insider Secret on Webinars and Teleseminars Uncovered
What Everyone is Saying About Webinars and Teleseminars Is Dead Wrong And Why
And More…
Sample Extra Paragraphs
First, you need to understand that you need to record your event, and
you need to take the details of the teleseminar down. This means that
you will need to plan your event not just for what happens before and
during, but way after. Who are you going to hire to transcribe the
teleseminar? How much time are you going to give the transcriber to
finish the transcription?
————————————
Build your reputation – It's probably difficult to produce a paid webinar if
you're still a relative unknown on the Internet. However, that shouldn't
stop you from using this technique. By producing a webinar that people
can learn from without paying a cent, you will be able to introduce
yourself to the industry.
————————————
Look for a teleseminar co-host who will understand his or her role in the
discussion. Right from the start, it should be clear who will take the lead
during the teleseminar session. Let your co-host know what it is you
expect from him and what you plan to do.
————————————
Use a reliable recording device or application. Even if you will be doing
the teleseminar by your lonesome, it is still quite possible for you to
perform the editing afterward, provided you have a recording of the
presentation.
————————————
When you look for a teleseminar co-host, consider the person's
communication skills. The style should reflect or complement your own.
You'll know this when you talk to the person yourself.
————————————
Producing a teleseminar, however, also needs you to have a special
skill set. First, because the teleseminar is conducted over the
telephone and relies on technology, you will need to have some
technological know-how in terms of how the technology works. This
means that you should know what button does what on your console,
what you need to do in order to return a dropped call back into the
teleseminar, and troubleshooting. This means that you also have to
have the ability to think on your toes just in case something happens
during the teleseminar.
And More…
Other Details
- 12 Part Autoresponder Email Messages (TXT, DOC)
- Squeeze Page (HTML, PSD)
- Ecover (PSD, JPG)
- Affiliate Programs List
- File Size: 9,970 KB