Salespage Snapshot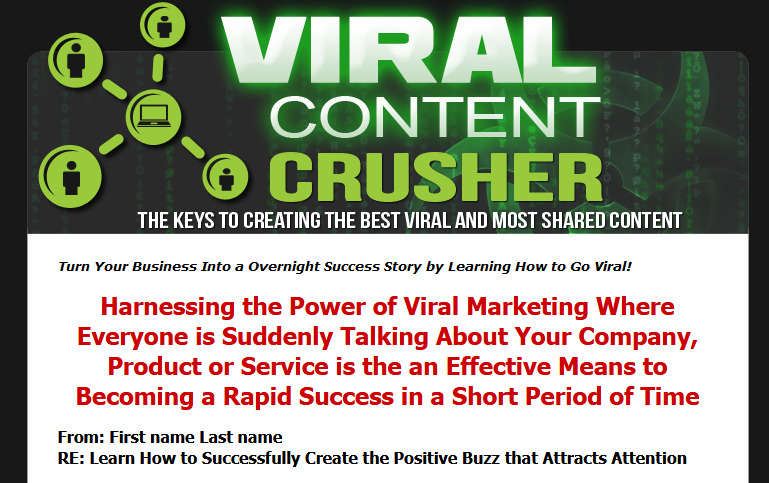 >> Click Here To View Sales Page...
Table of Contents
Introduction. 3
Can you really create content that is viral?. 4
What is a Viral Content and why are they usually Shared? 5
What can Marketers learn from this?.. 7
Understanding your Customers and then Charming Them. 7
Viral Contents: Case Studies and learning Points. 12
A Recipe to Make your Content go Viral . 19
Conclusion 28
Sample Content Preview
In their control experiment, Berger and Milkman attempted to control a number of factors such as the length of exposure, the page published, the notoriety of the writer, and other factors in order to make sure that it was only the content and its overall emotiveness that caused the reader to share the content. What can Marketers learn from this?
If the characteristic of being viral can be comprehended via the prevailing emotional state of the person sharing, and the level of arousal, then it is possible to prepare the video content or the written content to generate the relevant emotional response. Basically, what you can learn here is that there is no need to play this in a very conservative manner. In order to provoke the necessary levels of arousal like surprise, awe, amusement anxiety or anger, then you need to be prepare to push the boundaries and come up with something that is original.
Understanding your Customers and then Charming Them
Now that we have given you some insight on why people chose to share content like they do, in a bid to make this guide as useful as possible, you should now look into creating content that is fascinating and capable of arousing your customers in a manner that it will cause them to share it. Scholars have come up with a number of personality triggers that are capable of captivating and persuading your readers. Sally Hogshead wrote in her book about the 7 personality triggers that have the potential of persuasiveness. This was written following years of research on fascination. This book is very insightful and if you are interested you should look into reading it. The following are the triggers of fascination as they were listed in the book:
1. Passion or Lust
It was noted that the companies and individuals that have this trigger for passion are capable of making connections with others and develop a close relationship with their customers. Can you think of the first time that you strutted into an Apple store and almost instantaneously you started to salivate over the latest iPhone? Well, that is called lust. Human beings often get a similar level of psychological effect when they think of food, sex, cars, and many other products or services that are capable of evoking some anticipation of a pleasurable experience.
2. Alarm
Alarm can be defined as the instinct that is within all of us and we use it in order to stay alive in those stressful moments – it is often referred to as the fight or flight instinct. Your body will go into a state of alarm during an event such as losing your child or when you are walking in an unsafe area late in the night. Naturally people will tend to avoid situations that are not pleasant or dangerous, therefore the alarm trigger is used to warn your body of the unpleasant possibilities that would come to be if you remain inactive thereby causing your body to have a rapid reaction. Here we can take an example of the FedEx company that has amalgamated to trust (which is another kind of trigger) and Alarm to come up with a very successful business. Here as a marketer you can clearly outline the consequences that exist and then come up with deadlines. This is simply a case of leveraging fear.
3. Mystique
This can be defined as the action of withholding something and refusing to reveal it. Naturally, humans will develop a sense of curiosity when there is a lack of fulfilment. The author of the book posits that there are 4 distinct ways in which you can cause mystique. First you cause curiosity, then you ensure that you with hold information about it, then develop some mythology around it, and lastly ensure that access to it is limited.
The key to mystique is in the narration of stories and not in the actual facts. Take the case of Coca-Cola, it is known that the secret ingredient to their drink is well kept in a vault somewhere, and the mythology here is that there are only 2 people in the world that have a list of the ingredients.
4. Power
There are some cases in the social interactions of human beings in which they do not wish to be in control; they would prefer to give the reigns of control to other people. One good example of such a situation is with the personal trainer at the local gym or with a digital marketer. A great majority of the small business owners prefer to focus their energy and attention to the core business and have the digital marketing done by someone else like an agency so that they do not have to ponder over it.
5. Prestige
Prestige can be described as a perceived sense of respect by others. Naturally, individuals will tend to obsess over the symbols of respect or rank. People will strive hard to attain high standards and the physical evidence of their so called success; this could be in the form of a simple thank you, gift card, or even a high salary. You can find a diverse array of prestige on the supermarket shelves today. Why would you prefer to pay significantly more for a product that is branded as compared to the brand of the supermarket? Why is it that an iPhone will cost so much more than a similar phone of another brand? If you intend to leverage the fascination trigger of prestige then you will need to limit the overall availability and access of your product, you can start hiking the price so that the accessibility of the product is limited. However, you need to be able to live up to the expectation created by the higher price. You should note that this strategy requires a leap of faith, patience and willingness to invest for the long term.Page | 10
6. Vice or Rebellion
Each and every one of us sometimes gets that feeling of wanting to do something differently or breaking the rules. Vice can be described as that feeling of desire that someone gets whenever they are told that they cannot have something that they want. Everyone remembers Monica Lewinsky as a result of the scandal that surrounded her. However, she was able to use this sense of vice in order to market her handbag line. Also Apple was successful in the rebellious campaign in their "Think Different" campaign during that period when the company was lagging significantly behind Microsoft. Hogshead posits that you should begin by changing some perceived expectations in order to evoke a vice. She notes that a company in the electronics industry could come up with a set of headphones that they can market with a volume setting such as road to deafness in order to subtly trigger a vice.
Other Details
- 6 Articles (TXT)
- 1 Ebook (PDF), 28 Pages
- 12 Graphics (JPG, PNG)
- 1 Salespage (HTML)
- 1 Squeeze Page (HTML)
- Promotional Ad Material (Emails)
- Year Released/Circulated: 2017
- File Size: 2,640 KB
License Details:
[YES] Can be sold
[YES] Can be used for personal use
[YES] Can be packaged with other products
[YES] Can modify/change the sales letter
[YES] Can be added into paid membership websites
[YES] Can put your name on the sales letter
[YES] Can be offered as a bonus
[YES] Can be used to build a list
[YES] Can print/publish offline
[YES] Can be given away for free
[YES] Can convey and sell Personal Use Rights
[YES] Can convey and sell Resale Rights
[YES] Can convey and sell Master Resale Rights
[NO] Can modify/change the main product
[NO] Can modify/change the graphics and ecover
[NO] Can be added to free membership websites
[NO] Can convey and sell Private Label Rights