Salespage Snapshot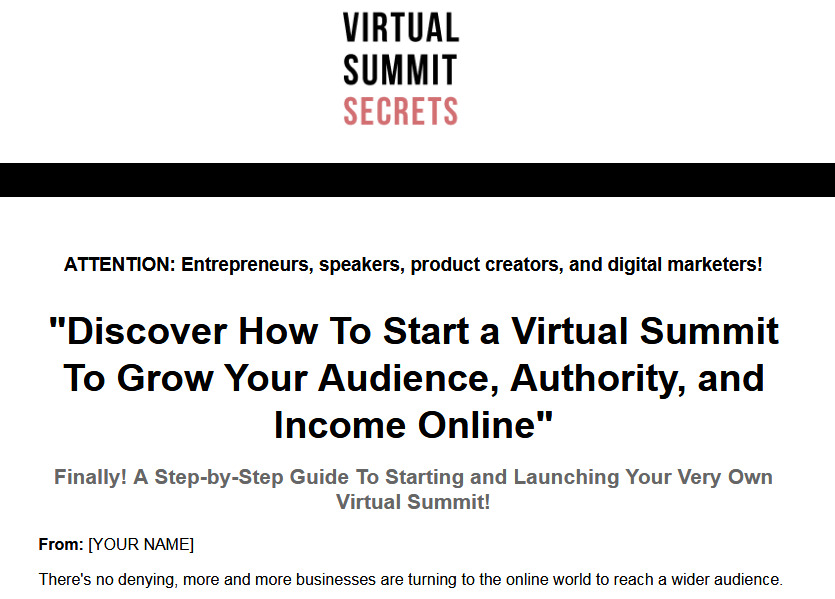 >> Click Here To View Sales Page...
Table of Contents
Chapter 1: Introduction and Why You Should Start a Virtual Summit .. 7
Who do virtual summits work for? …. 7
What can you expect? . 8
10 benefits of hosting your own virtual summit …… 9
Chapter 2: How To Plan, Launch and Host Your Virtual Summit . 14
Phase 1 – Step 1. The Logistics ….. 14
Step 2: Plan your content . 16
Step 3: Decide on the technology you will be using …. 17
Step 4. Select your speakers and sign them up .. 17
Phase 2- Step 5: Sales funnel for capturing leads and sales …. 18
Step 6. Record your interviews …… 19
Step 7: Set your live interview landing pages …… 19
Step 8: All-access membership page set-up 20
Phase 3 – Step 9: Ready to launch 21
Step 10: Time to promote your virtual summit ….. 21
Step 11: Execution …. 22
Step 12: Complete the required follow-up tasks .. 22
Chapter 3: The Tech, Tools, and Platforms Needed to Host Your Virtual Summit Successfully … 25
1. Webcam .. 25
2. Microphone …. 26
3. Video recording software….. 26
4. Video editing software .. 28
5. Images & graphics 29
6. Email software for automation …. 29
7. Sales funnel software … 31
Chapter 4: How To Plan Your Virtual Summit Content … 35
Chapter 5: How to Get Influencers to Speak at Your virtual Summit .. 39
Chapter 6: How to Promote Your Virtual Summit ….. 44
Chapter 7: How to Make Money From Your Virtual Summit .. 48
1. All-access pass .. 48
2. Order Bump 48
3. Affiliate Commissions 49
4. Upsell with your coaching or service ….. 49
5. Sponsorships ….. 49
6. New product / service …… 49
Conclusion … 52
Sample Content Preview
Chapter 2: How To Plan, Launch and Host Your Virtual Summit
Like all events, planning is key. However, just when you think you couldn't plan for anything else, something *doesn't* go to plan. The good news is it will be ok. Learn from the unexpected; it simply means next time you will be prepared. After all, it is not about what doesn't go accordingly to plan but how you overcome it and move on as seamlessly as possible.
Have you attended a virtual summit before? What did you like about it? What did they do well? If you haven't experienced a virtual summit before, it is worthwhile attending one to see how it all works. You will then be able to use these evaluations to set up your virtual summit.
Create your planning strategy so that you feel in control and organized throughout the whole process. The problem with a rushed job is that you will not have the time to execute your marketing strategy effectively. The advertising and promotion of your summit will feel aggressive and repetitive to your audience. Once a sponsored ad or repetitive post begins to continually pop up on your newsfeed, it starts to do the opposite of what you are trying to achieve. The process should be as organic as possible.
Phase 1 – Step 1. The Logistics
So, we've previously touched on planning for your virtual summit, but let's go deeper: Where do you even start?
Firstly, you need a minimum of 3-4 months to prepare. A virtual summit is not something you should rush or push through channels quickly. You need the time and momentum to build your event in stages. Think about how long you'd like your summit to be, what dates suit, and how you will price your all-access pass. A summit should not be more than seven days long, and for a first-time organizer, 4-5 days is recommended.
So, ask yourself the following questions, going broadly but deeply:
– What niche or industry am I in or most passionate about?
– What topic do I want my virtual summit to be about?
– What topic would I feel most comfortable hosting and providing information to my audience about?
– What are my short and long-term goals during and after this summit?
– Who do I want to attract within this niche or industry?
[*Remembering, that 90% of people in any niche are most likely not interested in buying from you or paying for your services. You want to think a little deeper; perhaps, you are looking to attract a smaller subset of people within your niche that might be interested in your offerings.]
– What would my target customers want to see at my virtual summit?
[*This type of questioning will help you understand and develop insight into who your target audience is.
Your topic should be broad enough to interest a wide audience within your niche, but specific enough to add value to someone's business or profile. For example:
You are hosting a summit about 'Yoga.' There is no doubt yogis and people who practice yoga will be interested in attending your virtual summit. No doubt they would find it interesting to listen to guest speakers while feeling part of a community. However, they practice yoga; they believe in it; they are already there. So, begin to think a little deeper.
What might other types of people be interested in yoga? What is your offering? For instance, if you run live streaming yoga classes, you could target stay-at-home-mums or dads that would like to exercise from home. Or large corporates that want to bring lunchtime yoga into their boardroom. What about athletes that need to increase their flexibility, but are unsure where to start?
While the support of people within your industry is great, the chances are they are not going to be your long-term buyers. Discover groups that need your product, but just don't know it yet!
Here are some further examples of topics that are being advertised today;
– Affiliate Marketing Virtual Summit
– Virtual HR Summit
– The Future of Global AI for Marketing Virtual Summit
Step 2: Plan your content
Think of yourself as the creative director of your virtual summit. As Creative Director, you get to choose the direction of your event. This includes the name, the branding, the speaker list, types of questions you want to ask, and the overall theme. This is the fun stage, so workshop ideas with your peers, colleagues, and friends. It's also a good idea to do some research; for example, on what's already been done before and who you would like to speak at your event.
It's good to note that you should keep the name of your summit tight and catchy. Use the word 'summit' so that it's clear to your audience that it's an event, not a webinar, tutorial, or podcast. 'Smart Marketing Summit,' 'Brand with Purpose Summit,' 'How to Pivot Your Business Summit' are good examples.
We'll go into further detail about planning content for your virtual summit a bit later.
Step 3: Decide on the technology you will be using
First impressions last, so, a well-executed technology platform is crucial to your success. This includes sturdy, high-quality hardware and access to fast, reliable internet.
Here's a quick list of what you'll need to get started:
– Webcam
– Microphone
– Video recording software
– Video editing software
– Images & graphics
– Email software for automation
– Sales funnel software
– Hosting
We'll go into further detail about software and hardware options for your virtual summit in the next chapter.
Step 4. Select your speakers and sign them up
It's now time to reach out to your guest speakers. You may already personally know some of these people (they are the easy ones!), but for others, you will be reaching out cold (not so easy). Choose influencers that resonate with you, who you find interesting, and ultimately will add value to your topic, industry, or niche.
Your guest speaker line-up is what's going to grab your audience's attention and draw them in. The required number of speakers usually begins at 5, but can extend to 25-30. Be careful not to bite off more than you can chew; too many speakers can be challenging to manage. A substantial amount of time is required to record each interview, and this does not include editing and uploading.
When contacting your guest speakers, approach them as if they are your peer or colleague, rather than a gushing fan of their work (even if you are!). It is important that they understand that their input in the event will be a benefit for them too. Make it sound exciting (which it will be, of course) and be enthusiastic about your event.
Phase 2 – Step 5: Sales funnel for capturing leads and sales This is where you will need to set up the digital platform for your summit. The sales funnel will be in stages, with each call to action a step closer to the sale. It is ok if people would like to attend for free, they have that option too. After all, the free option will be a lead magnet within your marketing campaign. You will still capture their email address, and attendees have the option to pay for an all-access pass during the summit.
You will need to purchase your summit domain at this stage if you haven't already. You'll also begin to build your sales funnel, which will include four key pages.
Other Details
- 1 Ebook (PDF), 53 Pages
- 2 Graphics (JPG, GIF, PNG)
- 1 Salespage (HTML)
- Checklist, Resource Cheat Sheet, Mindmap, Optin Page, Social Media Images, Email Swipes
- Year Released/Circulated: 2020
- File Size: 43,112 KB
License Details:
[YES] Can be sold
[YES] Can be used for personal use
[YES] Can be packaged with other products
[YES] Can modify/change the sales letter
[YES] Can be added into paid membership websites
[YES] Can put your name on the sales letter
[YES] Can be offered as a bonus
[YES] Can be used to build a list
[YES] Can print/publish offline
[YES] Can convey and sell Personal Use Rights
[YES] Can convey and sell Resale Rights
[YES] Can convey and sell Master Resale Rights
[NO] Can modify/change the main product
[NO] Can modify/change the graphics and ecover
[NO] Can be given away for free
[NO] Can be added to free membership websites
[NO] Can convey and sell Private Label Rights