Salespage Snapshot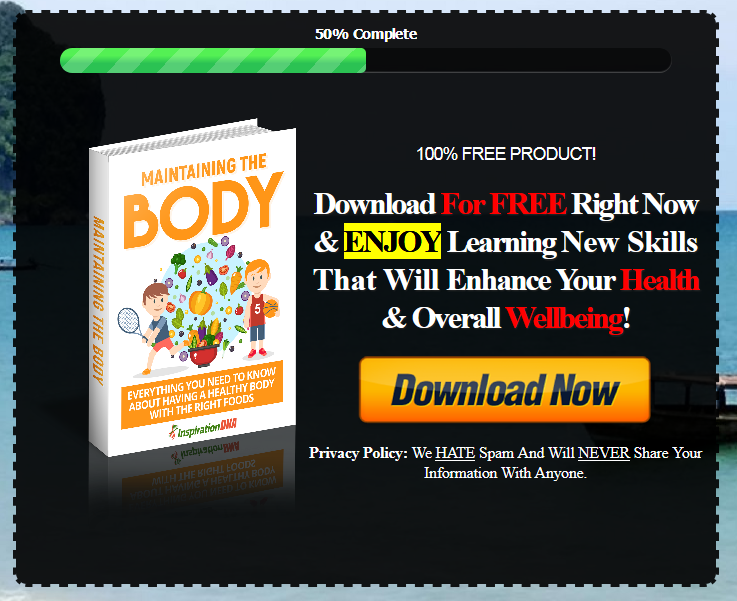 >> Click Here To View Sales Page...
Table of Contents
Foreword
Chapter 1:
Introduction
Chapter 2:
Maintaining A Healthy Weight With The Right Foods And Not Dieting
Chapter 3:
What You Need To Know About A "Raw Diet"
Chapter 4:
Using Juicing For Better Physical Health
Chapter 5:
What You Need To Know About Natural And Organic Foods
Chapter 6:
Choosing The Right Fats
Chapter 7:
Choosing The Carbs
Chapter 8:
What Does It Mean To Your Health To Be A Vegetarian
Chapter 9:
Foods To Kick To The Curb
Chapter 10:
The Benefits Of Eating Right For A Healthy Body
Wrapping Up
Sample Content Preview
Chapter 2:
Maintaining A Healthy Weight With The Right Foods And Not Dieting
When it comes to the subject of weight loss, the first thing that comes out in our minds is dieting. However, there are arguments that came out that it is not actually dieting that will help us maintain a healthy weight but it is eating the right foods. Common sense would tell us that when we eat less nutritional food, we are not feeding our body with enough nutrients that it needs to function properly. Therefore, when our body is not properly nourished, there is a tendency that we get sick because our body parts cannot function well.
Eat Healthy
Again, the answer to weight problems is not short term dietary programs that give out fast results, instead the key is feeding our body with the right food, having healthy lifestyles and engaging ourselves in regular physical exercise. In short, we don't need to get quick results, we need to get lasting results through the natural way.
The good thing about losing weight the right way is that it does not only give us long-lasting effects, it will also help us to stay healthy and look younger as we age. Here's how to get started with eating right to look and feel right.
Choose a healthy lifestyle over a short-term diet. Apparently, when it comes to staying fit and healthy there is no such thing as quick fix. It should be done gradually and properly to get permanent results. Although, prevalent diets can help you get a good start in your weight loss objective, it's definitely not the package that will give you enduring benefits.
Establish a support group who will help inspire, remind and support you with your plans. You can combine people and tools in taking each step and maintaining a healthy weight. Ask any of your friends or family members to be your support group and let your plan be known to them so that they can guide you all throughout. Also, to complete your support system you may want to add a weight loss tool that can help you trace your calorie intake and more.
Make a good change slowly but constantly. Remember, it is not about the thing that you do that will make you successful in maintaining your health but it is how persistent you are in doing it. Therefore, it is also important that you make achievable and effective goals in order for you stay motivated. When temptation attacks, focus more on the long term benefits that you will receive rather than the temporary ones.
Lastly, consider experimenting in order for you to discover the right diet that can supply your needs aside from keeping you in great shape. This is because whatever you do, finding happiness and satisfaction in it will make it worth the effort.
Chapter 3:
What You Need To Know About A "Raw Diet"
For many years diet programs have evolved. A few of the most popular diets are the Atkins Diet, Zone Diet, Vegetarian Diet, South Beach Diet, Mediterranean Diet and Raw Food Diet. In this article we will talk about the Raw diet.
The Raw Diet
The way raw diet enthusiasts describe this regime is "it's like a magical potion handed in a salad plate". This is because its effect is delightful, it makes people feel like they don't age, and rather they grow younger. More than this, they feet that they have so much energy to do things because they feel light and teeming.
Generally, a raw diet is distinguished by food that has been heated to a certain level, normally around 104 to 115 degrees. The reason for this is that when the food is heated elaborately, the enzymes will be destroyed and when they're destroyed, we will not be able to get all the essential benefits that our body needs.
However, there are disputes to this claim and they are telling us that while it is true that cooking destroys the enzymes, eating raw food will not give much of a benefit. This is because as soon as the food reaches the acidic nature of the stomach, the enzymes will also be destroyed. Thus, the same thing occurs in whichever process you prepare the food. Having said that, the real reason why the raw diet is perceived as an effective method in maintaining a healthy weight and body is that it's a plant-based diet which is known in helping us to move in a healthier path.
Most of the raw diet enthusiasts are vegan because it is 70 to 80 percent plant-based diet. Basically, when you go for a raw diet, you should be ready to eat fresh fruits and vegetables all the time as well as other raw products such as unpasteurized milk, raw meat and the like.
On the subject of losing weight, raw diets can deliver great results as long as the rules are being followed. The general rule is to eat smaller amount of calories in order to weigh less. But the final question is, while this has several benefits, will there be a health risk that goes with the raw diet? The answer is yes! When you are practicing the raw diet, you have to avoid food poisoning as it is common when food is uncooked.
Chapter 4:
Using Juicing For Better Physical Health
There is no doubt that eating vegetables will make you healthy. The question is, will drinking vegetable juices give out equally healthy benefits? Or will it give more? I know you want to know the truth about juicing, that's why you are reading this. To give you this satisfaction, read on and learn more.
Juice It Up!
Juicing will allow you to consume more vitamins and antioxidants for an obvious reason; you can consume more vegetables when it is in liquid form compared when you eat vegetables in solid form. Studies show that drinking juice of raw vegetables help fight back chronic diseases such as immune disorders, high blood pressure, diabetes, cancers, skin diseases and many others.
Furthermore, drinking raw vegetable juices is very good for your digestion because your digestive system uses less energy to digest and liquefy food. Thus, it can rest more. Although you will not be able to benefit much on fiber, you will surely be delighted with the benefits that a live enzyme can give knowing that juicing will preserve the enzymes since the food is uncooked.
Then again, we need to understand that juices are not created the same except when done freshly. For bottled juices, make sure to read the labels because highly concentrated fruit juices can significantly increase blood sugar levels, aside from the fact that it has less nutritional value since it undergone artificial process.
To conclude, it is best to prepare fruit and vegetable juices by yourself to ensure optimum benefits. To enjoy it more, you can try combining a few types of fruits and veggies while you experiment until you find your favorites. Nevertheless, you can try some popular mixes such as blending leafy vegetable like spinach and cucumber, mixed with apple or carrot to add some sweet taste.
Other Details
- 1 Ebook (PDF), 33 Pages
- 2 Graphics (PNG)
- 1 Salespage (HTML)
- Year Released/Circulated: 2018
- File Size: 3,826 KB
License Details:
[YES] Ebook Can be given away against an email address
[YES] Can sell the WHOLE product and keep 100% of the sales
[YES] Can sell the WHOLE product for Resale Rights
[YES] Can sell the WHOLE product with Master Resale Rights
[YES] Can edit the Squeeze & TY + MRR Upsell Pages
[YES] The WHOLE product can be packaged with other products you sell
[YES] The WHOLE product can be offered as a bonus with other products you sell
[YES] The WHOLE product can be added to paid membership sites
[YES] The WHOLE product can be offered through auction sites
[NO] WHOLE Product can be given away
[NO] WHOLE Product can be added to free membership sites
[NO] Ebook can be modified in any way
[NO] Can sell with Private Label Rights