Salespage Snapshot: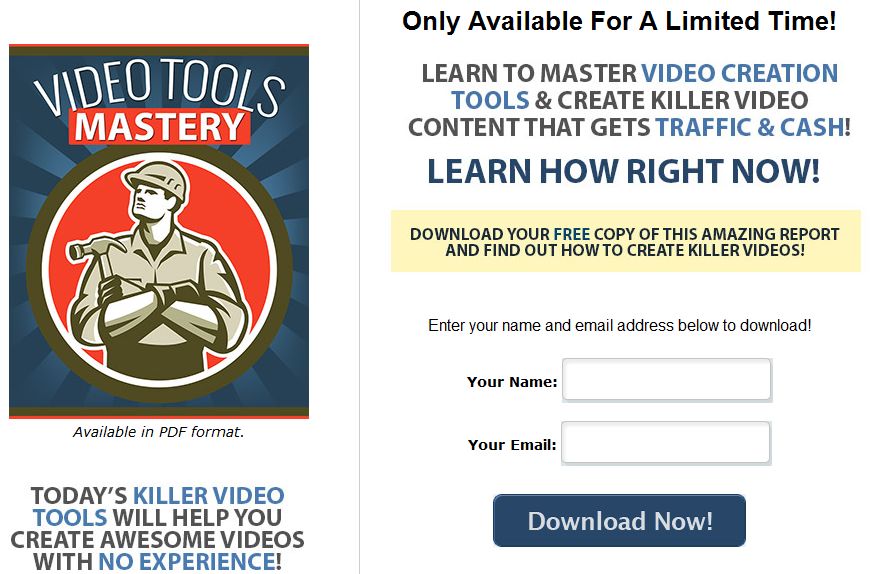 >>> Click Here To View Full Sales Page…
Table of Contents
Table of Contents………2
©2013-2014 All Rights Reserved. ..2
Introduction………3
Uses for Video in Marketing… 4
Creating Videos for Cash……. 6
Video Tools…….. 8
Video Creation Tools 8
Video Hosting……… 12
Video Promotion….. 13
Voiceovers for Videos…….14
Conclusion……..16
Resources…….. 17
Sample Content Preview
Uses for Video in Marketing
There are many profitable ways to use video in online marketing. No matter what your business model, online video can be helpful. Let's take a look at a few ways video is useful.
1. Marketing – Videos are great for all sorts of marketing purposes. You can make video ads that are like commercials, interesting or entertaining videos that could go viral, or even a combination of the two.
2. Traffic Generation – Even if you don't have your own product to market, you can use videos to generate traffic to a blog or any other online property.
3. Product Creation – Because video is such a popular form of media, product buyers will appreciate having videos available in any packages they buy.
4. Sales Presentations – If you have your own products, videos can enhance your sales pages and increase conversions considerably.
5. Teaching – If your primary business model involves teaching something, video can be a great way to deliver your content. Many people learn much better by watching videos than by reading instructions.
6. Reviews – Reviews are a very powerful selling tool, and video reviews have the potential to be even more powerful than written reviews.
7. Website Content – Videos also make great content for websites and blogs. The popularity of video blogging (vlogging) has really taken off, and more and more people are seeking content in this format.
8. Branding – Videos are great for branding. They allow you to repeat your product name or your own name repeatedly. They allow for great product placement. They allow you to put a name or URL directly on the video itself. There are so many ways to use video for branding purposes.
Creating Videos for Cash
Another great way to use video creation tools is by outsourcing your skills to other people who need videos. Some people may not be interested in learning how to create videos, or they may not have time. You can step in and help those people and make some cash at the same time.
There are plenty of places to locate people who need videos made. Here are a few ideas to get you started:
>> https://www.freelancer.com/
Freelancer is a large freelance marketplace where people buy and sell services on a regular basis. There are always plenty of people looking for video creation services.
>> http://www.fiverr.com
Fiverr is another freelance website, but most projects sell for only $5. You may think $5 isn't a lot of money to create a video, but once you get quick at making them, you could easily make $20 per hour or more making short, simple videos for people.
>> http://www.WarriorForum.com
The Warrior Forum is the most popular and highly trafficked webmaster community, and there are thousands of members who are active on a regular basis, as well as many more who are active on occasion. They have an active marketplace where you can post your services for sale.
>> http://forums.digitalpoint.com
Digital Point is another popular webmaster forum. Services generally sell for less here than at the Warrior Forum, and they have more strict rules about posting services for sale, however it is highly trafficked and still a good source for work.
Video Tools
Now we're getting to the meat of the report. In this section, you're going to learn about some of the most popular and useful video creation tools, as well as tools you can use to market
Video Creation Tools
>> http://www.WeVideo.com
WeVideo is a powerful online video editor that will allow you to create videos that are available on all devices 24/7 in the cloud. You can even have multiple people collaborate to create a single video.
Their system is geared toward editing videos that have already been created, so it's best for people who want to film video and then turn those videos into something more interesting and useful. For example, if you film yourself teaching a class, you can import that video from your phone, camera or tablet and edit it to include visual effects and music.
There are three interfaces built to accommodate everyone from complete beginners to experienced video editors.
WeVideo has built-in themes that will give your video a specific look and tone with just one click. Videos will include professional visual effects, transitions, typography and soundtracks.
WeVideo has a free plan, and a premium plan that starts at just $7 per month – $48.00 per year. However, if you want to use it for business, you might need to go for their Business plan, which is $180.00 per year or $20.00 when billed monthly.
Other Details
- 1 Ebook (PDF, DOC), 16 Pages
- 7 Part Autoresponder Email Messages (TXT)
- 1 Squeeze Page (HTML, PSD)
- File Size: 10,363 KB