Salespage Snapshot: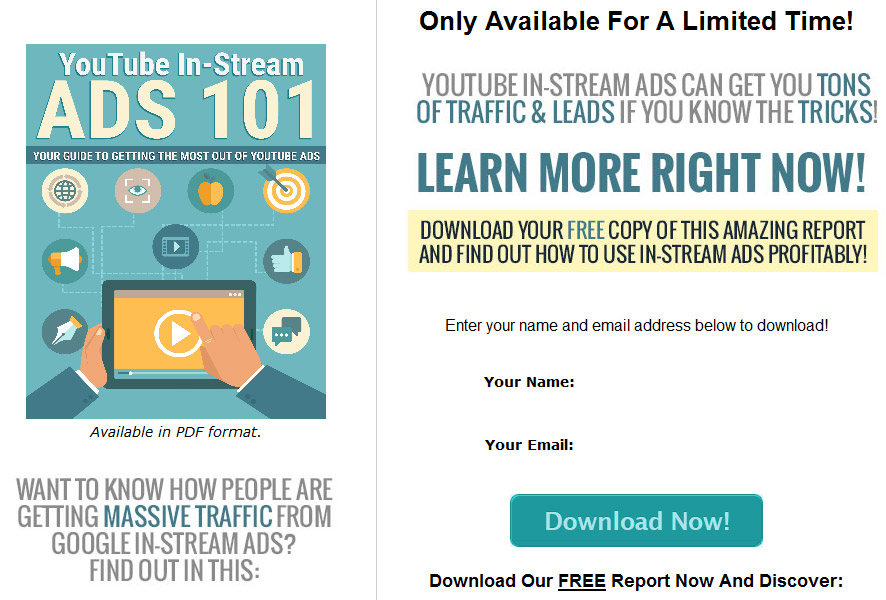 >>> Click Here To View Full Sales Page…
Sample Content Preview
In-Display Ads
In-display ads are those you might see in the sidebar when you are viewing a video on YouTube. The ad is shown at the top of the related videos, and the ads blend in quite nicely, but not so much so that they don't get clicks. They do have a yellow tag that alerts users to the fact that the post is an ad.
This type of ad is best for building your YouTube channel or just getting more views to specific videos. Because the ads lead to YouTube videos and NOT to a landing page, they aren't as effective for actual promotional purposes.
Of course, you can still build calls-to-action within your video to get users to your website, but the ad won't link directly to your page.
In-Search Ads
In-search ads are similar to in-display ads, except they appear when a user searches for specific keywords rather than when someone is searching for a video. The ads appear above the content.
These ads work in much the same way as in-display ads. Traffic is sent to a video rather than a landing page, so again, you would need to be certain your video has a strong call-to-action if you want to get traffic to a landing page.
Prerequisites
In order to create YouTube ads, you will need a Google account and an AdWords account. Then you will need to link your YouTube account to Google AdWords to purchase ads.
You can find out more about the basics of advertising on YouTube here:
>> https://www.youtube.com/yt/advertise/
And you can find out how to link your AdWords account to Youtube here:
>> https://support.google.com/youtube/answer/3063482?hl=en
Once your accounts are linked, you can start creating ads right away. Just click the "GET STARTED" button here:
>> https://www.youtube.com/yt/advertise/launch-ad.html
Once you have these things in place, you're ready to get started.
Creating Your Landing Page
Although it's not necessary to create a separate landing page specifically for YouTube traffic, it's a good idea to do so for a few reasons.
First, you'll be able to easily tell how much traffic the site is sending you. This can be accomplished with a conversion pixel, as well, but this method gives you more control.
Additionally, creating a specific landing page would allow you to target YouTube viewers specifically with your ad. For example, your headline might reference something like "Welcome YouTube Viewers". Or you could have a video landing page that might be more effective than a traditional landing page since that traffic is coming from a video website.
You'll definitely want to add a conversion pixel to your landing page even if you create a dedicated landing page for your YouTube traffic. The conversion pixel will send information to YouTube that will let them know how well your ad and landing page are performing, and the system may adjust your ad based on the information it receives from the conversion pixel.
Here's how you can implement a conversion pixel:
>> https://support.google.com/adwords/answer/1722054?hl=en
Creating Videos
It seems obvious, but too many people seem to think that the quality of their video ad doesn't matter much. The truth is, it matters a whole lot. And it's not just the quality of the audio and video itself, but of the way your ad is presented and the type of ad you create.
You can definitely outsource the creation of your video if you don't feel comfortable making it yourself, but there are myriad tools available these days that make it easy for beginners to create professional videos on their own.
Here are a few examples:
http://www.PowToon.com
http://www.VeeRoll.com
http://www.telestream.net/screenflow/overview.htm (MAC)
http://www.techsmith.com/camtasia.html (PC/Windows)
Once you have created your ad, just upload the ad to YouTube like you would any video. This will let you get some traditional (FREE) views to your ad from the site itself in addition to making the video available for the ad system.
Campaign Creation
There are a number of different ways to target your in-stream ad on YouTube. Each method has its own strengths and weaknesses, so you may want to try out more than one to see which one gets you the best results.
Keyword
Keyword campaigns allow you to target based on specific keywords. This is helpful if you have a good idea of the types of words and phrases people might search for to find information related to your topic.
Let's say you have an ad that has to do with digital painting. You might not want to target the word "painting" on its own, because a lot of people might be searching for that word to learn how to paint with oils or acrylics, or they might be looking to paint the walls in their basement. Instead, you'd want to target very specific keywords such as "digital painting" and "painting on a computer".
Interest/Topic
Another type of targeting is by interest or topic. YouTube keeps track of what logged-in users watch, developing a profile of the type of content each individual likes over time. This helps them deliver accurate suggestions of things the user might like to watch, and also helps them deliver the most relevant ads.
Other Details
- 1 Ebook (PDF, DOC), 15 Pages
- 7 Part Autoresponder Email Messages (TXT)
- 1 Squeeze Page (HTML, PSD)
- File Size: 2,634 KB