Salespage Snapshot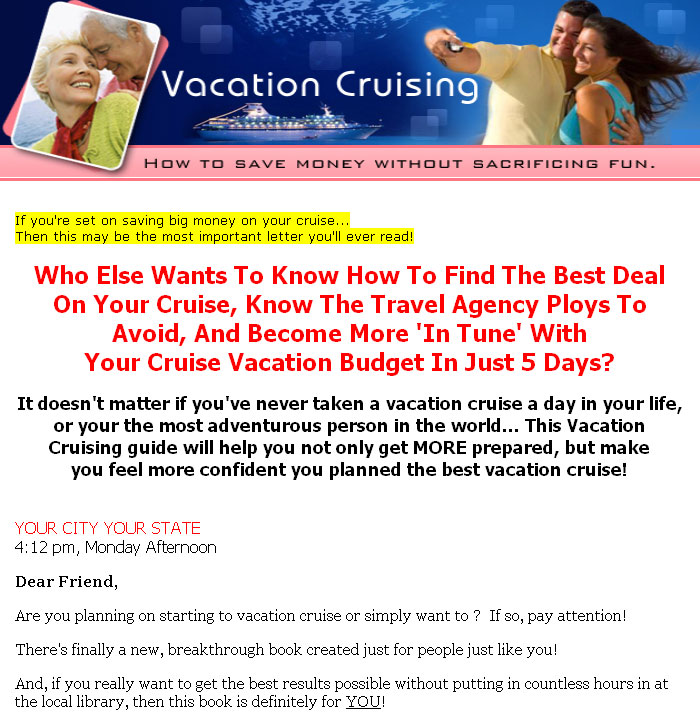 >> Click Here To View Sales Page...
PLR Ebook Table Of Contents
Introduction                                4
A Word About Travel Agents                    5
Doing It On Your Own
Finding the deal                            7
Let's Go Cruising
Making the reservation                        18
A Simple Plan
What to know before you board                22
Paperwork                            22
Medical Records                        25
Packing                                26
Budgeting                                28
Welcome Aboard!
What to do once on board                    29
To Insure Proper Service
Proper tipping procedures                    34
Charge It!
Shopping                                35
Location, Location, Location
Ports of Call                                38
More Than Bus Trips
Shore excursions                            39
Food, Food, Food                            44
Getting Your Drink On
Beverages                                48
Mama Needs A New Pair 'O Shoes
Gambling in the casinos                      51
Sports and Such                                              52
Calgon, Take Me Away
Spas and massages                        53
Oh My Aching Tummy
Sea sickness                            55
Smile for the Camera
Pictures on your cruise                    56
Phoning Home
Keeping in touch with home                58
Wash Day
The ship's laundry                        59
No Money, No Money, No Money
Getting freebies                            60
In General                                61
Wrapping It Up                                63
PLR Ebook Sample Content Preview
"Baby let me take you on a sea cruise"
The lyrics to Frankie Ford's song "Sea Cruise" seem to echo the sentiments of many people when planning a vacation.  Some think it's out of the realm of possibilities when considering a vacation on a budget, but not anymore!
Many people, including myself, think that cruising the open seas on a luxury ship is a vacation we can't even dream of.  However, with some careful planning and saving, a cruise is definitely within the realm of possibilities!
The cost of cruising has dropped dramatically over the last few years, and it's become affordable for almost everyone as a vacation alternative. But many of us could afford to cruise even more often if we could just cut down on all the extra onboard and on-shore costs, above and beyond the actual cruise fare.
There are hundreds of tips out there on how to save money on your cruise.  Whether you get advice from family and friends, the Internet, or your local travel agent, they all are valuable.  The only problem is how do you remember them all?  This book has taken the best tips from several sources and put them in one convenient place – HERE!
Almost anyone can take a cruise vacation that's everything depicted in the movies and on television.  You can enjoy The Bahamas, Hawaii, Mexico, and even Alaska aboard luxury cruise ships with all the amenities of a resort on land.
The key to making the most of your cruise vacation is to know where you can save money without sacrificing fun or rest and relaxation.  Many cruises are all-inclusive, but that doesn't necessarily mean "ALL inclusive".  There are extra charges for items on board as well as activities and shore trips.
You deserve to enjoy your vacation and all that comes with it, and you can do it on a budget!  What could be better than that?
So sit back and read up on the best ways to save money on your cruise.  Gopher, Julie, and Doc from "The Love Boat" won't be there, but YOU will be!…
Other Details
* 50+ Page PLR Ebook
* Professionally Written Salesletter
* 50 PLR Articles
* 5 Part Autoresponder Email Course
* 1 Complete Adsense Website
* Professionally Designed Graphics Set
* Highly Targeted Keyword List
* Pre Written PPC Ads
* PDF and MS Word Source File For eBook
* PSD Files For Graphics