Salespage Snapshot: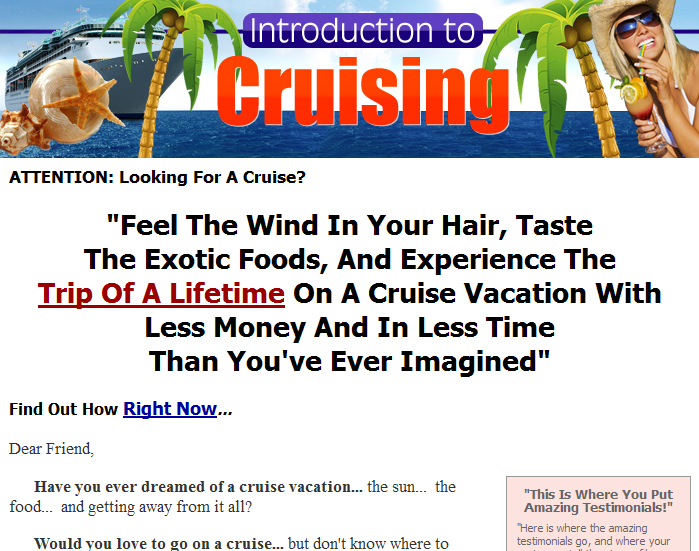 >>> Click Here To View Full Sales Page…
Table of Contents
Introduction
Chapter 1.
Is Cruising Right for you?.
Making Decisions.
Cabin Options
Types of Cabins
Single
Double.
Triple/Quad.
Inside Cabin
Oceanview Cabin.
Mini-Suite
Suite
Cabin Guarantees
Choosing an Itinerary.
Alaska.
Bahamas
Bermuda.
Caribbean.
Europe
Panama Canal
South America
South Pacific.
Africa.
Chapter 2.
Tips for Planning a Great Cruise.
Tips for Booking a Cruise
Choosing the Best Time for your Cruise.
Understanding the Different Cruise Lines.
Birka
Carnival Cruise Lines
Crystal Cruise Lines
Disney Cruise Lines.
Norwegian Cruise Lines
Selecting the Best Cruise Lines
Chapter 3.
Practical Matters
Paperwork Matters.
Understanding the Costs of a Cruise
Basic Costs.
Port Taxes and Fees
Air Travel Costs
Cancellation Insurance
Lead-in Pricing
Extra Miscellaneous Costs
All-Inclusive Cruises
Tips for Saving Money on your Cruise
Chapter 4.
What to Expect from your First Cruise
Chapter 5.
Getting Everything Together for your Cruise.
The Day before Departing.
What to Pack for your Cruise
Essentials for Everyone.
Packing List for Women.
Packing List for Men
Packing List for Children
For Infants and Toddlers
For Grade School Children
For Teenagers.
Tips for Packing
Communication Matters
Chapter 6.
Your Cruising Timeline.
3 Months Before Cruising
60 to 75 Days Before Cruising
30 Days Before Cruising.
2 to 4 Weeks Before Cruising
1 Week Before Sailing
3 Days Before Cruising.
The Day Before Cruising.
Departure Day
Conclusion.
Sample Content Preview
INTRODUCTION
There are numerous reasons for considering taking a cruise. One of the most popular reasons for going on a cruise is that it makes it possible for you to simply get away from everything. When you take a cruise, there is no rushing about and you do not have to worry about making it anywhere on time.
In addition, taking a cruise is much more affordable than you might think. There are often plenty of great deals that you can find on cruises on a daily basis. While some of the best deals for cruises can be found during the off season, there are also numerous discounts that can be found practically any time of the year. You may be surprised to find that it is possible to spend less money on a cruise than you would have spent on any other vacation.
There is also plenty to see when you take a cruise. Cruising allows you to travel to a host of different locations around the world. It is even possible to visit some of the more remote and unique places of the world. By taking a cruise, you can visit and experience a range of different parts of the world and cultures. That is not even including the wide range of activities that are typically available on the cruise ship itself.
If you enjoy meeting new people you will certainly love the opportunity to meet others while on a cruise. It is not even necessary to get off the ship to meet others.
Finally, cruises make it possible for you to do a lot of new things. Off and on the ship, there are plenty of things you can do, see and enjoy. You can go scuba diving or rock climbing. Learn a new skill. The sky is practically the limit when it comes to what you can do while on a cruise.
Taking a cruise offers many rewards for people who are looking for something adventurous or even something more relaxed.
Are you ready to learn how to have a once in a lifetime cruise experience?
Let's get started!
Other Details
- 30 Articles (TXT)
- 2 Ebook (PDF, RTF), 36 Pages
- 7 Part Autoresponder Email Messages (TXT)
- 1 Salespage (HTML, RTF)
- 3 Ecovers (JPG)
- File Size: 1,195 KB