Salespage Snapshot: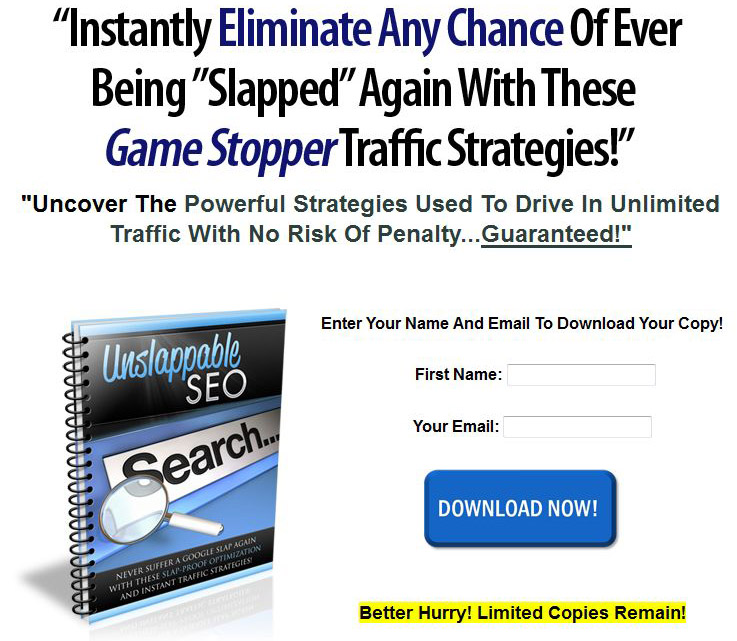 >>> Click Here To View Full Sales Page…
Table of Contents
UNSLAPPABLE SEO .. 1
WHAT NOT TO DO .. 6
SOCIAL SIGNALS … 7
UNIQUE CONTENT .. 8
CREATE A SOLID INNER-LINKING STRUCTURE . 9
AUTHORIATIVE CONTENT … 10
HIGH CONTENT-TO-ADVERTISEMENT RATIO… 10
ENGAGE VISITORS … 11
CREATE MICRO SITES . 12
DIVERSIFY ANCHOR TEXT .. 12
MONITOR YOUR RESULTS .. 13
Sample Content Preview
Social Signals
Social signals have never been more important in the world of search engine optimization. Through the use of auto-sharing plugins and widgets, you can instantly update your websites and blogs every time you post a new update or message via your social media profiles, such as Facebook or Twitter.
Social media helps you engage your audience, communicate with your target audience, compile feedback and requests while pushing your brand message out to your customer base.
Unslappable SEO: Special Report
It's also a very important part of search engine marketing because search engines like Google.com and Bing.com place distinctive value on the number of social signals pointing to your website.
Twitterfeed.com offers a free plugin that will automate site updates each time you post a new tweet. Focus on increasing your social activity every day, making it an integral part of your SEO campaign.
The more active you are, the more traffic you'll generate through a combination of direct links, re-tweets and other viral marketing components readily available through social media marketing!
Unique Content
Original content – not aggregated or syndicated – is one of the most valuable assets you can have when optimizing your website for social engine marketing campaigns.
It's important to focus on useful content that is comprehensive, detailed and thorough (think authority website content). Your material should be useful, credible and lend to your overall brand awareness. Focus on offering compelling value such as content and articles that motivate and encourage user engagement across your entire website.
Write for people, not the search engines. Forget keyword stuffing or optimizing article titles. Instead, work towards delivering clear and compelling value in the form of detailed information and your ranking will reflect your efforts!
Unslappable SEO: Special Report
Create a Solid Inner-Linking Structure
It used to be that we were told it was important to link to our main page because after all, it is the most valuable part of our website. These days, over-linking to our main page instantly sets off a warning bell with Google, indicating that we may be possibly 'over-optimizing'.
Instead, create an inner-linking system that varies links. For example, instead of linking an internal content page to our main page, link it to another content-rich page on your website.
Google's spiders (bots, crawlers) understand that the majority of content will reside within your sub-categories and directories on your website and so by inner-linking content pages to other sub-content pages, you are able to creature an authentic looking, 'natural' linking pattern throughout your website.
The spiders have gotten smarter. They know that if every internal page links to our main page, it's done for only one reason – to acquire as many links as possible to your primary landing page. So avoid setting off any red flags by varying your internal links so that they guide visitors from one content source to another. Not only will this improve your overall ranking but it will also significantly improve your visitors experience by giving them a simple navigation system that leads them to useful areas of your website.
Authoriative Content
It's no longer enough for your content to just be unique, it needs to be authoritative, provide substantial value, answer questions and offer the very best, most researched information and material possible.
We used to call this kind of content "pillar content" and it would be used as a lead-in to our blog, often featured on the front page. These days, every post and article on our website and blog needs to be created in the same way.
Authoritative content goes beyond just originality. It offers direct answers and useful information on key conversations and topics that are relevant to our overall website.
High Content-to-Advertisement Ratio
Your website also needs to feature a high content to advertisement ratio. While authority websites can feature ads for relevant products or resources, every page on our website should feature a much higher ratio of content per advertising space.
In fact, you should limit the number of ads on your website to 2-3 per page while making sure that advertisements never appear above the fold. Google requires that your website features compelling value criteria in order to be given a high ranking. Build content-rich websites that feature current, up to date information in article format.
Keep in mind that it's no longer about the length of each article but rather the actual content. Google wants to provide the best resources based on search queries, so that search engine users are given the most relevant sources possible.
Engage Visitors
In the world of social media, it's important that you find a way to engage and interact with your customer base. Implementing engagement tools will help your website's overall ranking and traffic volume in a number of ways including:
Sticky Factor – the more you engage your audience, the more often they will return to your website. Repeat traffic equates to customer loyalty. Encourages Activity – When you give visitors an opportunity to communicate with each other they will feel more connected to your website, and your brand. Integrate comment boxes, forums, discussion groups and communication channels.
Increased Value – It's not only your customers and visitors that will gain a positive experience from your website but the search engines as well. The more significant user engagement is on your website, the higher your quality score and ranking.
Create Micro Sites
If you plan to cover multiple topics or niche markets, it's wise to create a series of micro-based websites.
Micro sites are smaller content-rich websites that are focused on specific topics and themes. Not only are they important to search engine optimization but they are a great way to push your main website to the top of the search engines.
Create topic-focused websites that provide valuable content and link to your main website, cited as the primary source for information. Since Google is looking for relevant links that point to your website, creating a network of micro-sites that offer information relevant to your niche that also feature a prominent backlink to your 'mother site', you'll be able to siphon link juice, increase visibility and expand your presence within your niche. Just make sure that you set up your micro-site network on a different IP block than your main site. You can do this easily by signing up for two different hosting accounts and verifying that each one uses a different address (IP block). Ask your hosting provider for help if you need to!
Diversify Anchor Text
Anchor text consists of the keywords used to describe a link. It used to be easy to rank for a specific keyword just by focusing on building a backlink campaign that optimized keywords through anchor text. Not anymore.
These days it's important to diversify anchor text, spreading out the keywords used through a solid backlink campaign. Consider replacing anchor text links that are focused on keyword strings with anchor text focused on your website title, domain name or company name.
Websites that were optimizing anchor text for their website, domain, business name or direct page name were not heavily affected by Google's update so keep this in mind!
Monitor Your Results
Many webmasters weren't even aware that another Google update had taken place until it was too late. It's important that you stay on top of your traffic sources, overall ranking and on-site activity so that you can repair traffic leaks and continue to optimize your website for the most highest ranking possible.
One of the easiest ways to monitor your website activity is by
Other Details
- 1 Ebook (PDF, DOC), 13 Pages
- 7 Part Autoresponder Email Messages (TXT)
- 1 Squeeze Page (HTML, PSD)
- File Size: 9,175 KB