Squeeze Page Preview: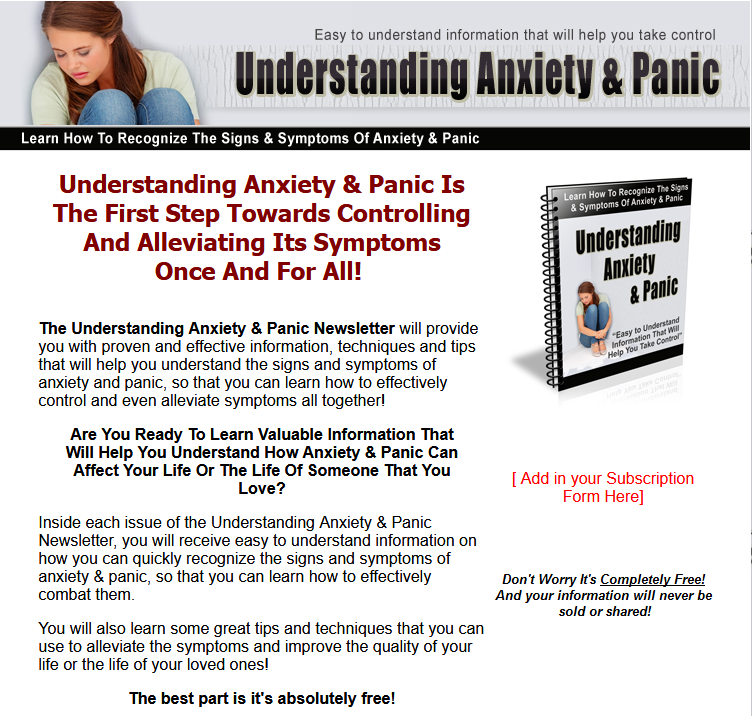 >>> Click Here To View Full Squeeze Page…
Features:
* 12 Issues Full Of Great Content
– Just add in your contact info and plug it in to your favorite auto responder. Each issue contains 500 words or more!
* One Ready To Go Squeeze Page
– Just add in your opt in form, upload to your server and your done!
* One Ready To Go Thank You Page
All ready to remind your subscribers to check their email and confirm their subscription. It even has built in revenue!
* 4 Researched Click Bank Products
These are top selling products on Click Bank that I've personally researched and chosen for each series.
* Extra Copy And Paste Article Content
You will get:
– Extra titles
– Extra opening paragraphs
– Extra closing paragraphs
– Extra fill in paragraphs
(these would make great tips that you add in to your follow ups system for more frequent contact with your readers)
Sample Content Preview
Hello "autoresponder code here",
In the last issue we talked about the various treatments available
for panic attacks. In this issue we are going to talk about different
things that you can do to stop anxiety attacks.
As we well know episodes of anxiety attacks can be
uncomfortable, unpleasant and unhealthy. Because of this, most
people head to the medicine cabinet for a some fore of relief for
their symptoms.
While some may find medications an effective way to battle
anxiety, there are more natural and equally effective ways of
dealing your excessive emotion without subjecting the body to
different negative side-effects.
While all of the techniques that we are going to talk about today
are simply a part of living a healthy lifestyle, that doesn't mean that
they are easy to incorporate into our busy daily routines.
While actually touched on these subjects before, but they play
such a vital role in the fight against anxiety that they are well worth
going over again.
Let's start off with one of the most important and that is exercise.
Exercise is at the top of the list because it improves the overall
health of the body and mind. A mere 30 minutes of exercise, 3-5
times a week is enough to provide you with a nice amount of
anxiety relief. Increasing to at least an hour of aerobic exercise
day will provide you with maximum benefits for relieving stress and
anxiety.
It doesn't have to extremely strenuous or all at one time. You can
break it up into smaller sessions at different levels of intensity,
because exercise is cumulative. So you can start out with a 10
minute work out in the morning and finish off with a 20 minute walk
after dinner. Find a way to make it enjoyable and easy to include
in your daily routine.
Get the right amount of sleep.
A popular adage, "early to bed and early to rise makes a man
healthy, wealthy and wise," speaks of the importance of sleep
in the overall health of a person. It is very important to your overall
health to get at least 8 hours of sleep a day. This is a well proven
and effective technique to battle stress as well as ward off anxiety
attacks.
Eat a healthy diet.
Along with exercise and sleep, diet plays an important role in
the overall health of the body. Eating healthy foods will help your
body chemistry maintain normal hormone levels as well as
providing increased resistance to common ailments and illnesses
that increase the risk of having and anxiety attack.
Avoid unnecessary stress.
Most stressors are unavoidable and it is unhealthy to turn your
back to certain situations that need to be addressed. Still, some
situations and people cause unnecessary stress that may lead to
and anxiety attack. Avoid people that stress you out, learn how to
say 'no', trim down your to-do-list, avoid sensitive topics such as
politics and religion, etc.
Use relaxation techniques.
Yoga, meditation, Taiji, progressive muscle relaxation,
visualization and breathing exercises can reduce anxiety and
promote the feeling of relaxation and emotional well-being.
Keep a positive outlook on life.
While it is very difficult to maintain a good attitude when
experiencing an anxiety attack, it is very crucial to be more
conscious and help stay in control over the situation to effectively
battle your condition. Don't think "Oh no, not again!" or "I can't
make it though this" when an episode hits you. Remind yourself
that it is only temporary and that it will be over soon. This will help
you control your emotions, so that your anxiety will now get worse.
If these techniques don't work for you, it is probably time to consult
a health professional about the problems you are facing.
Since the symptoms of anxiety attacks may be a result of other
psychological and physical conditions, you need to consult your
doctor and get a complete physical in order to rule out any other
possible causes.
If the anxiety prevails and symptoms last for more than 1 to 2
weeks, especially if you have no idea why then it is time to seek
the help of a trained therapist.
A person with a severe anxiety disorder will usually be prescribed
medication, therapy or both. Prescription drugs for anxiety are
usually antidepressants and benzodiazepines. However, they
provide short-term relief and thus, other therapy is often
recommended.
Therapy often consists of cognitive-behavioral therapy and
exposure therapy. They are both effective (especially when
combined with medication) to treat anxiety disorders. Cognitive-
behavioral therapy helps patients to replace negative thoughts
with positive ones.
Exposure therapy, on the other hand, helps treat anxiety attacks by
subjecting the patients to control fear in a safe and controlled
environment. Through repeated exposure, patients gain greater
self control and more confidence when facing a fearful situation.
Make sure you look for your next issue soon. We will be talking
about the
"your name here"
"your email address"
"your URL here"
Sample Extra Titles
Anxiety – An Overview
The Ugly Side of Anxiety
An Unbiased View of Anxiety
What's Really Happening With Anxiety
The Ultimate Guide To Anxiety
5 Simple Facts About Anxiety Explained
What To Do About Anxiety Before It's Too Late
The Secret For Anxiety Revealed in 5 Simple Steps
The Ultimate Solution For Anxiety That You Can Learn About Today
Be The First To Read What The Experts Are Saying About Anxiety
The Truth About Anxiety
Find Out Who's Talking About Anxiety And Why You Should Be Concerned
5 Odd-Ball Tips on Anxiety
The Anxiety Chronicles
Kids, Work and Anxiety
7 Shocking Facts About Anxiety Told By An Expert
The Insider Secret on Anxiety Uncovered
What Everyone is Saying About Anxiety Is Dead Wrong And Why
The Insider Secrets of Anxiety Discovered
And More…
Sample Extra Paragraphs
People with panic disorder stay generally active, although there
are specific situations that they tend to avoid. On the other hand,
agoraphobics limit their activities because of fearful thoughts.
These fearful thoughts can be very damaging the person's life as
well as his relationship to others.
————————————
As if to add to the insult, people with panic attacks are sometimes
perceived to have schizophrenia, the most advanced form of
psychosis which is marked by severe auditory and visual
hallucination as well as aggravated delusions and dysfunctional
thoughts. Clearly, there is no relationship between people who feel
like they are "going crazy" when undergoing attacks and people
who have advanced (and even minor) psychological conditions.
————————————
Oftentimes, these drugs (e.g. valium and antidepressants) are
meant to cure serious cases of mental disorders. Eventually, the
patients will no longer suffer from only one condition but two
serious conditions. The bonus? The addiction adds and
aggravates the unpleasant experiences accompanying panic
attacks. This is the common experience of people who rely too
much on laboratory-produced substances.
————————————
Seek help from health professional – Effectively stopping anxiety
attacks begins with recognition and followed by a compete
diagnosis from your medical doctor. A full medical examination
should be administered in order to rule out any other physical
causes unrelated to anxiety.
————————————
Eat balanced diet – Like exercise, a well-balanced diet is
important in keeping the body healthy, resistant to illnesses, and
maintain a low stress level. As much as possible, eat natural or
organic foods. Avoid processed foods or those that contain
preservatives and chemicals.
————————————
Performance anxiety can be closely linked to social anxiety. A
child who does not play good sports may show signs of fear
during physical education class. A child with poor reading skills or
cannot perform simple mathematical equation may panic and
become ill when called to recite for the class or solve a problem
on the board.
And More…
Other Details
- 12 Part Autoresponder Email Messages (TXT, DOC)
- Squeeze Page (HTML, PSD)
- Ecover (PSD, JPG)
- Affiliate Programs List
- File Size: 18,000 KB