Features:
* 52 Weeks Pre-written Newsletters
This isn't just ANY private label content. These newsletters are written to effectively promote best-selling affiliate products for an entire year. All the work is done for you.
* List of Top Affiliate Programs
Comes with high-paying, high conversion affiliate programs from Clickbank, Commission Junction, Shareasale, and others – just sign up! Once you've got your affliiate links, you put them into the content and bam – your newsletters are branded and ready to make you money!
* Opt-In Template For Each Niche
Pop in YOUR autoresponder information, and you're ready to upload this page to any domain and start collecting leads!
Opt-In Template Preview: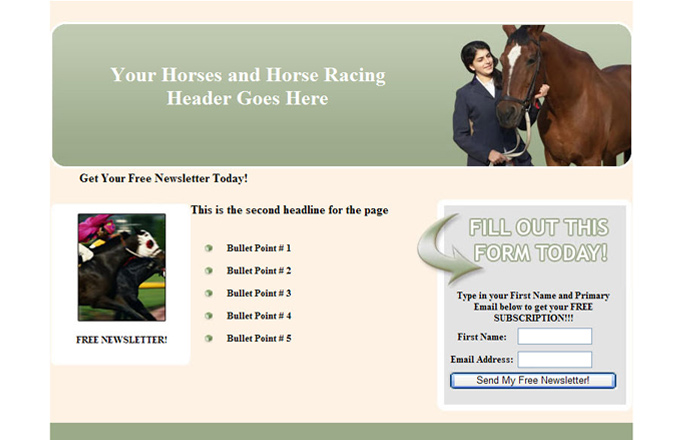 Autoresponder Message Titles:
– Horse Auctions
– Warm-Blooded Horses
– Horse Grooming
– Horse Riding Safety
– Smarty Jones
– Horses In Art
– Reading Horse Behavior
– Arabian Horse
– Secretariat — All Heart
– Horse Feed
– Horse Training
– Palomino
– Horse Saddles
– Cold-Blooded Horses
– Pari-Mutuel Betting
– Famous Quotes About Horses
– Barrel Racing
– Seattle Slew
– Hot-Blooded Horses
– The Triple Crown Of Thoroughbred Racing
– Thoroughbred
– American Saddlebred Horse
– Mr. Ed
– Horses For Children
– Horses In Literature
– Rodeos
– Horseshoe Luck
– Theft Proof Your Horse
– What Is Horse Tack?
– Ponies
– The Preakness Stakes
– Horse Riding
– Horse Racing
– Ranch Horses
– Basic Horse Care
– Trail Horse Safety
– Horse Rescue
– Trigger
– Paint Horse
– Bronc Riding
– The American Quarter Horse
– Morgan Horse
– The Kentucky Derby
– Horse Shows
– Clydesdale Horse
– The Belmont Stakes
– War Horses
– Adopt A Horse Program
– Work Horses
– Race Horses
– Horses In The Old West
– Appaloosa Horse
Sample Affiliate Program Preview:
False-favourites
Betfair Accredited Trainer Reveals Why Laying Horses On The Betting Exchanges Isn't The Walk In The Park So Called Experts Are Claiming. Make 50% per sale ($17.93).
The Betalay Horse Racing System
"This Sells Because It Works!, It Generates Huge Profits!, Its Unique!, Its Proven!, Its A Best-Seller!" Earn 50% per sale ($44.69).
Digiturf
"Digiturf is a virtual horse racing site where members can own, train and race virtual horses in 3D daily against other members for real prizes." Earn 20% commission for the life of the referred member calculated on the net cash deposited. Special Sign Up Offers for your referrals: – First Virtual Horse is Free! – – 200% Bonus: $60 Bonus on first $30 Cash Spent!"
Equestrian Collections
"Equestrian Collections is the premier Equestrian Web Store in the US. It features over 200 of the top brands in the industry. The average sales ticket on Equestrian Collections is $125 and many purchasers buy a second time right after receiving their first order." Commission of 8% with a second tier of 10% and a one time $5 referral bonus.
Acreage Equines
"Earn money from your horse-related web site. It's easy and it's free. Earn a 25% commission every time someone buys the electronic download versions of "How to Find a Perfect Place for Your Pony, Horse E-Notes or Training from the Neck Up."
Horses for Sale
Your Horse For Sale Marketplace. "Pays three cents per click from your site to ours. On top of that we track the sales generated from your site and pay you a 15% commission on every sale!"
Other Details* No Of Messages
: 52
* File Format
: TXT
* Included Graphics
: eCover [PSD, JPG]
* Extras:
Squeeze Page
* Extras:
Affiliate Programs [PDF]
* Download File Size:
1,782 KB