Squeeze Page Preview: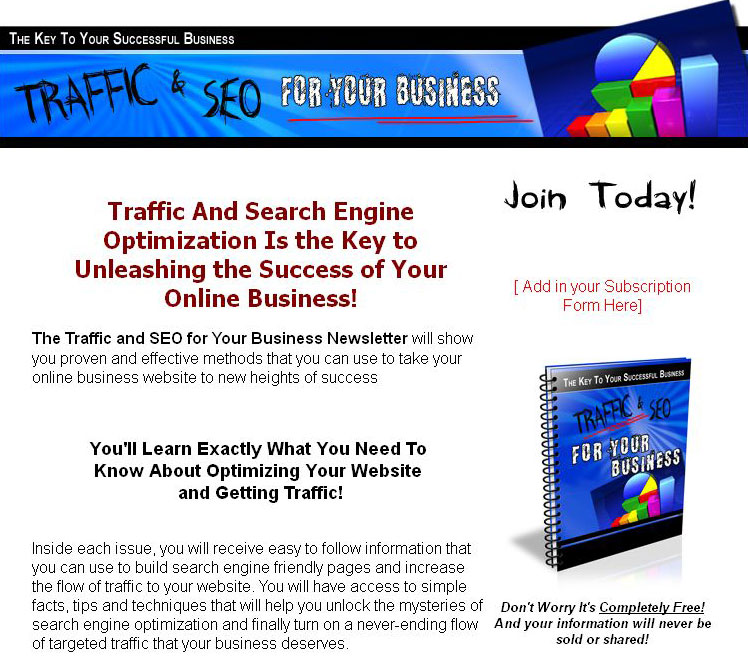 >>> Click Here To View Full Squeeze Page…
Features:
* 12 Issues Full Of Great Content
– Just add in your contact info and plug it in to your favorite auto responder. Each issue contains 500 words or more!
* One Ready To Go Squeeze Page
– Just add in your opt in form, upload to your server and your done!
* One Ready To Go Thank You Page
All ready to remind your subscribers to check their email and confirm their subscription. It even has built in revenue!
* 4 Researched Click Bank Products
These are top selling products on Click Bank that I've personally researched and chosen for each series.
* Extra Copy And Paste Article Content
You will get:
– Extra titles
– Extra opening paragraphs
– Extra closing paragraphs
– Extra fill in paragraphs
(these would make great tips that you add in to your follow ups system for more frequent contact with your readers)
Sample Content Preview
Message # 1
Subject line: Your First SEO & Traffic For Your Business Issue
Hello "autoresponder code here",
Welcome to the first issue of SEO & Traffic For Your Business.
In each issue of "SEO & Traffic For Your Business" you will learn
valuable information on how you can use search engine
optimization to get traffic to your business website.
In this first issue were going to go over exactly what search
engine optimization is and how search engines work.
Let's start with an overview of search engine optimization (SEO).
Basically SEO is a process of choosing the most appropriate and
targeted keyword phrases related to your website and working to
get them to rank your site in the search engines so that when
someone searches for the keywords or phrases it returns your site
on the top of the search engine results page. Basic SEO involves
fine tuning the content of your site along with the HTML and Meta
tags. It also involves a good link building process.
The most popular search engines are Google, Yahoo, MSN
Search, AOL and Ask Jeeves.
Search engines keep their methods and ranking algorithms
secret, to get credit for finding the most valuable search-results
and to prevent spam pages from clogging the results. A search
engine may use hundreds of factors while ranking the listings
where the factors themselves and the weight each carries may
change continually.
Algorithms can differ so widely that a webpage that ranks #1 in
one search engine could rank #200 in another. New sites don't
necessarily have to be "submitted" to search engines to be listed.
A simple link from a well established site will get the search
engines to visit the new site and begin to spider its contents. It can
take a few days to even weeks from the referring of a link from
such an established site for all the main search engine spiders to
visit and index the new site.
Now let's talk about how the search engines actually work. They
use spiders to crawled your website pages and index them. A
'spider' is an automated program that is run by the search engine
system. The spider visits a web site, reads the content on the
actual site, the site's Meta tags and also follow the links that the
site connects to. The spider then returns all that information back
to a central depository, where the data is indexed. It will visit each
link you have on your website and index those sites as well.
The spider will periodically return to the sites to check for any
information that has changed. The frequency with which this
happens is determined by the moderators of the search engine.
A spider is almost like a book that contains a huge table of
contents, the actual content and the links and references for all the
websites it finds during its search, and it may index up to a million
pages a day.
When you ask a search engine to locate information, it is actually
searching through the index which it has created and not actually
searching the Web. Different search engines produce different
results and rankings because not every search engine uses the
same algorithm to get the job done.
One of the things that a search engine algorithm scans for is the
frequency and location of keywords on a web page, but it can also
detect artificial keyword stuffing. Then the algorithms analyze the
way that pages link to other pages in the Web. By checking how
pages link to each other, an engine can both determine what a
page is about, if the keywords of the linked pages are similar to
the keywords on the original page.
I know this may sound a bit confusing if you're new to SEO
but don't worry once you take the time to learn the basics you find
that it's not as complicated as you may think.
Now, if you don't want to research and choose keywords and work
on your own search engine ranking, you may want to hire
someone to do the work for you.
There are many marketing and promotion companies available
that will to all of the work for you or simply look at your site and
make recommendations to increase your search engine ranking
and website traffic. They will also provide ongoing consultation
and reporting to monitor your website and make
recommendations for editing and improvements to keep your site
traffic flow and your search engine ranking high.
Normally your SEO experts work with your web designer to build
an integrated plan right away so that all aspects of design are
considered at the same time.
Make sure you look for your next issue soon. We will be talking
about the importance of search engines to your business.
Thank you again for joining,
"your name here"
"your email address"
"your URL here"
Other Details
- 12 Part Autoresponder Email Messages (TXT, DOC)
- Squeeze Page (HTML, PSD)
- Ecover (PSD, JPG)
- Affiliate Programs List
- File Size: 18,913 KB