Salespage Snapshot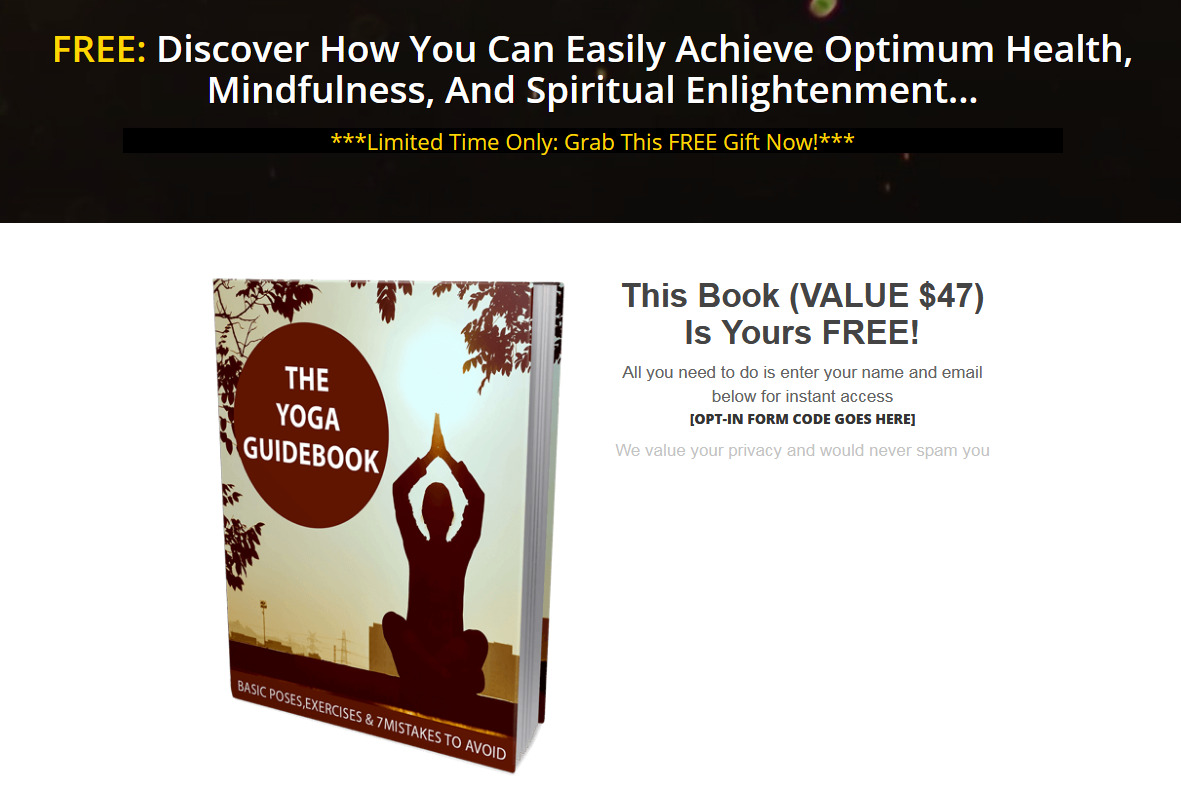 >> Click Here To View Sales Page...
Sample Content Preview
When and Where If you already have a regular workout routine, you can easily introduce a single yoga position into your cool-down. Use a single pose for several days, before moving on to anything else. This gives your body time to adjust to the new positioning and truly learn its process, which can be more challenging than it appears on the surface.
The "when" and "where" of yoga don't matter as long as it's consistent. The consistent practice of yoga is what makes it effective. Many people find that waking up a half-hour earlier than usual to incorporate a yoga routine into their lives produces noticeable results.
Yoga is a great way to get your day started. Other people rely on yoga in the evening, claiming it helps them fall asleep easier. Don't have time to wake up a half hour early? You can also practice yoga at work if your environment allows. Many of the poses can be performed while sitting on a chair. You can execute others while standing or waiting in line. The only restriction: do not practice yoga within a couple hours of eating.
To make it easier to practice yoga whenever and wherever opportunity presents itself, I recommend keeping a yoga mat and a set of comfortable workout clothes in your car. You never know when it'll come in handy.
Even though you can do yoga everywhere and anywhere, I recommend that you set aside a comfortable space in your home just for yoga. One of my friends was fortunate enough to have an extra room in her home that she set apart for yoga. Dubbed "The Yoga Room", it was carpeted, the walls were uncluttered, and the room contained only the items she needed for her yoga work. I found it clean, open, refreshing, and relaxing – the perfect place for yoga. If you don't have the space to devote a whole room to yoga, you can at least clear a portion of a room – preferably with a wall, as it will come in handy for occasional support.
Your Yoga Plan
The next step is to establish a plan. If you are just beginning to explore yoga, it is important that you enter the practice gently. Your body needs time to ease into the changes you are introducing to it. At the same time, your body needs to experience yoga on a regular basis, so you can begin to discover its benefits in your body, your mind, and your spirit.
A gentle introduction to yoga would be to give yourself five minutes a day to enter into one or two of the poses. Yes, five minutes is all you need at first. Tack it onto one of your existing routines. For example, if you have a set routine you follow for the start of your day, five minutes of yoga added on can help you clear your mind and rev up your body, preparing for action. On the other hand, if you have a series of activities you normally follow before you go to bed (and if you do not, I highly recommend you start), five minutes of yoga can help you relax and can prepare your mind and body for a good night's rest.
Start with one or two poses that work for you. After a couple weeks, try out another pose or two. As you begin to notice the benefits in the form of greater alertness and flexibility, etc., feel free to expand your yoga time to 10 minutes a day or longer.
Once you reach the point that you are expanding your yoga practice to 20 or 30 minutes at a time, you should consider giving yoga a timeslot of its own. Sure, you can keep yoga for the start or end of your day, but if you find it is cramping your mornings or evenings, feel free to experiment with other times of day. I suggest you continue using one or two yoga positions to help you wake up and to prepare you for sleep; at the same time, give yourself at least three set blocks of time a week to devote to more extended yoga practice.
Mistakes To Avoid As A Beginner
Yoga can provide you all sorts of benefits including physical and mental stress relief, slowing the aging process, mood improvement, along with relaxation and peace. However, beginners, usually out of overenthusiasm, often make some mistakes at understanding and practicing yoga and try the poses without proper guidance. Not just the beginners; but some experienced yogis also make some mistakes while practicing the yoga postures. They can surely benefit from some fine-tuning and by knowing the common yoga mistakes.
1. Pushing too hard
It has been noted that most people know when they are trying to push themselves too hard; but they like doing it. This is so because when we think of exercise, we have one common theory and that's "No pain no gain". Even when we exercise in a gym, we do not feel satisfied with the workout unless our muscles start to cry uncle. But, yoga is the exact opposite. If your muscles are cringing with pain, then it's a sign that you're on the fast track to injury and muscle strains. Yoga asanas should never cause pain. Yoga is about awareness. It's about listening to the subtle signals your body sends you and you have to respond accordingly. So, if it starts to get painful, you must back off.
2. Comparing yourself to others
When you start yoga at home or in a class, you will find some super-flexible yogis or their pictures that seem to master every move effortlessly. You are bound to feel intimated by their flexibility and would love to reach that stage. However, it doesn't come easily. It needs years of practicing. Comparing yourself with others will only cause a lot of frustration and you may end up convincing yourself that yoga is not for you. Hence, you must fight the urge to compare yourself with the experienced yogis and get down on yourself.
3. Picking up a wrong spot to practice
If you are planning to attend yoga classes, which place you think would be the best? Of course, you would like to be in the front!
Other Details
- 1 Ebook (PDF, DOC), 38 Pages
- 5 Part Autoresponder Email Messages (TXT)
- 1 Audio (MP3)
- 2 Graphics (PNG)
- 1 Salespage (HTML)
- Year Released/Circulated: 2020
- File Size: 8,322 KB
License Details:
You may add this product to your PAID membership site
You may giveaway the product as a bonus when people buy through your affiliate link
You may edit the included opt-in / squeeze / landing page
You may giveaway the eBook for Lead Generation purpose
No, you may NOT edit the contents of the eBook
No, this product does NOT include private label rights. You are granted Master Resell Rights only