Squeeze Page Preview: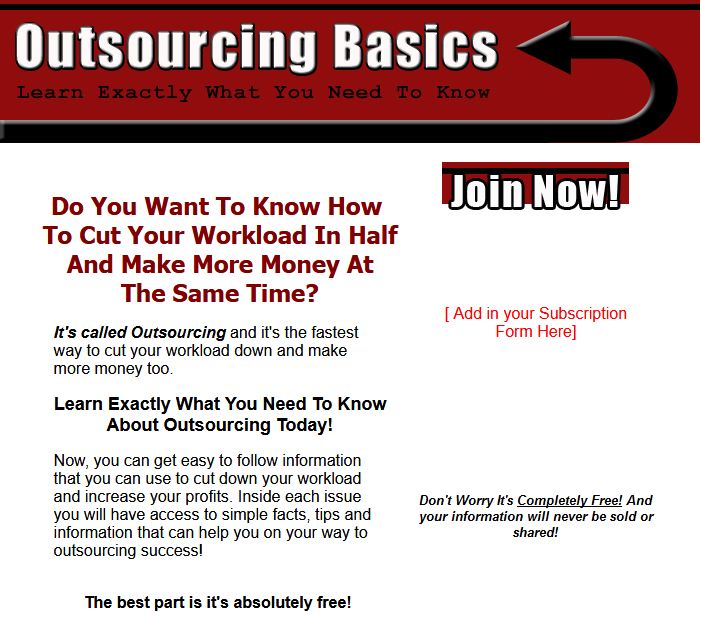 >>> Click Here To View Full Squeeze Page…
Features:
* 12 Issues Full Of Great Content
– Just add in your contact info and plug it in to your favorite auto responder. Each issue contains 500 words or more!
* One Ready To Go Squeeze Page
– Just add in your opt in form, upload to your server and your done!
* One Ready To Go Thank You Page
All ready to remind your subscribers to check their email and confirm their subscription. It even has built in revenue!
* 4 Researched Click Bank Products
These are top selling products on Click Bank that I've personally researched and chosen for each series.
* Extra Copy And Paste Article Content
You will get:
– Extra titles
– Extra opening paragraphs
– Extra closing paragraphs
– Extra fill in paragraphs
(these would make great tips that you add in to your follow ups system for more frequent contact with your readers)
Sample Content Preview
Hello "autoresponder code here",
In the last issue we talked about the different ways to outsource.
In this issue we are going to go over how you can outsource
without being outsmarted.
There are many who tout the advantages of outsourcing as
essentially a little known secret to success. There are certainly
a number of distinct advantages to the process of outsourcing.
Some of the most notable advantages include cost reductions,
increased possibility for profit and the existence of a larger
workforce without maintaining a staff of salaried employees.
All of these incredible advantages may make outsourcing seem
as though it is an ideal resource in all situations but this is not
true. There are certain precautions which should be taken when
outsourcing a project. It is important to be mindful of these
precautions when outsourcing a project to ensure the project
runs smoothly.
Verify Candidate Qualifications
When outsourcing a task or project to an individual, care should
be taken to screen all applicants carefully before deciding to
outsource the work. This is important because you want to be
sure to outsource the work to a qualified individual. Awarding
a project to an unqualified individual can be a costly mistake if
they turn in sub par work at the conclusion of the project. It can
also be costly if it results in unnecessary delays or setbacks as
a result of the lack of qualifications.
One way to avoid being outsmarted by fancy resumes hyping
the accomplishments of an individual is to verify all of the
information on the resume before awarding the project. This
may entail contacting previous employers as well as references
to determine the capabilities and work ethic of the individual.
Taking the time to verify the information on the resume can help
to ensure the individual you outsource the work to is truly
qualified to complete the project.
Outline Project Requirements Carefully
When outsourcing a project it is important to be very clear in
outlining the project requirements. This is important so both the
client and the independent contractor understand all of the
requirements of the outsourced project. Preparing contract
documents stating the exact project details and compensation
to be provided is a good idea as well. Taking this extra
precaution will ensure the client does not have to pay fees
until the contract specifications are met. A contract can also
be helpful if disputes arise and mediation is required to resolve
the conflicts.
Additionally, it is wise to include information regarding the
required deliverables in the contract documents. This should
include the exact end product which should be submitted. In
this portion of the document the client can specify information
regarding whether they require the project submitted as a
hard copy of the completed project, a soft copy of the
completed project or both.
Schedule Periodic Milestone Meetings
Regularly scheduled progress status meetings are very
important when a project is outsourced. These meetings should
be scheduled often enough to ensure the project does not fall
too far behind schedule during any one phase of the project.
These meetings can be helpful to both the client and the
independent contractor. The client will benefit because they
will remain in control of the project and can intervene if the
independent contractor is heading in the wrong direction with
the project. These meetings are also beneficial to the
independent contractor because they can prevent him from
being caught by surprise at the conclusion of the project if he
misinterpreted the project requirements.
Make sure you look for your next issue soon. We will be
talking about how you can increase your profits by outsourcing.
"your name here"
"your email address"
"your URL here"
Sample Extra Titles
Outsourcing Your Ebook
Guide to Outsourcing
Try Outsourcing When You Need Work Done
Your Job Is Much Easier With Outsourcing
Increase Your Workforce Outsourcing
Select Your Qualified Candidates Carefully
Establish a Firm Deadline When Outsourcing
Establish Definite Requirements When You Outsource
Will Outsourcing Save You Money
Screening Your Outsourcing Candidates
Is Outsourcing the Answer to Your Problems?
The Benefits of Outsourcing
Outsourcing Everything But The Profits
Increased Your Flexibility With Outsourcing
Establishing Schedules When Outsourcing
Why Outsourcing Works
How Outsourcing Jobs Can Be Profitable
Reduced Operating Costs With Outsourcing
Outsourcing Content Can Cut Your Workload
And More…
Sample Extra Paragraphs
Those who are involved with promoting an Internet niche campaign
are likely very passionate about their niche subject but their passion
alone does not qualify them to write an ebook on the subject. They
should be heavily involved in the creation of the outline for the ebook
and they should have final editing rights on the ebook but a
professional writer should be the one responsible for writing the
initial draft of the ebook. They may also me responsible for making
revision based on the comments by the marketer and his staff.
Whether you decide to conduct your search locally or globally you will
likely receive multiple responses to your advertisement. Begin evaluating
these responses by eliminating those that are of poor quality. This is
important whether or not quality of work is your top priority because poor
work is not worth even the most affordable price. Next evaluate the
remaining applicants according to your prioritized list of criteria and rank
them accordingly.
For this reason, many Internet marketers are outsourcing the
writing of their ebooks. This is a wise decision because keeping
a writer on staff exclusively for the purpose of writing ebooks can
be quite costly if there is not a constant need for ebooks. However,
outsourcing the work to independent contractors can be a much
more affordable option. In this scenario, the marketer can negotiate
the writing of each ebook individually or they can enlist and individual
or consulting firm to complete a set number of ebooks.
Once you have made the wise decision to outsource your ebook,
it is time to begin the process of finding the perfect writer to
complete the ebook. There may be a number of factors you consider
in choosing a writer. Some of these factors may include price, previous
experience and quality of provided writing samples. Prioritizing these
factors is the first step in the process because it will be very helpful in
the decision making process. For example if cost is the highest priority
followed by quality of writing samples and then experience in the niche
you might be tempted to hire a writer who is slightly less adept but willing
to work for a lower fee.
And More…
Other Details
- 12 Part Autoresponder Email Messages (TXT, DOC)
- Squeeze Page (HTML, PSD)
- Ecover (PSD, JPG)
- Affiliate Programs List
- File Size: 265 KB