Salespage Snapshot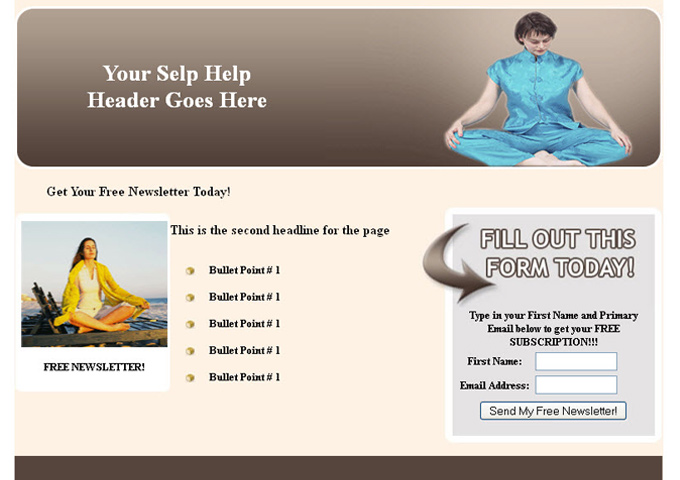 Features:
* 52 Weeks Pre-written Newsletters
This isn't just ANY private label content. These newsletters are written to effectively promote best-selling affiliate products for an entire year. All the work is done for you.
* List of Top Affiliate Programs
Comes with high-paying, high conversion affiliate programs from Clickbank, Commission Junction, Shareasale, and others – just sign up! Once you've got your affliiate links, you put them into the content and bam – your newsletters are branded and ready to make you money!
* Opt-In Template For Each Niche
Pop in YOUR autoresponder information, and you're ready to upload this page to any domain and start collecting leads!
Opt-In Template Preview: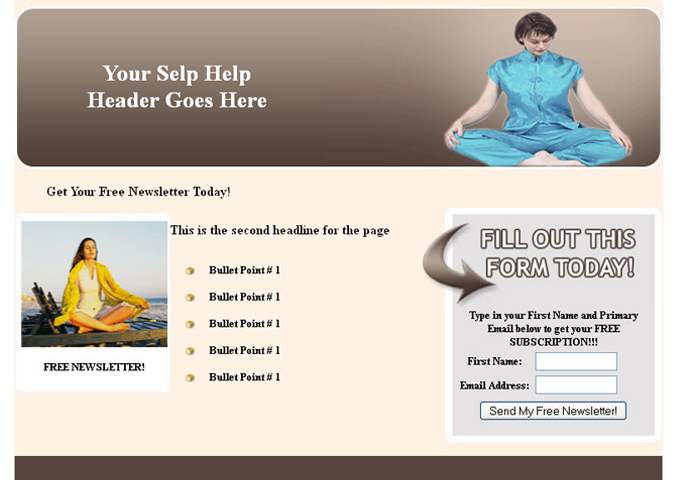 Autoresponder Message Titles:
– Preparing For Success
– Overcoming Fear Of Failure
– Embracing Opportunity
– Laughing Is Good For You
– Easing The Pain Of Emotional Suffering
– Self-Help — Stop Smoking
– Surviving Burnout
– Effective Disagreement
– Self-Hypnosis
– Magic Lists
– How To Get What You Want
– Surviving The Loss Of A Spouse
– A Woman's Self-Worth
– Lowering Worry Levels
– Surviving The Midlife Crisis
– Decision Making
– What Money Cannot Buy
– Self-Help — The First Step
– It's All In The Attitude
– Death Of Parents
– Finding Time
– Boosting Self-Esteem
– Reducing Stress-Related Headaches
– All Change Is NOT Bad
– Turn Off Negativity
– Give Yourself A Break
– Take Every Opportunity To Shut Up
– Improving Memory
– De-Clutter Your World
– Quitting Is Not An Option
– The Power Of Forgiveness
– Organize Your World
– Choose To Be Creative
– Goal Setting
– Thinking Positively
– Yes I Can — Quotes
– The Loss Of A Child
– Reducing Stress
– Patience In An Impatient World
– Focusing
– Dissatisfaction Is Not A Bad Thing
– Helping Children Deal With Divorce
– Fibromyalgia Self-Help
– Conquering Laziness
– Making A Comeback
– Personal Support Systems
– Self-Help — Losing Weight
– Valuing Your Time
– Journal Keeping
– Self-Acceptance
– Controlling Anger
– Success From The Ashes Of Failure
Sample Affiliate Program Preview:
myHelpHub
Variety of Self-Help products in a variety of niches. Two-Tier program pays up to 60% on the first tier, 5% on the second.
The Sedona Method
"The Sedona Method will show you how to tap your natural ability to let go of any unwanted thought or feeling on the spot. Make up to $47.80 per sale. "Tracking system pays for direct sales referrals AND offline sales AND any sales that result from leads and newsletter subscribers you refer to our site."
Silva Ultra Mind System
"The Only Scientifically Proven Formula For Lucrative Affiliate Success!" Affiliate program commissions include: Silva Life Accelerator CD Set – Sells for $197; Commission $68.95 (35%): Silva Life Accelerator Download Sells for $97; Commission of $33.95 (35%).
Secrets of Being Unstoppable
Earn 30% commission on this $99.95 collection of 16 groundbreaking talks that show you how to transform your limitless inborn potential into the reality of a truly limitless life. Part of the Nightingale-Conant collection of self-help products.
Effective Learning Systems (Guided Imagery)
Earn 10% commission on every order. 365-day cookie. "Bestselling line of self-help tapes and CDs have been instrumental in helping millions of satisfied customers achieve success since 1972." The average customer orders several times in the first year with an average order exceeding $50.
Directed Dreaming
"Learn To Use The Power Of Your Dreams To Unlock The Secrets Of Your Subconscious Mind." Perfect item for self-help and/or dreaming niche. Pays 60% ($20.36 per sale).
Other Details:
* No Of Messages: 52
* File Format: TXT
* Included Graphics: eCover [PSD, JPG]
* Extras: Squeeze Page
* Extras: Affiliate Programs [PDF]
* Download File Size: 1,359 KB
IMPORANT: This product works best with our "Self Help PLR Ebooks" and "Self Help PLR Articles".
Other Details* No Of Messages
: 52
* File Format
: TXT
* Included Graphics
: eCover [PSD, JPG]
* Extras:
Squeeze Page
* Extras:
Affiliate Programs [PDF]
* Download File Size:
1,359 KB