Salespage Snapshot: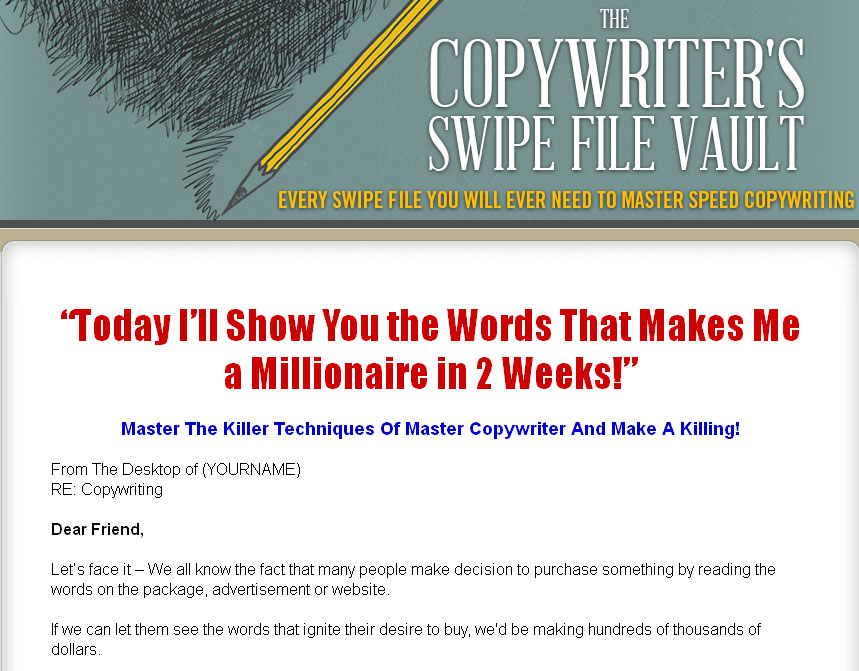 >>> Click Here To View Full Sales Page…
Table Of Contents
Foreword
Chapter 1: Introduction
Chapter 2: The Essentials Of Speed Copy Writing
Chapter 3: What About Headlines
Chapter 4: Bringing In Emotions
Chapter 5: Turning Around Objections
Chapter 6: Getting People To Take Action
Chapter 7: The A-Z of Copywriting
Wrapping Up
Proven Swipes
Sample Content Preview
Chapter 2:
The Essentials Of Speed Copy Writing
Synopsis
For a copywriter, swipe files may be worth everything.
They will reduce the amount of time you need to think about projects, provide you fresh insights and ideas, help you become a greater copywriter by copying them by hand or typing it out and analyzing it, and may give you a behind-the-scenes look at how that copy was made if you understand how to do it correctly.
What's Needed
As a copywriter or marketer, you have to utilize your own new ideas in the project at hand as well. It will bring a freshness and distinction to it. Utilize the swipe file to produce something fresh. It ought to be a source of inspiration to get you further into the art of copywriting, and not a way of totally escaping out of it!
Copywriting is utilized in a lot of places throughout your Net business funnel. Here are a few illustrations of common used places:
Site content
Blog posts
Landing Pages
E-mail Marketing
Sales Pages
Remember, the elemental goal of copywriting is to get your readers to do what you want them to do. E.g. making a purchase or signing on to your mailing list.
Consequently, it's really crucial that you determine what your wanted result is prior to you embarking on your copywriting crusade. Clarity is power so it's crucial to understand what you're after so that when you write, things will go the direction you wish them to go.
All right, let's look at a few basics. Bearing in mind that we wish our readers to do what we want them to do we also can't be too forceful. Here's rule number 1:
Stay casual
You would like to be seen as a friendly individual who's also an expert in your field and not like a blatant salesman. The latter will cause individuals to dislike you and treat you as a spammer.
The next thing you have to understand is that some rules are really illogical. But one thing that adds up is this, good practices have been tested and proven (split-tested) by top internet marketers for years, so instead of trying to re-invent the wheel, follow what works and harvest the rewards!
All the same, I strongly encourage you do a little split testing of your own as well. Do away with things that don't work and duplicate or reproduce things that do – that's the surefire way to success!
Next up, we'll check into one of the most crucial components of a great copy – headlines.
Chapter 3:
What About Headlines
Synopsis
The headline is the most crucial portion of any copy. If your headlines neglect to catch the attention of your readers, it doesn't matter how great your offer is or how great the rest of your copy is. You only have 5 seconds to make catch your reader's attention before they move on, so make it count.
Headlines
The headline has to be attention-getting and bolded to immediately get your reader's attention. The sub headline will reinforce the message of the headline.
Use font faces like "Impact" and red fonts to grab the reader's attention. Using black words in the header are to break the monotony of the headline. It's likewise used to exemplify the crucial points of the copy.
Here's a crucial thing to note: You ought to never use FULL caps for your headline. Simply use it when essential.
"IMAGINE WHAT THIS WOULD LOOK LIKE IF THIS WAS ON THE TOP OF YOUR WEBPAGE!!!"
It looks like somebody screaming at you – who'd like that? Likewise, full caps looks spammy and nobody nor Google would like that.
In addition to that, a headline has to utilize eye-catching words which will instantly excite the emotions. Have you ever seen magazines at a newsstand? The headlines commonly sound catchy and utilize words which excite curiosity and emotions with topics like sex, cash and drama.
Other Details
- Ebook (PDF, DOC), 35 Pages
- Salespage (HTML, PSD)
- Ecover (PSD, JPG)
- Thank You, Earnings Disclaimer & Privacy Policy Page (HTML)
- File Size: 39,867 KB