Salespage Snapshot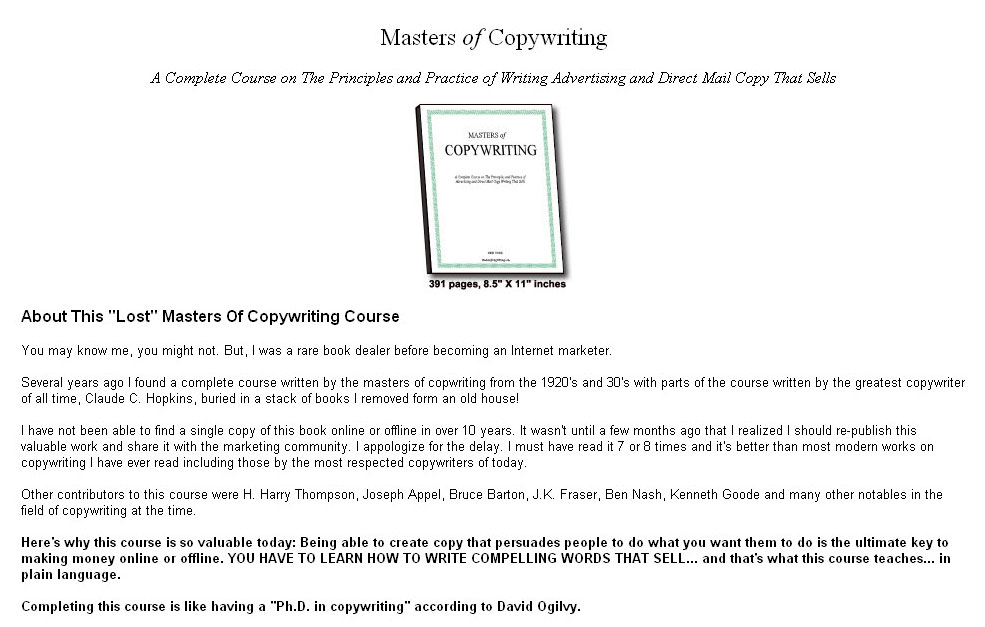 >> Click Here To View Sales Page...
PLR Ebook Table Of Contents

CHAPTER                            PAGE
PREFACE    11
The Editor
INTRODUCTION    13
J. George Frederick
WORDS ARE THE WORKING TOOLS.    43
T. Harry Thompson
I.    ADVERTISING COPY AND THE WRITER    47
Frank Irving Fletcher
II.    THE ADVERTISING WRITER WHO IS
BIGGER THAN HIS AD    55
George L. Dyer
III.    HUMAN APPEALS IN COPY    65
Bruce Barton
IV.    THE UNDERLYING PRINCIPLES OF GOOD COPY     77
Theodore F. MacManus, LL.D.
V.    EMOTION AND STYLE IN ADVERTISING COPY     93
James Wallen
VI.      SOME LESSONS I HAVE LEARNED IN
AD-¬VERTISING    115
Claude C. Hopkins
VII.    COPY — GOOD, BAD AND INDIFFERENT    127
Richard A. Foley
VIII.    THE RESEARCH BASIS OF COPY    151
J. George Frederick
IX.    AXIOMS OF ADVERTISING    177
Joseph H. Appel
CHAPTER                            PAGE
X.    COPY FIRST     185
Kenneth M. Goode
XI.    MAKING ADVERTISEMENTS READ.    197
F. R. Feland
XII.    COPY DONT'S    209
J. K. Fraser
XIII.    WANTED — BY THE DEAR PUBLIC    215
Charles Addison Parker
XIV.    ADVERTISING COPY AND THE SO-CALLED
"AVERAGE WOMAN"    225
Mrs. Christine Frederick
XV.    BELIEVABLE ADVERTISING    247
O. A. Owen
XVI.    LOOKING AT COPY AND LOOKING INTO IT    265
Harry E. Cleland
XVII.    THE HUMAN SIDE OF IT    277
Wilbur D. Nesbit
XVIII.    COPY THAT IS AND ISN'T    289
Harry Tipper
XIX.    THE SALES POWER OF GOOD COPY AS
DEMONSTRATED IN BOOK ADVERTISING    305
Helen Woodward
XX.     THE COPY WRITER'S WORK BENCH     313
John Starr Hewitt
XXI.    THE PSYCHOLOGY OF THE PRINTED WORK    329
A. Holmes, A.M., Ph.D.
XXII.    SIMPLICITY IN ADVERTISING COPY    349
Humphrey M. Bourne
XXIII.    WHAT MAKES GOOD RETAIL COPY.    361
Ruth Leigh
XXIV.    THE ART OF VISUALIZING GOOD COPY    373
Ben Nash
XXV.    OLD AND NEW DAYS IN ADVERTISING COPY    383
John Lee Mahin
Ebook Sample Content Preview
INTRODUCTION
The History of Advertising Writing
By J. George Frederick
PERMIT yourself, if you will, to be transported for a swift sight-seeing ride, backward over the dead centuries. The reward will be an adequate per¬spective on advertising which we moderns tend to regard as rather a present-day invention.
Presto! We are back 25,000 years, among the silent woods and hills of France, in the caves (recently dis¬covered) of stone-age men. Being shades, we enter the rocky hallway unobserved, past the fires around which squat short, hairy men. By the flaring light of these fires we see on the walls many crude carvings, and we move along toward the first advertising workshop. A caveman stands at the wall hammering at the rock, mak¬ing a bas-relief which will advertise his hunting prowess to his fellow-hunters. He has finished the picture and is cutting the headline of the ad, using some strange symbols—the forerunners, possibly, of language, set in Caslon type!
In another instant, we are at Babylon, 3500 B. C., not¬ing a diligent personage in a high headdress manipulat¬ing a kind of stylus upon a little pat of red soft clay. He is working with speed and neatness, making cuneiform letters with an ease and grace startlingly similar to that of the man in a modern department store, lettering a window sign with a lettering pen. Finishing the writing, the Babylonian gently sets his clay tablet into an oven and bakes it. On the morrow he will send a runner with it to some distant points along the Euphrates. It contains a statement of what cattle and feed his employer (I almost said his client) has for sale, and at what prices. He is the first hired advertising man. I have in my possession this very clay tablet or its prototype.
Other Details* Sales Page:
Included, HTML
* File Format:
MS Word Doc, PDF
* Number of Pages:
391
* Included Graphics:
Ecovers
* Download File Size:
1,283 KB