Salespage Snapshot: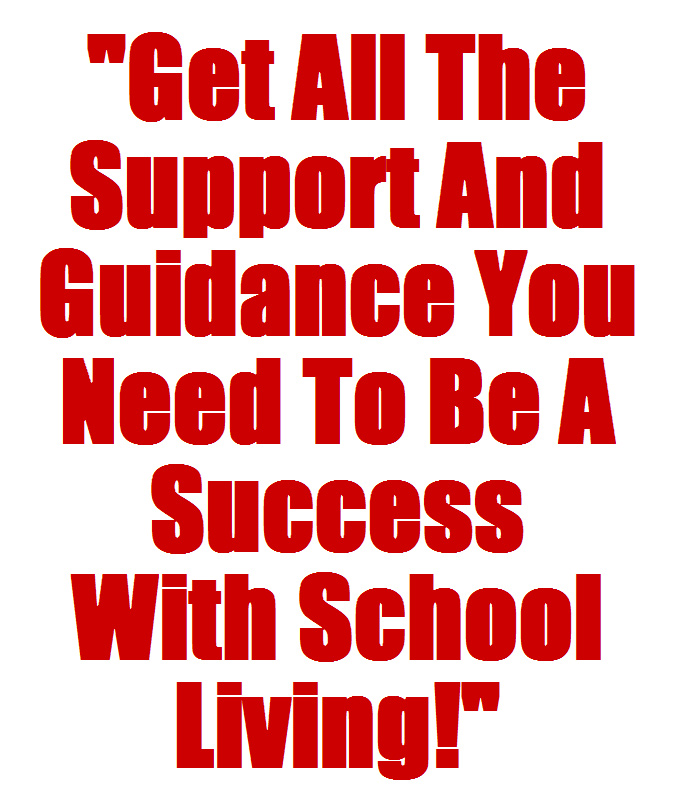 >>> Click Here To View Full Sales Page…
Table of Contents
Introduction
Chapter 1:
What is Campus Living all About?
Chapter 2:
Benefits of Campus Living
Chapter 3:
Why Campus Living Cost More?
Chapter 4:
Meeting Great People Living on Campus
Chapter 5:
Dealing with Challenges Living on Campus
Chapter 6:
What is so Fun About Off Campus Living?
Chapter 7:
Why Off Campus Living is Much Better?
Chapter 8:
Security Issues Living Off Campus
Chapter 9:
Arranging for Your Transportation to College
Chapter 10:
More Freedom With Off Campus Living
Sample Content Preview
Chapter 2: Benefits of Campus Living
Synopsis
There are various benefits to students living on campus. These countless advantages can be attached to access to programs in the campus and the relationships to the campus community provided by the halls.
Students who live in on-campus receive direct advantages related to individual academic success than to off-campus students. For your guide, here are the top five benefits of on-campus living you shouldn't miss to know:
In case you are attending college on a tight budget, you always want to have a part time job to sustain your regular expenses. Like other students, on-campus living can be your best option. Through this, it is easy for you to finish your job and attend at school on time. This can be done because your place is a few minutes away from your job and school.
Benefits
1. Academic Impact – Students living in on-campus experience a great impact to their lives. They are more likely to join in campus learning communities. As a result, they are more exposed to interact with faculty in residence through in hall study groups and special features. They also have a chance to enrich their experience beyond the classroom setups.
Experts claimed that students living in on-campus tend to earn excellent grades. They also have retention rates at their university. These students are also timelier in their graduation. They can also easily promote their growth by helping them to stay associated to the college environment.
2. Time Management and Convenience – Most students find that living on campus is more well-situated than off-campus. Unlike other students, they don't have to waste more time and money to arrive on time. Instead of spending for their transportation expenses, on-campus students can use their budgets to other personal needs.
For most students, on-campus living offers access to a wide variety of campus services. They also have a chance to interact more with student mentors and faculty members. Thus, they can take greater advantage of academic support services such as personal and academic counseling, advising, mentoring and a lot more.
3. Personal and Social Development – On-campus living integrates social and learning development. It provides students the opportunity to form a personality or a sense of neighborhood with the institution. Students also participate in more campus activities, engage in leadership experiences and take the advantage of campus resources.
In addition, on-campus living also allows students to actively involve in campus wide organizations. They tend to have a wide personal understanding, witness positive changes and have higher self-esteem.
4. Support for Campus Services and Events – Students who opt to live in on-campus have a chance to get economies of scale for a variety of programs and services. Most students are allowed to have meal plans which offer a base for on campus food services three times a day.
Additionally, these students are more likely to reward themselves of campus support systems, campus recreational areas and campus facilities.
5. Safety and Security – Students inside the campus are totally secured. Most universities offering on-campus living have security guards. These guards constantly taking out the surroundings of the campus for suspicious intruders. These guards also monitor every student because allowing them to enter in the vicinity.
Chapter 3: Why Campus Living Cost More?
Synopsis
Are you planning to budget your college expenses? Then, you need to decide on areas where you can save money. One of the main concerns of attending college is financing your living expenses. However, depending on the place that you live in, you may find a better deal on or off campus.
In some places, on-campuses may be a much expensive option compared to renting an apartment with your colleagues or by yourself. This only depends on where you live and how close you live to campus.
To give you some hints, simply consider the following:
Comparison Between Rent On and Off Campus
Costs of Extras – In most cases, on-campus will cover all of your utility costs and internet fees. But, your monthly fees might be too high. As advised, you need to consider how much each of these expenditures will cost. In addition, you also need to decide if you will need to pay extra for transportation. This is often observed if you are going to live in off campus.
In case you have a car, you need to pay for gas, parking cost and insurance. You may also need to pay for taxi charges, unless you are planning to take a walk to reach the campus.
Daily Meal Plans – You should not underestimate the cost of meal and food plans. These plans can be one of the most expensive aspects of campus housing. But, you may be able to save through choosing a plan with only two meals per day. You can also buy breakfast foods at a convenience store. If you live off campus, you can also bring your lunch to save money.
Other Factors – Your lifestyle and the things that are the most essential to you will influence your decision. In case you pay every bill by yourself, you always need to pick the cheapest option. If you are a working student, your work may influence where you work and what is the best plan for your situation.
When it comes to actual costs, on campus is more expensive compared to off campus. But, if you know how to save money, you will never spend more cash every month. You also have a chance to save money while studying in a prestigious school.
Take note that living in on or off the campus is both expensive. It is simply a matter on how to control your expenses.
Chapter 4: Meeting Great People Living on Campus
Synopsis
College is the best time for meeting new people. This is time where you build a strong relationship with them. College is also a perfect situation that groups similar ages with distinct personalities. For students, whether seniors or freshmen, it is always a pleasure to meet great people and make new friends. However, not all college students know how to meet interesting and new people. To give you some hints, read the succeeding paragraphs as your guide.
Best Ways and Places to Meet Great People Living on Campus
1. Residence Halls – Living in on campus is somewhat similar to a summer cap. Assistants on every floor set-up, plan and conduct creative and interesting programs each year. These activities allow every student to meet new people. Each floor is equipped with a lounge, which can be a sweet meeting place to play board games or other bonding activities.
2. Activity Fairs – These are the best ways to participate in organizations on campus and meet great people with similar interests. Most schools organize a sport fest and other activities to unite each student in the campus.
3. Around the Campus – There are various people everywhere and you can talk to them anytime you want. When students share multiple classes, it creates an easy conversation starter.
4. Parties – The environment in the party is upbeat, fun and energetic. Through this, you have a chance to meet people while having fun. But, make sure that you are always cautious of your actions and don't easily trust anyone.
5. On-campus Job – Acquiring a job on campus is an excellent way to be in a position to meet colleagues and also get paid. Most universities are seeking for assistants at the dining centers and other related departments. Opportunities can even be found in the residence halls and becoming a community assistant can be an excellent job.
Other Details
- 1 Ebook (PDF), 31 Pages
- 1 Salespage (HTML)
- 1 Ecover (PNG)
- Year Released/Circulated: 2016
- File Size: 680 KB
License Details:
[YES] Can be used for your personal use
[YES] Can be given away
[YES] Can be sold
[YES] Can be packaged with other products
[YES] Can be offered as a bonus with other things you sell
[YES] Can be added to paid or free membership sites
[YES] Can be offered through auction sites
[YES] Can sell with Resale Rights
[YES] Can sell with Master Resale Rights
[NO] Can sell with Private Label Rights
[NO] Ebook can be modified in any way