Salespage Snapshot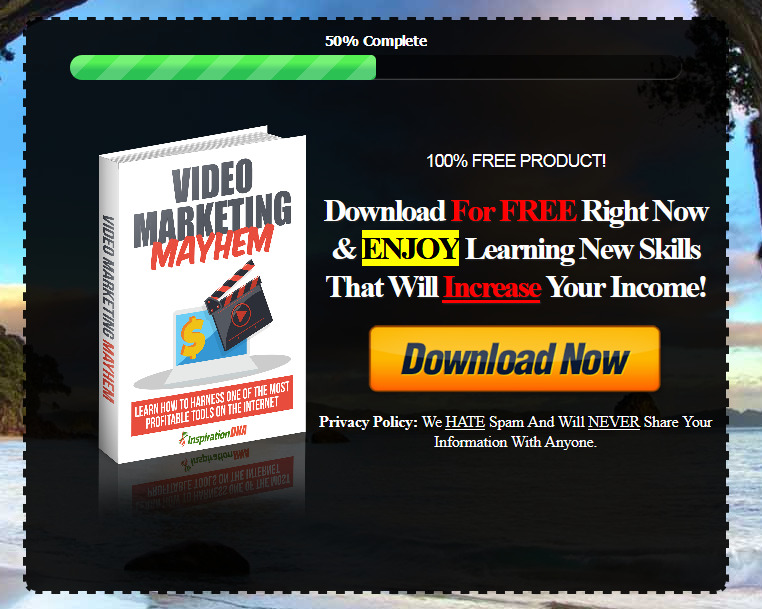 >> Click Here To View Sales Page...
Table of Contents
Foreword
Chapter 1:
Introduction To Video Marketing
Chapter 2:
Enter YouTube
Chapter 3:
Basics Of Video Marketing
Chapter 4:
Simple Tools For Creating Videos
Chapter 5:
4 Ways To Use Videos In Your Online Business
Chapter 6:
How To Boost Profits Using Videos
Chapter 7:
Video Marketing Ninja Tactics
Chapter 8:
Video Marketing Mistakes To Avoid
Wrapping Up
Sample Content Preview
Chapter 4:
Simple Tools For Creating Videos
Let's look into some simple tools for creating videos for marketing purposes. One of my favorite combinations is Microsoft Powerpoint + Camstasia.
Microsoft Powerpoint allows you to create video content through slides, animations and sound effects. Camstasia allows you to record a screen capture, so when you play your slides in real time, you can record every single thing that is happening.
Combo-ed with some cool music, you can make powerful informative videos which your customer base will like.
Camstasia also allows you to edit your videos with basic features such as audio editing, slide transitions etc. Post video production is followed by uploading to YouTube, all can be done instantly via Camstasia.
Last but not least, you will need to sign up for a YouTube account before you can start uploading videos.
In short, these tools will help you create simple yet powerful videos for getting traffic and customers, as long as you have good content that your target market would enjoy.
Chapter 5:
4 Ways To Use Videos In Your Online Business
Okay, we've talked about YouTube and how you can market your business online using it. Let's look at some 5 other strategies for using videos to market your business. 1) Share video content on your blog
-You can share video content of interest (doesn't have to be done by you) on your blog which probably already has an existing fan base. Get your readers to comment on the video down at the blogs comment section or share it with others for some SEO magic 
2) Sell them as a product
Video products usually convert better than e-books and can be sold at a higher price as a "premium" product because it costs more to create them.
3) Share them on Facebook
If you have a Facebook fan page, you can share good video content and get people to interact with your shared content whether in the form of comments, sharing or "liking" to create buzz in your Fan Page
4) Use them as a video course
You can bundle together videos and sell them as a video tutorial course to either get new leads or make big profits.
Chapter 6:
How To Boost Profits Using Videos
Did you know that videos have the ability to double, even triple your usual profits when used correctly? Yep you heard me right.
You can do so by using them as a backend product. You see, after someone buys a product from you (an e-book for example), there is a high chance that they will buy something again if you position your products properly.
A video is the perfect product for an upsell, meaning that since you already sold them something, the video can be something related to your e-book but priced even higher but give double the value!
You have to make it such a way that it would be foolish to give up on such an opportunity. Your video product could be a video version of the e-book for a slightly higher price, or a massive video collection that complements the e-book priced higher than the e-book.
Or, you could also sell your video as a one time offer (OTO) and tell the customer that they will never have the chance to get this special offer again after they leave the site.
Millions are left on the table because marketers fail to tap into backends for extra sales. So start creating your backend products today using videos!
Chapter 7:
Video Marketing Ninja Techniques
Here's a cool ninja-trick to get your video SEO-ed and more easily found on the search engines.
It's got to do with keyword research. First go to the Google Keyword Tool to research highly searched keywords or key phrases with little to no competition. Once you've identified a few keywords, using these keywords as the title of your videos (one keyword/phrase will do).
Next, in your video description, the first line should be the direct link to your website. This is so people are more likely to see your link when watching the video and this boosts clickthrough rates.
After a link, add a brief description in a paragraph form, with the first line of the paragraph containing your target keywords and perhaps sprinkle a few more throughout the body description.
End the description with a call to action and your link to your website once again.
This tested and proven technique has helped many marketers gets their videos to the top searches and the first page of Google so don't hesitate in using it now!
Other Details
- 1 Ebook (PDF), 15 Pages
- 2 Graphics (PNG)
- 1 Squeeze Page (HTML)
- Year Released/Circulated: 2017
- File Size: 2,110 KB
License Details:
[YES] Ebook Can be given away against an email address
[YES] Can sell the WHOLE product and keep 100% of the sales
[YES] Can sell the WHOLE product with Resale Rights
[YES] Can sell the WHOLE product with Master Resale Rights
[YES] Can edit the Squeeze & TY + MRR Upsell Pages
[YES] The WHOLE product can be packaged with other products you sell
[YES] The WHOLE product can be offered as a bonus with other products you sell
[YES] The WHOLE product can be added to paid membership sites
[YES] The WHOLE product can be offered through auction sites
[NO] WHOLE Product can be given away
[NO] WHOLE Product can be added to free membership sites
[NO] Ebook can be modified in any way
[NO] Can sell with Private Label Rights