Squeeze Page Preview: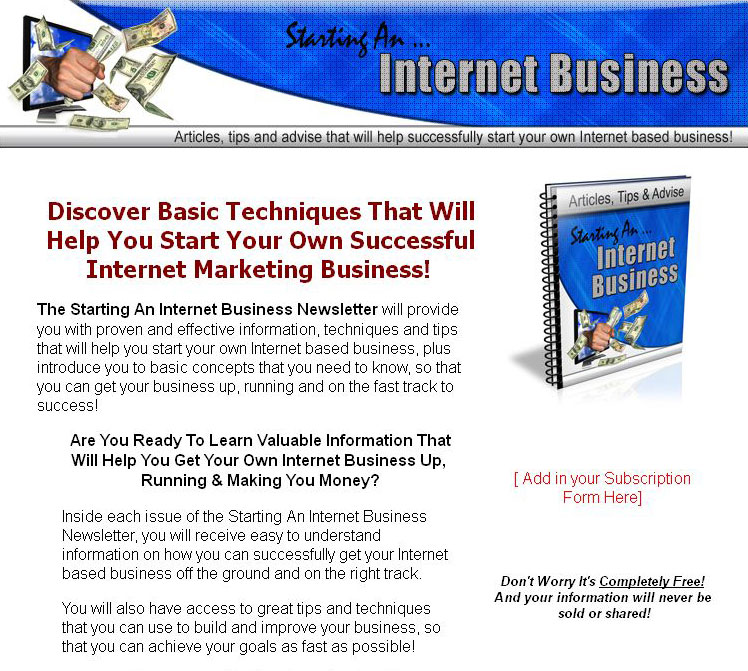 >>> Click Here To View Full Squeeze Page…
Features:
* 12 Issues Full Of Great Content
– Just add in your contact info and plug it in to your favorite auto responder. Each issue contains 500 words or more!
* One Ready To Go Squeeze Page
– Just add in your opt in form, upload to your server and your done!
* One Ready To Go Thank You Page
All ready to remind your subscribers to check their email and confirm their subscription. It even has built in revenue!
* 4 Researched Click Bank Products
These are top selling products on Click Bank that I've personally researched and chosen for each series.
* Extra Copy And Paste Article Content
You will get:
– Extra titles
– Extra opening paragraphs
– Extra closing paragraphs
– Extra fill in paragraphs
(these would make great tips that you add in to your follow ups system for more frequent contact with your readers)
Sample Content Preview
Message # 1
Subject line: Your First Issue – Starting An Internet Business
Hello "autoresponder code here",
Welcome to your first issue of Starting An Internet Business. In each
issue of Starting An Internet Business you will learn valuable
information on how you can successfully start your own Internet based
business. In this first issue we are going to talk about some of the basic
things that you need to know about Internet marketing when you are first
getting started.
Internet marketing isn't extremely complicated, but it is also not a
process that anyone can excel at without taking the time to learn more
about the subject.
Business owners who don't know a great deal about Internet
marketing but who wish to implement Internet marketing into their
overall marketing strategy should carefully study the basic principles of
Internet marketing before launching their online marketing campaign.
Fortunately for these business owners there are a variety of options for
learning about Internet marketing. These options may include online
research, reading published books and studying successful Internet
marketing campaigns.
Researching Internet marketing online is one method which can be
used for learning more about this topic. This type of research can be
very informative and can provide the business owner with a great deal
of advice and other information.
However, it can also provide the business owner with a great deal of
misinformation. When researching any subject online it is very
important to note that not all of the information available online is
accurate. This may be due to a variety of factors including content
which is written by those who don't have a great deal of knowledge
about the subject matter as well as content which was written years ago
and is outdated.
This can be frustrating but fortunately business owners can still learn
from the Internet. This just means they should be more cautious about
accepting information as being accurate and may wish to verify the
information they obtain before implementing an Internet marketing
strategy.
Published books are another valuable resource for learning more about
Internet marketing. There are a variety of books available which focus
on this subject and provide a wealth of useful information. When
selecting a book for use as research material it is important to seek out
a book which received independent reviews which were positive. It is
also important to seek out books which were published recently.
This is important because the Internet marketing industry is evolving
continuously and a book that was published only a few years ago may
be outdated and may lack information on some of the new
developments in the industry. The appeal of using published books to
learn about Internet marketing is you can keep the books on hand for
easy reference when you launch your Internet marketing campaign.
Finally business owners can learn a great deal about Internet marketing
simply by studying successful Internet marketing campaigns. If your
business offers products and services in a particular niche consider
entering relevant terms in popular search engines and studying the
websites of some of the highest ranking businesses.
This can provide you with a great deal of insight into what these
business owners are doing which may be contributing to their success.
Examining everything from their website design to their search engine
optimization strategies and even the content on their website can help
you to determine why they are more successful than you.
You should also consider how they are marketing their website which
may include banner ads, affiliate marketing programs or other types of
advertising.
Armed with this information you can take the opportunity to implement
changes to your own website and marketing strategy which may help
you to gain a greater degree of success. Care should be taken to not
copy anything directly from your competitors but to rather try to emulate
their degree of success in your own way.
Make sure you look for your next issue soon. We will be talking about
what Internet marketing is like for beginners.
Thank you again for joining,
"your name here"
"your email address"
"your URL here"
Other Details
- 12 Part Autoresponder Email Messages (TXT, DOC)
- Squeeze Page (HTML, PSD)
- Ecover (PSD, JPG)
- Affiliate Programs List
- File Size: 34,523 KB