Salespage Snapshot: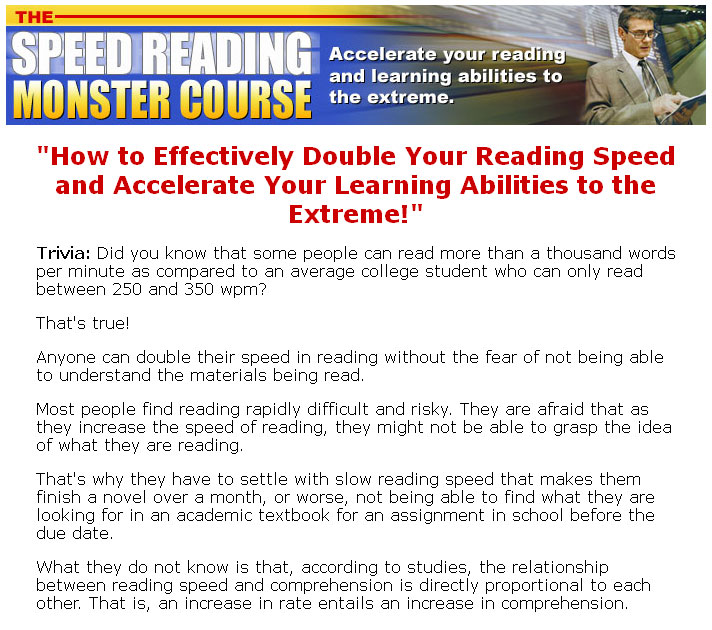 >>> Click Here To View Full Sales Page…
Table of Contents
Introduction 6
Pre-Requisites of Speed Reading
Chapter 1: Before Speed Reading 8
Consider Your Purpose
Look for Specific Words
Become an Impatient Reader
Different Speeds for Different Materials
Practice Activity
The First Step in Speed Reading
Speed Reading Tips
Knowing How Deeply To Study the Material
Chapter 2: How People Read 14
Short Exercise
Pay Attention
Reducing Fixation Time for Speed Reading
Speed Reading Techniques
Relationship between Reading Rate and Comprehension
Reducing Skip Backs
Five Types of Reading
1. Skimming
2. Scanning
3. Light Reading
4. Word by Word Reading
5. Reading to Study
Chapter 3: Radically Increasing Your Reading Speed 23
Technical Issues
Self-Pacing Techniques in Speed Reading
The Hand Technique
The Finger Technique
The Card Technique
The Sweep Technique
Speed Reading Tips
What Causes Slow Reading?
Tips for Increasing Reading Rate
Chapter 4: Suggestions for Increasing Speed and Effectiveness 31
Major Causes of Slow Reading Speed
Where to Begin … with Your Next Reading Assignment
Effective Reading Methods
Reading Daily News Method
Reading Newspapers Method
Close Reading Method
Exploratory Reading Method
Reading to Learn Method
Active Reading Method
Chapter 5: Human Mind and Vocalization 39
sub-vo-ca-li-za-tion
Subvocalization is a Necessity
Subvocalization: Good or Bad?
Eliminating Subvocalization to Increase Reading Speed
Do you Vocalize Words in Your Mind?
Eliminate the Habit of Pronouncing Words as you Speed Read
Stop Talking to Yourself When You Speed Read
Chunk Four Words
Use of a Pen or Finger
Chapter 6: Getting the Main Idea 46
Extracting Important Details
How "So What" Questions Help in Speed Reading
Be an Active Reader
Answer the Questions at the End of Each Chapter
Question while you are Surveying
Reading Critically
Recite After Each Section
Tips for Developing Good Eyesight
Speed Reading Calculating
Double Your Reading Speed
Conclusion 58
Sample Content Preview
Introduction
Pre-Requisites of Speed Reading
Alvin Tofler, author of Third Wave, contends that we are now in the information age. It is said that power belongs to those who have the knowledge and information. This we would like to dispute. Being in the information age, so many data and inputs are available. Tons and tons of materials are readily available with just one click of the mouse. Numerous data are readily available to all people. Yet, how come not all of these people who have access to mountains of materials are considered powerful?
It is our contention that those who are able to wade through tons of information, comprehend, and make use of that knowledge for meaningful purposes IN A SHORTER PERIOD OF TIME are the ones who hold the key to power. Speed is the key.
This reality reinforced the need to update our skills in speed reading. The need to accelerate our reading and learning abilities to the extreme resulted to this book. This book offers techniques that you can make use to hasten the skill in reading and comprehension. It presents scientific explanation on the causes of slow reading. It explains how the practice of hearing your "inner voice" actually saying the words you are reading can drastically slow you down.
Speed reading basically covers two areas: reading and comprehension. These go hand in hand. It is useless to study speed reading if you have trouble in absorbing information. You should already be an able reader before you try to speed read. Speed reading will not help you if you have problems in understanding the meaning of the words. To be able to enjoy the full benefits of speed reading, you must have the necessary facilities in understanding college-level materials.
Other Details
- Ebooks (PDF), 58 Pages
- 13 Graphics (JPG)
- 1 Salespage (HTML)
- Source
- Year Released/Circulated: 2009
- File Size: 791 KB
License Details:
[YES] Include Professional Sales Letter.
[YES] Can edit the sales letter and graphics.
[YES] Can sell Master Resale Rights.
[YES] Includes Professional Graphics.
[YES] Can Put Your Name As The Author.
[YES] Can Be Edited.
[YES] Can Be Used As Web or e-zine content
[YES] Can be added into a paid membership sites.
[YES] Can Be Broken Down Into Articles.
[YES] Can Sell Private Label Rights.
[NO] Can be offered as a bonus.
[NO] Can be given away for free.
[NO] Can be offered through on any auction sites.
[NO] Can be added to a free membership.