Salespage Snapshot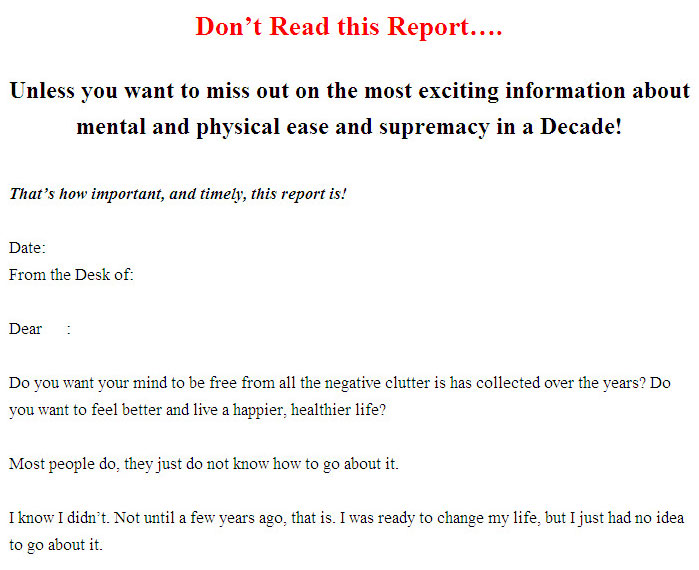 >> Click Here To View Sales Page...
PLR Ebook Sample Content Preview
Removing the Haunting Memories that Rob You of Success in your guide to Mental and Physical Ease and Supremacy
Removing the haunting memories that rob you of success is essential to abandon, which is accomplishable by finding your guide to mental and physical ease and supremacy.
Some of us must battle with forgetfulness or amnesiac symptoms. The conditions make it easier said than done for us to recall specifics when we need to, which often makes it next to impossible to make a statement without fragmenting. When this happens to us, we feel a sense of insecurity, which robs us of our success and mental, physical ease and supremacy.
We can change these patterns despite if we have a condition that robs us of our memory, or if we have suppressed memories over the years that it has caused us to forget often. We can change these patterns by practicing, using strategies, etc that guides us to managing our suppressed memories.
First, you must understand haunting memories. Of course, in some instances the haunting is severe, which may involve trauma. The key to breaking these flashing light bulbs that return, and to recall with ease is facing your ghosts head on.
Now let us take a moment to look at the objects in your mind that can hurt you, or rob you of your memory and supremacy.
– Lies
– Fear
– Doubt
– Worry
– Confusion
– Resentment
– Grief
How to take out the trash:
First, sit down and think of the first lie you heard. Think about how this lie made you feel. Think about the lies you told.
Other Details* Sales Page:
Included, HTML, MS Word Doc
* File Format:
MS Word Doc, PDF
* Number of Pages:
144
* Included Graphics:
Ecovers
* Download File Size:
884 KB