Salespage Snapshot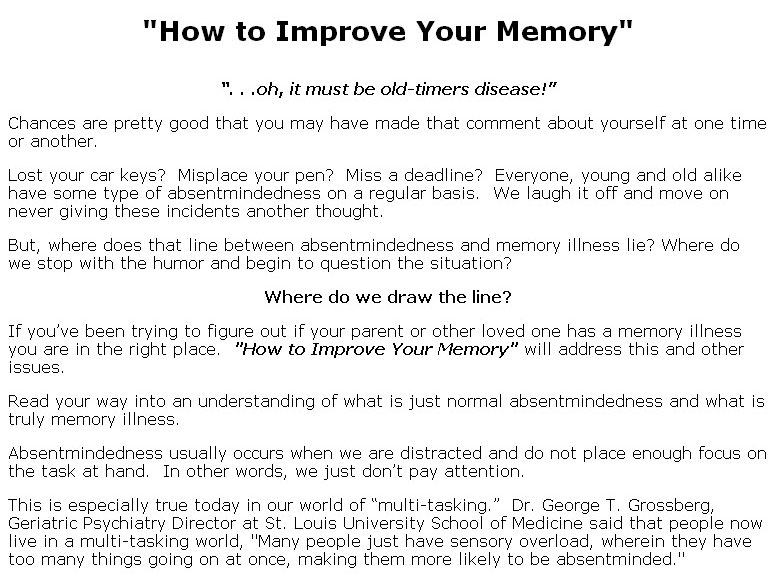 >> Click Here To View Sales Page...
Ebook Table Of Contents
What happens to the brain as we age?
Memory loss or just absentmindedness?
Is memory improvement only for the elderly?
What causes "memory loss?"
How to remember names and faces.
What about memorizing long numbers?
New theory – memory loss due to depression?
Is aspartame linked to memory loss?
How can we improve our memory?
What about "natural" remedies to boost the memory?
Foods to eat that boost memory.
Memory Illnesses – What are Alzheimer and Dementia?
Who gets memory illnesses?
How is Alzheimers treated?
What else can YOU do to improve your memory?
PLR Ebook Sample Content Preview
What happens to the brain as we age?
Gracefully Aging Your Brain
The brain is obviously one of the most important organs of our bodies. We use it all the time, but how often do we actually think about the wellness of our brain?
Staying fit seems to be a growing concern in these modern times. People want to age gracefully by keeping a healthy diet, exercising regularly and staying away from stress. People may not know it, but these practices, which are mostly done for physique, can actually help your brain age with grace.
When the Brain Grows Old
What happens to the brain as we grow old? The brain has the capability to continuously grow neurons, even in old age.  However, as people get older, the brain takes a longer time to process the electrical response to a stimulus as proven empirically by Professor Walter R. Bixby of the University of Maryland and his research team.
Other Details* Sales Page:
Included, HTML, MS Word Doc
* File Format:
MS Word Doc, PDF
* Number of Pages:
66
* Download File Size:
203 KB