Features:
* 52 Weeks Pre-written Newsletters
This isn't just ANY private label content. These newsletters are written to effectively promote best-selling affiliate products for an entire year. All the work is done for you.
* List of Top Affiliate Programs
Comes with high-paying, high conversion affiliate programs from Clickbank, Commission Junction, Shareasale, and others – just sign up! Once you've got your affliiate links, you put them into the content and bam – your newsletters are branded and ready to make you money!
* Opt-In Template For Each Niche
Pop in YOUR autoresponder information, and you're ready to upload this page to any domain and start collecting leads!
Opt-In Template Preview: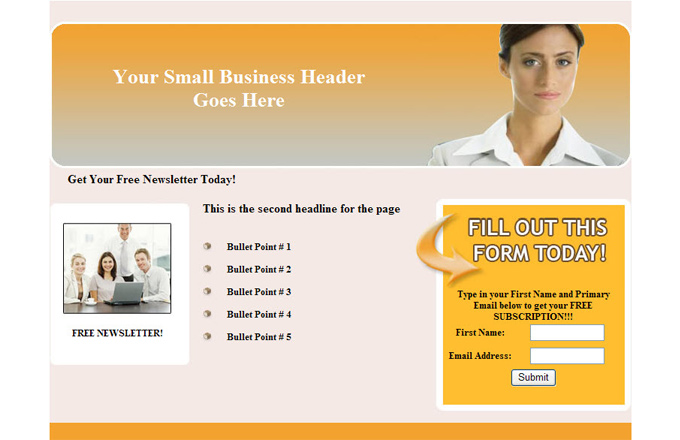 Autoresponder Message Titles:
– Hiring A VA
– Small Business Advantages
– Choosing An Online Small Business
– The Big Problems Of Small Business
– Small Business Bookkeeping
– Marketing Strategies For Small Business
– Setting Your Small Business Priorities
– Streamlining Your Small Business
– Success With Vending Machines
– Small Business Overhead Vs Profit
– Thinking About Opening A Coffee Shop?
– The Right Stuff For A Small Business
– Small Business Tax Requirements
– Avoiding Three Small Business Land Mines
– Writing A Small Business Marketing Plan
– The Small Business Trump Card
– Small Business Scams
– Small Business: Designing Your Own Destiny
– Small Business Bookkeeping: Software, Service Or Pencil And Paper?
– Maintaining Balance As A Small Business Owner
– Becoming A Freelancer
– How To Overcome The Fear Of Failure
– Stopping Customer Attrition
– PC Repair Small Business
– The Small Business Secret Weapon — Imagination
– When Your Competitors Are The Big Guys
– Growing Your Small Business
– A Drop-Shipping Business
– Small Business Success
– Small Business: Who Owns Whom?
– How To Start A Small Business
– Small Business Service Businesses
– Valuable Contacts For Small Businesses
– Government Grants And Loans For Small Businesses
– Internet Banking For Small Business
– Adding An ATM Machine To Your Small Business
– Building A Small Business On A Budget
– Contracts — Preventive Medicine For Small Business
– Starting A Tanning Salon Business
– Three Ideas For Small Businesses
– Small Business Efficiency Tricks
– Hiring Employees For Your Small Business
– Becoming A VA
– Preparing To Open A Small Home Business
– Is A B&B Right For You?
– Five Concerns Of The Small Business Owner
– Avoiding Small Business Cash Flow Problems
– Small Business Strategy = Small Business Success
– Professionals And Small Businesses (Doctors, Dentists, Etc.)
– Online Learning For Small Business Owners
– Good Advice For Small Business
– How To Start A Wedding Planning Business
Sample Affiliate Program Preview:
Elevating Your Business
"Elevating Your Business is the online home of business consultant Maria Marsala." She offers consultant and products for the small business owner. Affiliate program pays 30% on first tier, 10% on second tier for ebooks. There are a variety of tiered payments for other items, including teleseminars, programs and services – with sales prices ranging from $74–$6,000.
Small Business Ideas and Tips
Gives small businesses and start-ups "a regular flow of ideas and tips which you can use to: boost the number of customers you have; boost the amount they spend; boost the number of times they buy from you; and so boost your profits!" Affiliate program pays 60% (example, they have an ebook that retails for $27 ($16.20 commission) Also have a two-tier commission system which pays you 20%.
Business Credit Services
Products aimed at building business credit, including: Business Credit Programs; Personal Credit Programs; Business Plans; Incorporation Services Business Financing; and/or Business Finance Seminars. Selfadministered affiliate program. Must sign up to view commission structure.
Entrepreneur
Resources for Small Businesses and Entrepreneurs. "Entrepreneur's 'Choose to Earn More' affiliate program generates significant income for any website owner." You can sell four of the highest-converting products and services available on the web today. Commissions vary depending on product: Magazines and Book Bundles – $5.00 per subscription; Startup Guides – 25%; Logos – 25% ($99 sales price).
Avanquest Software
"Avanquest Software is a leading developer and global publisher of best-selling personal and professional software. Products range from PC utility and PC protection software to small business and home office productivity software. We offer over 100 software products in our affiliate program, many of which are award-winners and best sellers." Pays 25% commission plus up to $600 a month in bonus incentives.
Super Affiliate Handbook
"Start Your Own Home-Based Affiliate Marketing Business With Super Affiliate Rosalind Gardner's Expert Guidance! Topics Include Blogging, Market Research, Affiliate Programs, Web Design, Problem Avoidance And So Much More!" Pays 50% commission ($23.59).
Other Details* No Of Messages
: 52
* File Format
: TXT
* Included Graphics
: eCover [PSD, JPG]
* Extras:
Squeeze Page
* Extras:
Affiliate Programs [PDF]
* Download File Size:
1,721 KB