Squeeze Page Preview: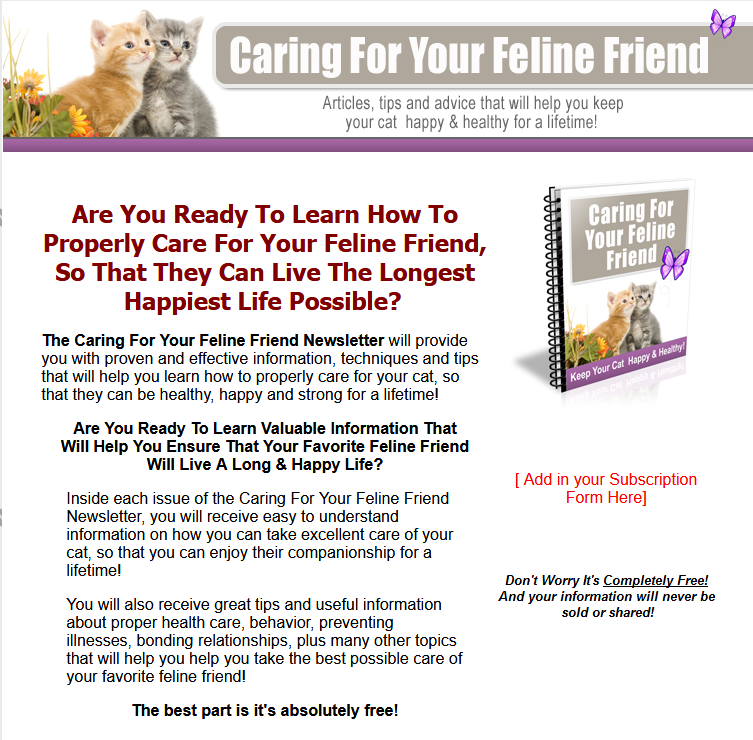 >>> Click Here To View Full Squeeze Page…
Features:
* 12 Issues Full Of Great Content
– Just add in your contact info and plug it in to your favorite auto responder. Each issue contains 500 words or more!
* One Ready To Go Squeeze Page
– Just add in your opt in form, upload to your server and your done!
* One Ready To Go Thank You Page
All ready to remind your subscribers to check their email and confirm their subscription. It even has built in revenue!
* 4 Researched Click Bank Products
These are top selling products on Click Bank that I've personally researched and chosen for each series.
* Extra Copy And Paste Article Content
You will get:
– Extra titles
– Extra opening paragraphs
– Extra closing paragraphs
– Extra fill in paragraphs
(these would make great tips that you add in to your follow ups system for more frequent contact with your readers)
Sample Content Preview
Hello "autoresponder code here",
In the last issue we talked about bonding with your favorite feline friend.
In this issue we are going to go over some of the common health
problems that your cat can be susceptible to.
If you are new to caring for cats, you may be surprised to find that health
problems can be a fairly common thing. No matter what breed of cat
you have, health problems are to be expected, especially in your cats
older years. Some may be hereditary, while others can be easily
prevented.
– Worms
No matter what breed of cat it may be, worms are a very common and
recurring problem. Tapeworms, roundworms, and hookworms are
among the most common that infect cats. Cats who have problems
gaining weight, problems with fleas, or if you find white specks in his
stool, you should have your vet test him for worms. Although they can
be treated with medicine, worms can prove to be fatal if they are left
untreated.
– Hairballs
Hairballs are the most common health problem for cats. All cats groom
themselves on a daily basis, normally swallowing the loose hair that
comes from their coats. On occasion, this loose hair will gather into a
ball and become lodged in the digestive tract instead of passing
through in your cat's stool. When your cat starts to cough and hack, he
is normally coughing up a hairball. Although it can be rather disgusting
in the end, most cats can dislodge hairballs without any problems.
In rare cases, a hairball can pass through to a cat's intestine, creating a
blockage. Blockages are very serious problems, and can be life
threatening if they aren't treated. If your cat becomes constipated, isn't
eating properly, or has a very dull coat, he could have a blockage. If
you notice any of these symptoms, you should take him to the vet
immediately. You can prevent hairballs and blockages by brushing your
cat 2 – 3 times a week to remove loose hair. You can also feed him
food that is designed to control hairballs as well.
– Urinary tract infections
Urinary tract infection is also a common health problem with cats.
Urinary tract infection is more common with male cats that haven't been
neutered, although females can suffer from this problem as well. When
a cat suddenly stops going to his litter box, this problem is normally the
cause. Another symptom is when the cat's urine starts to smell really
strong. If you suspect that your cat has a urinary tract infection, you
should take him to the vet. Your vet can treat the problem with
medicine, and make recommendations to help avoid this problem in
the future.
– Feline leukemia
In the past, feline leukemia was the biggest cause of death in cats.
These days however, there are vaccines available that can treat the
disease. To prevent this disease, your cat will need to be given the shot
before they are exposed. Even though death doesn't occur
immediately, cats that are exposed to feline leukemia normally don't
have a long life span. If you know your cat has feline leukemia, you
should never allow other cats around them because the virus is very
contagious.
To protect your cat, you should always make sure that you take them
to the vet for regular checkups. If you keep up to date with all of their
vaccinations, they should lead a long and healthy life. Although some
health problems can't be avoided, most of them can. Keeping your cat
indoors is a good option and will help protect him from many common
health problems. If your cat likes to go outdoors cat just keep in mind
that those regular visits to the vet will help ensure that they stay healthy
and remain your loving companion for years to come.
Make sure you look for your next issue soon. We will be talking about
more about keeping your cat happy and healthy for a lifetime.
Until then,
"your name here"
"your email address"
"your URL here"
Sample Extra Titles
That Caring For Your Cat Is – And What it is Not
Want to Know More About Caring For Your Cat?
Here's What I Know About Caring Cats
Caring For Your Cat The Right Way
Outrageous And Easy Cat Training Tips
5 Closely-Guarded Caring For Your Cat Secrets Explained
Caring For Your Cat Simple Tips Exposed
The Debate Over Caring For Feral Cat's
7 Ways to Guard Against Cat Illnesses
The Undeniable Truth About Caring For Your Cat That No One Is Telling You
What Everybody Else Does When It Comes To Caring For Cats And What You Should Do Different
The Idiot's Guide To Caring For Your Cat Explained
Unknown Facts About Caring For Your Cat Revealed By The Experts
The Hidden Truth on Caring For Your Cat Exposed
The Secret of Caring For Your Cat That No One is Talking About
The Unexposed Secret of Caring For Your Cat
The Caring For Your Cat Diaries
Caring For Your Cat – An Overview
The Ugly Side of Caring For Your Cat
An Unbiased View of Caring For Your Cat
What's Really Happening With Caring For Your Cat
The Ultimate Guide To Caring For Your Cat
5 Simple Facts About Caring For Your Cat Explained
And More…
Sample Extra Paragraphs
The Persian breed is gentle and sweet, getting along great with
everyone, including kids. They have a pleasant voice that is always
good to hear. Using their voice and their eyes, they can communicate
very well with their owners. They are very playful, yet they don't require
a lot of attention. They love attention however, and love being admired.
Unlike other cats, they don't climb and jump much at all. They aren't
destructive either; they just love being admired and lying around. A
majority of the time, Persian cats love to bask in the sun and show
others just how beautiful they truly are.
————————————
Angry or mean cats on the other hand, will either fight and scratch with
you, or simply run away from you. With mean cats, the best thing to do
is use gentle treatment with a soft voice. You can never try to raise your
voice or use strict discipline, as it will only make the cat meaner. Never
attempt to trap the cat either, as trapping it will only make the cat react.
If you take your time and let the cat know that you are there for him, he
will eventually calm down.
————————————
You should make slow movements around a lethargic cat, as he is still
quite traumatic. Once he is coming around and letting you touch him
again, he is getting back to his normal self. Keep in mind that it may
take some time, which is to be expected with this type of situation. If
your cat starts to get upset again or if you raise your voice, he will hide
again. If you continue to use a soft voice and have patience, your cat
will eventually get past this. If you get a cat that is lethargic, you should
prepare yourself for a long and very intensive healing period.
————————————
Siamese cats demand a lot of attention, because in their minds, they
believe that the world revolves around them. For this very reason, they
can tend be quite dependant on their owners. They love to play, and
crave interaction. If you leave them alone for too long, they won't like it.
They like to get attention, love to play, and hate to be left by themselves.
————————————
During the year of 1884, the very first Siamese cats began to make
their way to England, when they were given as gifts to a British general.
After that, they eventually made their way over to America. Now days,
Siamese cats are one of the most recognized of the breed. Siamese
cats are without a doubt the most popular short haired cat and among
the top 3 in the entire breed of cats.
And More…
Other Details
- 12 Part Autoresponder Email Messages (TXT, DOC)
- Squeeze Page (HTML, PSD)
- Ecover (PSD, JPG)
- Affiliate Programs List
- File Size: 16,000 KB