Salespage Snapshot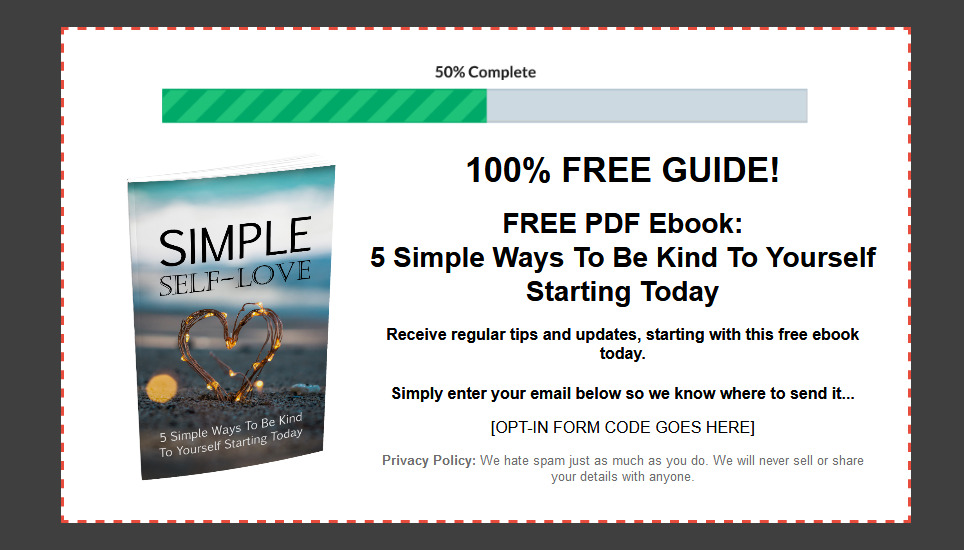 >> Click Here To View Sales Page...
Sample Content Preview
Every morning and evening, write down just 3 things that you are happy about. It does not matter what is coming up or how the day went, you just have to write down 3 things in the gratitude journal. This will create a positive shift throughout the day. As you write down and look over all of the positive things that happened in your life, you will start to cultivate a mindset of appreciation. And as this happens, you start to appreciate life more, which will have a snowball effect. Make a habit of writing down all that you enjoy. It is one of the easiest and most effective strategies to cultivate self-love. You have far more to be joyful for than you believe, but you need to take the first step and remove yourself from a negative mindset.
If writing does not suit, you could also just remember some happy memories or keep a scrapbook full of nice pictures. It just has to be a repository of positive items or traits that you appreciate about yourself.
2. Eliminate the Trash
The fact of the matter is that you deserve better than what you are achieving right now. And you should not be in any way reluctant to get rid of things that are not serving you. Things that you need to eliminate will likely include the news, social media, technology, bad foods, alcohol, cigarettes, negative thoughts, and sloth in general.
But it goes further than this. You have to get out of a relationship that you are not fully committed to. While the idea of finding fulfilment from a partner alone is incredibly misguided, you should at least feel happy with your partner and be compatible. If not, be kind to yourself and find a different significant other.
Work is one place where you need to really make sure you are the right fit. If you are really unhappy in the role, then leaving might be the better option. Alternatively, you might want to save some cash and wait for an opportunity to make the switch. A toxic environment can be very damaging to your self-esteem. There are many options available and if you really want the life of your dreams, you can have it. The truth is that the best way to care of yourself involves eliminating many of the things that make you feel bad. Ensure that you are putting yourself first by removing the excess. This is a far more simple step than most people make it out to be. When you have finally quit your toxic job or relationship, the relief will be palpable. There are few, if any, who have said that quitting their job to go travel the world was a bad decision.
You will also have to eliminate limiting beliefs. These beliefs often stop you from really caring about yourself. You might believe that you are not a confident person or that you are always depressed or introverted. But these beliefs often come from a single past experience that you thought about a lot and repeated to yourself. When you adopt positive beliefs your enjoyment will truly start to unfold and you can unashamedly pamper yourself without any guilt or reluctance.
3. Take a Break: Be Happy Now
Every individual needs rest and relaxation. What this entails is unique to everyone. It could be sitting beside a fire and reading a book, going to the spa for a massage, or taking a walk in nature. Regardless, identify what you like to do and fit them into your daily life as much as possible. Because you deserve to do them frequently.
When you put off things for a long time period, it can create a sense of restlessness in the mind. Most people put off living their life until they reach vacation time. But joy and happiness need to be present in work, play, and vacation time. They are not something to be put off for one single second. You should smile going into work and smile coming out. While this might round ridiculous, there is no reason it cannot be this way except for your conditioning.
Despite the seriousness of any event, you can reframe it in your mind for the better. And you can change any circumstance in such a way that you are happy for it occurring. Consider that many people are happy just to have food or their health. Make a habit of being happy at all times instead of waiting for it to arrive. Alternatively, If you do schedule regular relaxation time for whatever it is that you like to do on a daily basis, then you can be happy for that during the day. There is always something to appreciate. If worse comes to worst, you can just open your gratitude journal to see how good life really is.
4. Prepare For a Better Future
Every person needs a goal or something to look forward to. While this most often takes the form of financial gain, it would be best to focus on developing emotionally, mentally, spiritually, and physically. Set out a plan for self-development that is comprehensive and all-encompassing. In this way, you will have a framework to work with and a real means of developing.
Other Details
- 10 Articles (TXT, DOC)
- 1 Ebook (PDF, DOC), 8 Pages
- 1 Audio (MP3)
- 4 Graphics (PNG)
- 1 Salespage (HTML)
- Year Released/Circulated: 2020
- File Size: 12,314 KB
License Details:
You may add this product to your PAID membership site
You may giveaway the product as a bonus when people buy through your affiliate link
You may edit the included opt-in / squeeze / landing page
You may giveaway the eBook for Lead Generation purpose
No, you may NOT edit the contents of the eBook
No, this product does NOT include private label rights. You are granted Master Resell Rights only