Squeeze Page Preview: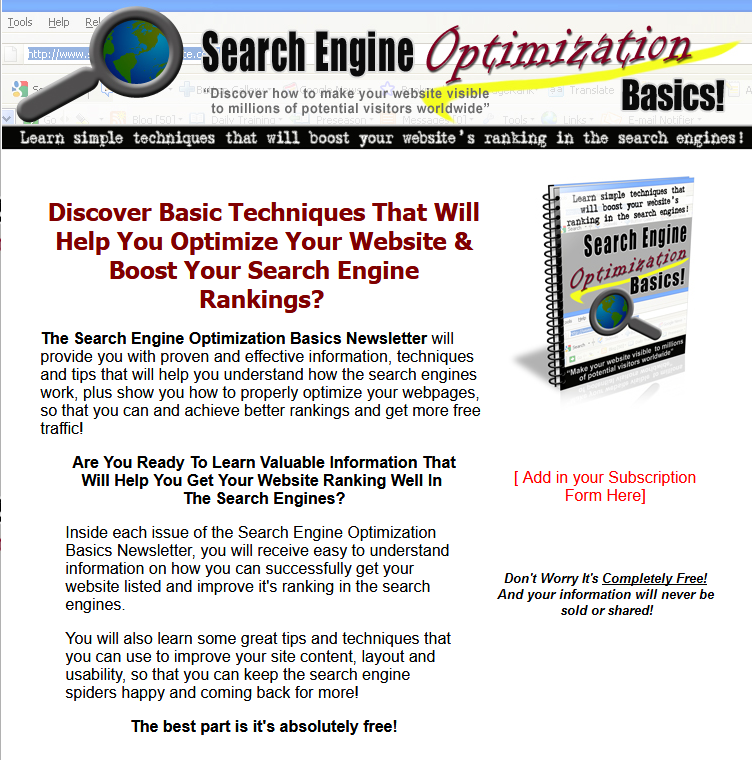 >>> Click Here To View Full Squeeze Page…
Features:
* 12 Issues Full Of Great Content
– Just add in your contact info and plug it in to your favorite auto responder. Each issue contains 500 words or more!
* One Ready To Go Squeeze Page
– Just add in your opt in form, upload to your server and your done!
* One Ready To Go Thank You Page
All ready to remind your subscribers to check their email and confirm their subscription. It even has built in revenue!
* 4 Researched Click Bank Products
These are top selling products on Click Bank that I've personally researched and chosen for each series.
* Extra Copy And Paste Article Content
You will get:
– Extra titles
– Extra opening paragraphs
– Extra closing paragraphs
– Extra fill in paragraphs
(these would make great tips that you add in to your follow ups system for more frequent contact with your readers)
Sample Content Preview
Hello "autoresponder code here",
In the last issue we talked about the difference between black and
white hat search engine optimization. In this issue we are going to
talk about good content strategies that you can use in your SEO
campaign.
The entire search engine optimization process is often
misunderstood by a lot of people, which is why they often
commit a lot of SEO mistakes as we have discussed before.
These mistakes can cost them not only their page ranking in
search engines, but also their traffic volume of possible
customers. As you know SEO can help you direct traffic to your
site, but getting them to stay is a whole new different ball game.
The entire SEO process basically revolves around the idea of
getting a good page ranking in search engines by employing
certain strategies so that people can find your site easier. The
better your page ranking is, the easier it is for visitors to find it, the
more appealing it is for them to visit your site, thereby increasing
the amount of traffic that your site is able to generate. However, if
the visitors do not find any relevant content in your site, then your
efforts to get them to your site would just have been in vain.
If you want to ensure that you can get visitors to stay on your site,
you must learn some basic content strategies.
As I mentioned earlier, getting people to your site is one thing, but
to getting them to stay is another.
When visitors are looking for a specific content, they will perform
keyword searches on search engines. Once they are directed to
your site using those keywords, they expect to find relevant content
pertaining to that keyword, so make sure that you have content or
you will lose them as fast as they found you.
Avoid using keywords that have no relevance to your content.
Using them anyway simply to gain more traffic to your site only
based of the popularity of the keyword will only result in visitors
clicking back to their search engines, and won't necessarily
have any positive effect on your page ranking.
The more content or articles you create about a particular topic or
keyword, the more chances you have of getting tagged and linked
by other sites, as well as increase your chances of answering a
visitor's search for relevant content. Just like fishing, the more
bait you have, the better your chances are of catching a fish.
You also want to create articles and post them on other sites so
that you can generate a lot of back links which can lead even more
people back to your site.
Creating and posting new content regularly can greatly improve
your site's chances of getting recommendations from other sites,
especially those that are linked to your site. The more times you
offer new and fresh content, the more opportunities your visitors
searching for a particular content will have on finding one that is
relevant to their search.
Building links is also another content strategy that you can employ
to help visitors searching for a particular content to find your site
offering relevant content to their search. Try to link to other sites
that have similar content, or at least uses the same keywords
in tagging their site's content.
This way, any visitor searching on those sites will be directed to
your site's similar content, making it easier for them to find you.
Make sure you look for your next issue soon. We will be talking
about some of the most common SEO Myths so that you can
recognize them and make the necessary improvements needed
to boost your rankings.
"your name here"
"your email address"
"your URL here"
Sample Extra Titles
The Dirty Truth on Search Engine Optimization
The Search Engine Optimization Trap
The Low Down on Search Engine Optimization Exposed
Facts About Search Engine Optimization Revealed
The Undeniable Truth About Search Engine Optimization That No One Is Telling You
What Everybody Else Does When It Comes To Search Engine Optimization And What You Should Do Different
The Idiot's Guide To Search Engine Optimization Explained
Unknown Facts About Search Engine Optimization Revealed By The Experts
The Hidden Truth on Search Engine Optimization Exposed
The Secret of Search Engine Optimization That No One is Talking About
The Unexposed Secret of Search Engine Optimization
The Search Engine Optimization Diaries
Search Engine Optimization – An Overview
The Ugly Side of Search Engine Optimization
An Unbiased View of Search Engine Optimization
What's Really Happening With Search Engine Optimization
The Ultimate Guide To Search Engine Optimization
5 Simple Facts About Search Engine Optimization Explained
And More…
Sample Extra Paragraphs
Another method of creating duplicate content is by simply taking
content from another website or page and reorganizing it to make
it appear dissimilar to its original form, though it is actually the
same.
————————————
Spamming is one way of getting traffic directed to your website,
however, this type of method will only work for a short period of
time, and will ultimately lead to your site's failure. This type of
method works by literally tricking traffic to get redirected to your
site through the use of some deceptive techniques, such as using
irrelevant keywords and using duplicate content on other sites just
to try and increase your site's page ranking.
————————————
You can do several things when designing or redesigning a web
site to get more treatment in the search engines. You can choose
to optimize the home page for the most relevant and important
keyword or key phrase, as well as other pages that can be
optimized for the given product. If you choose to sell various
products on various pages, every page can be optimized for the
given product. You can organize items this way. You should use
SEO on at least several pages to get the results you want. Do not
optimize pages wherein you do not have public content. Avoid
pages that have "private policy" and "contact us" as well.
————————————
It is a myth that PPC ads can either hurt or improve your search
engine ranking. A lot of users actually believe that running Google
AdWords can affect the organic rankings or cause their standing
to go down or up. PPC ads and getting more affiliates can help
you stay visible to your target market through other web sites, but
the approach does not immediately lead to better page results.
————————————
Promotional campaigns last 24 hours a day and 7 days a week
nonstop once you start any SEO approach. You stay visible to your
target market any time of the day. People can visit your site
regardless of their location. You do not to pay people for working
overtime or stay up late just to check on your buyers. SEO
continually works for you even when you are off the Internet.
————————————
Product descriptions from many eCommerce sites are actually
being utilized by other sites as well. Other sites simply copy the
product description of manufacturer's utilized by other competitive
markets as well. And add the fact that the product name, as well
as the name of artist, manufacturer, writer or creator would be
included, a significant amount of content would show up on your
page. Although this is much harder to spot, it is still considered to
be a duplicate content, or spam.
And More…
Other Details
- 12 Part Autoresponder Email Messages (TXT, DOC)
- Squeeze Page (HTML, PSD)
- Ecover (PSD, JPG)
- Affiliate Programs List
- File Size: 11,200 KB