Salespage Snapshot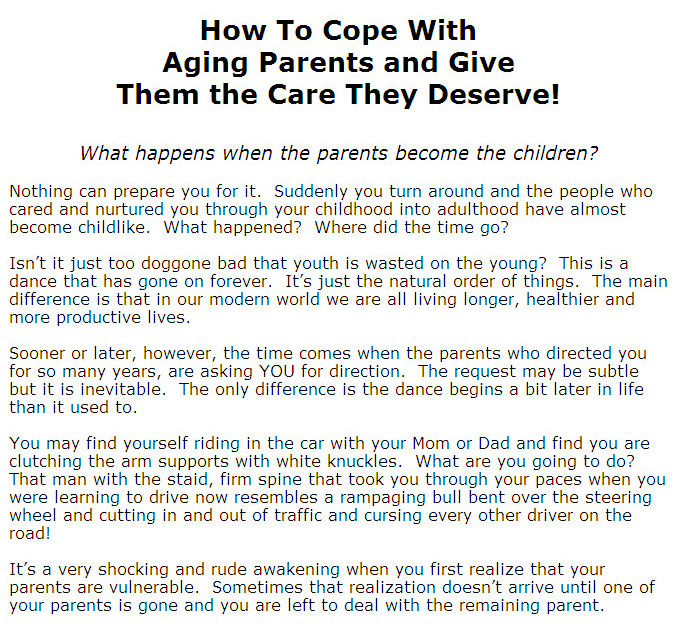 >> Click Here To View Sales Page...
PLR Ebook Table Of Contents
Taking on the Job Yourself
When is the Right Time
About Intervention
Long Distance Care Giving
What is the Best Support System
Managing Medical Situations
Overseeing Medications
Understanding Health Insurance
What Happens When Serious Illness Occurs
Coping With Alzheimer's Disease
When A Hospital Stay Is Necessary
Detecting Elder Abuse
Hiring a Home Caretaker
Housing Decisions
Nursing Home or Assisted Living
PLR Ebook Sample Content Preview
Taking on the Job Yourself
Taking Responsibility For Your Aging Parents
Thanks to the improvement and commendable innovations in the field of health care, people are experiencing better health. Life expectancy is getting longer compared to the life expectancy of people just a few decades ago.
This should be considered as good news since it involves the improvement and prolonged life. However, longer life spans also bring challenges that include issues such as who will care for our elderly.
Many people prefer to take care of their older parents themselves. They give time and support to their parents as well as tender, loving care on a personal basis.
There are also some people who prefer to leave their parents in the care of homes for the aged. There is a prevalent notion that people who leave their parents at homes for the aged are not concerned with their parents anymore and that they just want to leave them to the care of others.
However, that kind of approach is not totally true because some individuals who decide to leave their parents to the care of others are just victims of circumstances. By this, it means that even though people have the will and intention to take care of their older parents themselves, they can't really do it because they are prohibited the constraints of work.
With an issue as sensitive as this, people should avoid becoming judgmental because in reality, all people have the innate desire to take care of their parents.
Other Details* Sales Page:
Included, HTML, MS Word Doc
* File Format:
MS Word Doc, PDF
* Number of Pages:
55
* Included Graphics:
Ecovers, PSD
* Download File Size:
2,147 KB