Squeeze Page Preview: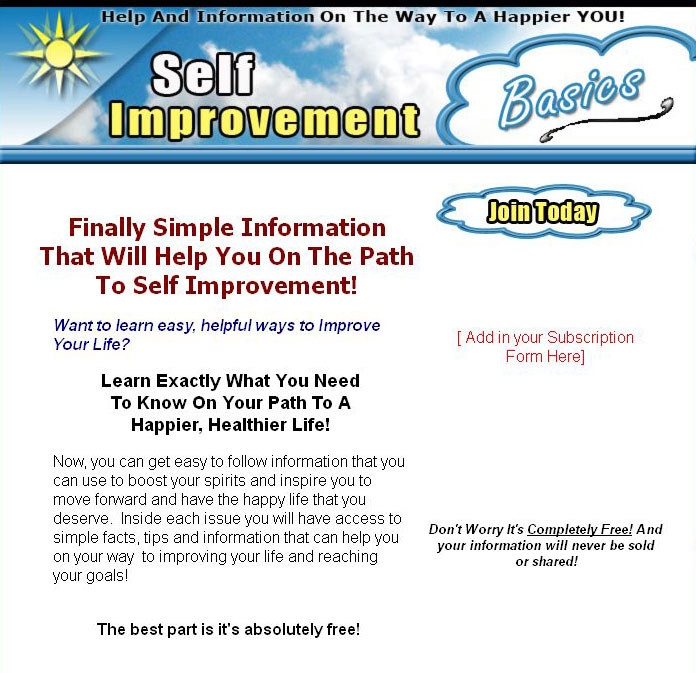 >>> Click Here To View Full Squeeze Page…
Features:
* 12 Issues Full Of Great Content
– Just add in your contact info and plug it in to your favorite auto responder. Each issue contains 500 words or more!
* One Ready To Go Squeeze Page
– Just add in your opt in form, upload to your server and your done!
* One Ready To Go Thank You Page
All ready to remind your subscribers to check their email and confirm their subscription. It even has built in revenue!
* 4 Researched Click Bank Products
These are top selling products on Click Bank that I've personally researched and chosen for each series.
* Extra Copy And Paste Article Content
You will get:
– Extra titles
– Extra opening paragraphs
– Extra closing paragraphs
– Extra fill in paragraphs
(these would make great tips that you add in to your follow ups system for more frequent contact with your readers)
Sample Content Preview
Message # 1
Subject line: Your First Self Improvement Basics Issue
Hello "autoresponder code here",
Welcome to the first Self Improvement Basics issue .
In each issue of Self Improvement Basics you will learn valuable
information that can successfully help you improve your life.
As we begin it is important that you understand that you don't
have to settle for mediocrity.
True success in life can only come by not settling for
mediocrity, we should always strive to achieve and get the
most out of life that we possibly can, it is only when we push
ourselves and give it all we've got can we then give ourselves
a pat on the back for a job well done. Success in life depends
on self-discipline and not giving in at the first hurdle you come
across or going into a project only half heartedly, by pushing
yourself that little bit further you will be surprised at what you
are capable of achieving, this is what separates the winners
from the losers or the successful from the unsuccessful.
All people say that they want to succeed in life at whatever
they do but very few are willing to actually push themselves
them little bit further in order to achieve their goals, and this is
why some of us succeed in life and others fail. How well you
succeed is all about how bad you want the success, what it
means to you, are you willing to succeed a little or are you
willing to go the whole way and beyond to achieve a higher
status and be outstanding?
We all start out with the best of intentions when racing towards
the goals we have set, we shoot out of the starting gate and run
down the straight but many of us fall back at the first hurdle, we
don't push, we run out of steam when the going gets tough and
don't pause to catch our second wind but come to a halt and
give up, or stumble on half heartedly and cross the line in
second or third place at best.
Those who do have the winning streak in them, who know
that with a little extra push and a pause to catch their breath
and then a final sprint down the home straight and past the
winning post a head in front of their competitors are the
ones that end up with the glory and true success in life.
Of course all those who are successful don't just rely on
pushing themselves, all winners have a strategy and are
willing to be flexible on their way to success because life has
a way of throwing many different spanners into the works
along the way. We have to be able to adapt to these
unexpected happenings when they occur and not get bogged
down, we have to take them in our stride, skip around them
and continue in the race.
Never settle for anything less than giving it you're all
Here are some tips to help you remember never to settle
for anything but your best no matter what the project is
– It doesn't matter how big or small the project put your all
into getting it completed
– If you think you have given it your best shot, pause and
ask yourself "could I improve"
– Plan our your project but always be willing to make
changes and work your way around the unexpected.
– It's ok to pause but get back into the race and carry on
until you pass the finish line.
Make sure you look for your next issue soon.
We will be talking about little mood boosters that can
help brighten your day!
Thank you again for joining,
"your name here"
"your email address"
"your URL here"
Other Details
- 12 Part Autoresponder Email Messages (TXT, DOC)
- Squeeze Page (HTML, PSD)
- Ecover (PSD, JPG)
- Affiliate Programs List
- Special Bonus (Road To Success Ebook [DOC, JPG, PSD], Self Esteem Ebook [DOC, JPG, PSD])
- File Size: 2,978 KB