Salespage Snapshot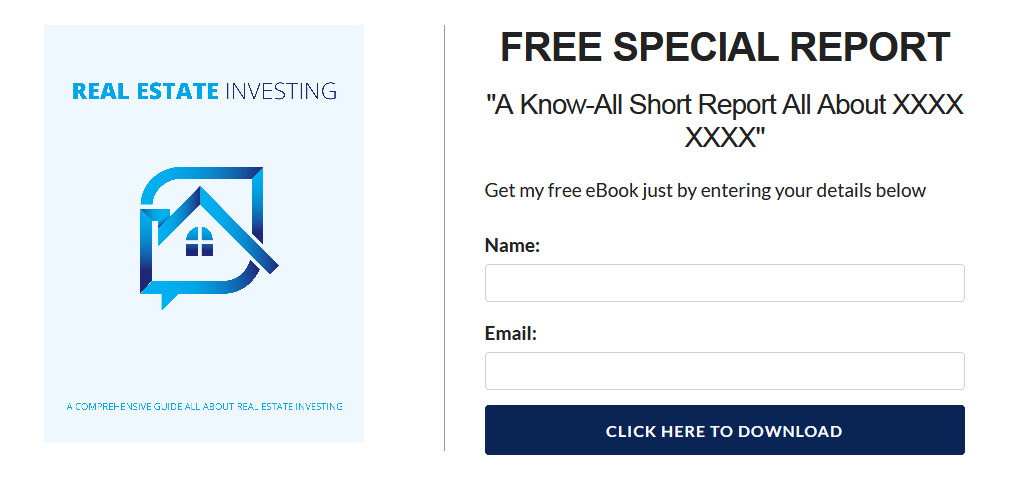 >> Click Here To View Sales Page...
Table of Contents
Introductory 4
Chapter 1: Are You Committed to Your Real Estate Investment? 6
Chapter 2: Common Risks Involved in Real Estate Investments . 8
Chapter 3: Finding the Right Realtor for Your Real Estate Needs …. 11
Chapter 4: Has Television Changed the Face of Real Estate Investing? . 13
Chapter 5: Home Shopping The Smart Way 15
Chapter 6: Is Real Estate Investing for You? …. 17
Chapter 7: Knowing When Your Ready To Buy . 19
Sample Content Preview
Chapter 1: Are You Committed to Your Real Estate Investment?
There are many questions that should be asked before embarking upon a career of real estate investment.
The first and foremost question however should be whether or not you are truly committed to making real estate work for you. This is not a business for the faint of heart. In order to truly turn a profit, you must be at times ruthless when dealing with buyers and sellers but ethical to a fault when it comes to the work that must often be done in order to get a property in sellable condition.
The reason a serious commitment is needed in order to make real estate work for you is simple. There will be ups and downs along the way. The stock market experiences rise and falls on a regular basis. Just as you cannot dump all of your stock over one bad day the same holds true even more so in the realm of real estate investing.
Property values in general rise gradually over time. This means that even if the values in a community falter chances are that they will eventually recover.
Those who bank on the slow and steady growth in the value are referred to as buy and hold investors. These investors are truly committed to their investment. Some of them elect to hold the property as a vacation property while others opt to earn an income on the property by renting it out to other families or vacationers, whatever their choice may be.
This is a great way for many people to enjoy the luxury of a vacation property without absorbing all of the expenses involved in owning a vacation property as the rentals will help compensate some of the costs when the owners (investors) are not in residence.
This is a fairly common practice in high demand tourist areas in which people often enjoy vacationing. These types of investors are what some
people refer to as serious real estate investors though all real estate investors need to take their purchases seriously.
Those who own rental properties must also be committed to making their investments work for them. Rental properties are not a 'hands off' type of investment, as they will need to be maintained in order to remain in demand by tenants.
You must also make constant efforts to keep these properties managed and filled along with remaining certain that you are collecting your rent each month and that the properties aren't falling into a state of disrepair or abuse by tenants.
Many investors retain the services of property management agencies in order to handle the minutia of month-to-month details and collections. This is a great idea whether you have one lone rental property or a vast portfolio of rental properties.
Even better however, is the fact that if you keep your rental properties in reasonable repair throughout the years they can become liquid assets in time. In other words, they may actually pay for themselves a few times over if you invest for the long-term rather than focusing on the moment.
No matter what type of real estate investment you intend to have it is important that you are prepared to make the commitment to profit or profitability that is necessary in order for your venture to be deemed a success.
Chapter 2: Common Risks Involved in Real Estate Investments
While a good many millionaires will agree that their fortunes were made in real estate, the honest ones will also tell you that they've probably lost a few fortunes in real estate along the way.
This is a risky business and every property purchased doesn't always pan out to become a successful investment. There are many risks involved in real estate investing and you would be going to battle unprepared if you didn't take a moment to carefully study these risks and work to avoid them when planning your property investment strategy.
Unfortunately, there are very few one size fits all risks for real estate investing, as each type of investing is inherently different. This means that each type of real estate investment will involve a new set of risks. Below you will find a brief overview of different styles of investing and the common risks that are involved in each.
Rental Properties
This type of investing offers some risks that are unique and some that are also risks when investing in properties that are lease-to-own or rent-to-own as well. First and foremost is the risk of failing to make a profit. If the property in question cannot achieve an adequate monthly income to cover the expenses of operating the property then it is not a solid investment.
Other risks include the risk of getting bad tenants. This is particularly hard on first time investors. Bad tenants are costly and in some cases destructive (which leads to even greater expense). Vacancies are another risk for rental properties. These properties are only costing money as they sit empty rather than earning money as they were intended. Short turnovers are in your best interest as are long-term tenants.
Other Details
- 1 Ebook (PDF), 20 Pages
- 1 Squeeze Page (HTML)
- 3 Ecovers (JPG, PNG)
- Year Released/Circulated: 2019
- File Size: 820 KB
License Details:
[YES] Each product to be sold for no less than $7.00 each.
[YES] Can be sold
[YES] Can be re-branded as your own
[YES] Can be used for personal use
[YES] Can be packaged with other products
[YES] Can modify/change the sales letter
[YES] Can modify/change the graphics and ecover's
[YES] Can add to ANY membership site (MRR Only)
[YES] Can be offered as a bonus
[YES] Can be given away free to build a list
[YES] Can print/publish offline
[YES]Can convey and sell Personal Use Rights
[YES] Can convey and sell Resale Rights
[YES] Can convey and sell Master Resale Rights
[YES] Can be given away for free
[NO] Can convey and sell Private Label Rights
[NO] Can be given away in PLR format
[NO] Can sell or giveaway the FULL package