Salespage Snapshot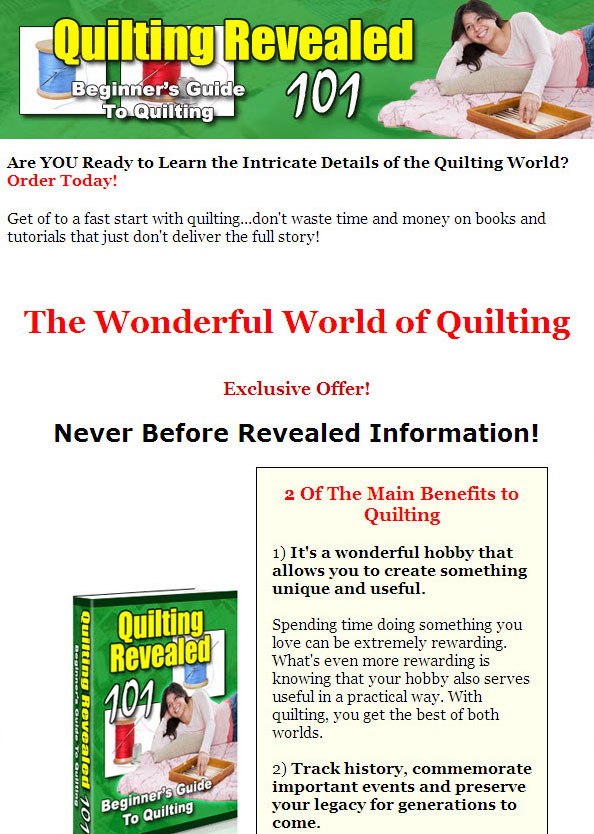 >> Click Here To View Sales Page...
PLR Ebook Table Of Contents
Introduction ……………………………..……………………………………………..5
Chapter One – The History of Quilting – Hawaii, the United Kingdom, South Africa, Australia and the United States of America ………………..7
Chapter Two – The Technical Bits ………………….…………………………..…18
Chapter Three – Quilt Styles and Decorating …………..………………………..30
Chapter Four – Unique and Important Quilts Across the World ….…………….33
Chapter Five – Births, Marriages and Deaths ………………….…………………..35
Conclusion …………………………………….………………………………………38
Recommended Resources ………………………………………………………. 40
PLR Ebook Sample Content Preview
Introduction
Quilting is as old as the hills, and for many, has that wonderful combination of domestic necessity, social cohesion, and craftwork and commemoration.
Quilting methods don't vary enormously throughout the world, but the designs are largely specific to a country, or a society, although the traditional American patchwork designs have become loved world wide.
It is wonderful to have such a craft, which is a means of handing down traditions amongst womenfolk mainly, and which has an end product that can both look beautiful, and keep you warm at night.
An exception to this is of course the Hawaiian quilting tradition, which began under the tutelage of the missionaries, and evolved into a means of recording the Hawaiian beliefs and lives. Their quilts talk of their gods, their departed spirits, the new members of their society yet to be born, and the main historical and cultural events of their society. Their use of the beautiful flowers and the love of their culture give Hawaiian quilting a truly magical and precious quality.
In colder climates, the quilting circle was an opportunity for the women to come together, to talk over the major matters of the day and to provide invaluable support for each other.
The new settlers in The United States of America were hardy and tough. Most of them had to start from scratch. Homes had to be built, and furnished, and in these days, nearly everything had to be grown or made.
Needlework was a very necessary skill for a woman. Without this, they would not be able to make their clothes, and would not be able to make the soft furnishings that not only 'make a house into a home', but are necessary for keeping out draughts from windows and doors, and for keeping everyone warm at night.
When societies became more established and there was money and time available, the quilting circle would make quilts to commemorate certain events, and together produce really large quilts that would adorn the walls of the buildings that served as community centers.
Other Details* Sales Page:
Included, HTML
* File Format:
MS Word Doc, PDF
* Number of Pages:
38
* Included Graphics:
Ecovers, PSD
* Extras:
Keywords
* Extras:
Photoshop Action Script
* Download File Size:
5,318 KB