Squeeze Page Preview: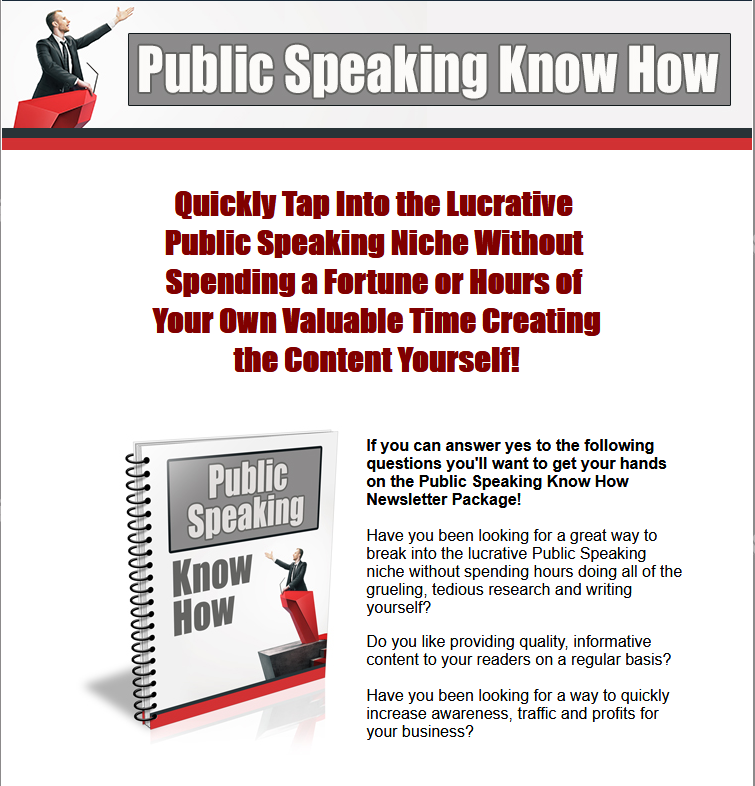 >>> Click Here To View Full Squeeze Page…
Features:
* 12 Issues Full Of Great Content
– Just add in your contact info and plug it in to your favorite auto responder. Each issue contains 500 words or more!
* One Ready To Go Squeeze Page
– Just add in your opt in form, upload to your server and your done!
* One Ready To Go Thank You Page
All ready to remind your subscribers to check their email and confirm their subscription. It even has built in revenue!
* 4 Researched Click Bank Products
These are top selling products on Click Bank that I've personally researched and chosen for each series.
* Extra Copy And Paste Article Content
You will get:
– Extra titles
– Extra opening paragraphs
– Extra closing paragraphs
– Extra fill in paragraphs
(these would make great tips that you add in to your follow ups system for more frequent contact with your readers)
Sample Content Preview
Hello "autoresponder code here",
In the last issue, we talked about how to write your speech. In this issue, we are going to talk about what to do when things don't go as planned.
One of the greatest fears we face when speak in front of a crowd is also one of its greatest rewards. Public speaking is a totally live event. And that means that anything can happen and just about anything could happen in the middle of your presentation. Therefore, to change your fear of the unexpected to another talent you have to handling interruptions, think ahead what you will do if things come up and how you will get the crowd back on track with your outline to take them to the conclusion you want them to reach.
Depending on how you conduct your presentation and the type of gathering, questions or objections from the audience could potentially take you off course. This is especially true if you really didn't plan to have an open forum type of discussion. If you set out to do your talk as a speech, not a discussion and someone interrupts, the first thing to do is recognize the disrupter to assure the crowd you have the situation under control. Your audience comes to your talk with a confidence that you're in control of the room and its important you maintain that control.
Now if the disrupting speaker is being difficult and clearly wants to disrupt the meeting that is when the organizers of the meeting should know to step in and remove that person. But many times, the interruption could be a very logical and politely put question or need for clarification. A rule of thumb is if one person asks a question, that means that four or five in the crowd had that question in mind but did not have the courage to interrupt you. Sometimes the disruption may not even be audible. If might be just a hand in the air or a facial expression that is clearly communicating the need to interact with you.
Again, the more you can maintain composure and recognize the question and either answer it or divert it from your outline, the more confidence the crowd will have in you. Many times, the question will either be easily answered from your materials. Don't be afraid to say, "That is an outstanding question which is right here on my outline. I will be answering that in a moment". When you do that, it gets a chuckle from the questioner and the crowd and you can continue your path to finishing your talk just making sure you highlight the area of the outline that came up in the question.
Be prepared also for either a legitimate question that you do not have a ready answer for or for questions that don't make any sense to what you're talking about at all. For both to simply recognize that the questions were a good (even if they aren't) and state that you will do some research and get back to them later with that background information. That will usually quiet the disruptor down and let you get on with your program.
Questions are not the only thing that can go wrong. Something could break either on stage or in the crowd. A person could fall out of his or her chair. A bird could fly in through a window. The list of things that might happen goes on and on. Again, as you did with questions that you didn't expect, maintaining composure and control is the key.
The audience will actually key off of you as to whether to panic about the interruption or not. If you keep your head and handle the disruption with a sense of calm, that will put the audience in that mood too. The effects of the disruption will minimize immediately and because you communicated that you were in charge at all times, the audience will respond to your leadership and come back to you to hear the rest of what you have to say.
You can achieve a feeling of control and calm by thinking through how you will handle the unexpected before you even step up to give your talk. Because you expect the unexpected, you can capture strange things that happen to demonstrate your management of the time you must speak to the crowd. If you do that, it will work to your advantage and you the result will be an even better presentation than would have happened without the disruption.
Make sure you look for your next issue soon. We will be talking about where you should look when you're speaking.
Until then,
"your name here"
"your email address"
"your URL here"
Sample Extra Titles
All About Public Speaking
New Step by Step Roadmap For Public Speaking
The New Angle On Public Speaking Just Released
A Deadly Mistake Uncovered on Public Speaking And How to Avoid It
The 5-Second Trick For Public Speaking
The Good, The Bad and Public Speaking
The 2-Minute Rule for Public Speaking
The Biggest Myth About Public Speaking Exposed
The Do's and Don'ts Of Public Speaking
A Review Of Public Speaking
The Little-Known Secrets To Public Speaking
The Fundamentals Of Public Speaking Revealed
The One Thing To Do For Public Speaking
The Do This, Get That Guide On Public Speaking
What The In-Crowd Won't Tell You About Public Speaking
The Lost Secret Of Public Speaking
Whispered Public Speaking Secrets
A Secret Weapon For Public Speaking
The Argument About Public Speaking
Public Speaking Fundamentals Explained
Whatever They Told You About Public Speaking Is Dead Wrong…And Here's Why
The Nuisances Of Public Speaking
The Public Speaking Cover Up
Facts, Fiction and Public Speaking
And More…
Sample Extra Paragraphs
One of the main things that has to be done when giving a presentation is to practice on the speech as much as possible. This is the only way of looking polished while speaking. It is indeed a false notion that using PowerPoint slides in a presentation will make a person a dynamic speaker. The process of becoming a dynamic speaker lies in the hand of the speaker. Only practice can make one a successful speaker, and this is one skill that cannot be delegated to anyone else.
————————————
Try to accept the fear and embrace it, not that you want your fear to take over, but for you to know how your fear works and understand its nature. Don't try to fight the feeling, instead, try to look for a way around it. Rest assured, your fear will pass more easily once you get to terms with it and not be frightened about it anymore.
————————————
The next step that the mind does to rationalize these is to establish solutions to common problems that we encounter. It is then processed in the mind based on the extent of out learning, experiences in life and a lot of other factors that help us come up with ideas and solutions to address all of these.
————————————
Next, try to feed yourself with the idea of calming exercises and gain firm footing by taking deep and slow gentle breaths to help relax your mind and body. You may also aid this by thinking of positive thoughts and enjoyable images to help clear your mind and attention to the matter at hand.
————————————
Think of yourself as your greatest fan and supporter, who could help you go through the circumstance of fear you hope to overcome. Reflect on your past successes and make the most out of our strengths and abilities, by drawing out that inner strength within you to make you weather through the situation. Practice makes perfect, since it is important to help you keep track of focus by mastering your topic or subject.
And More…
Other Details
- 12 Part Autoresponder Email Messages (TXT, DOC)
- Squeeze Page (HTML, PSD)
- Ecover (PSD, JPG)
- Affiliate Programs List
- File Size: 76,500 KB