Squeeze Page Preview: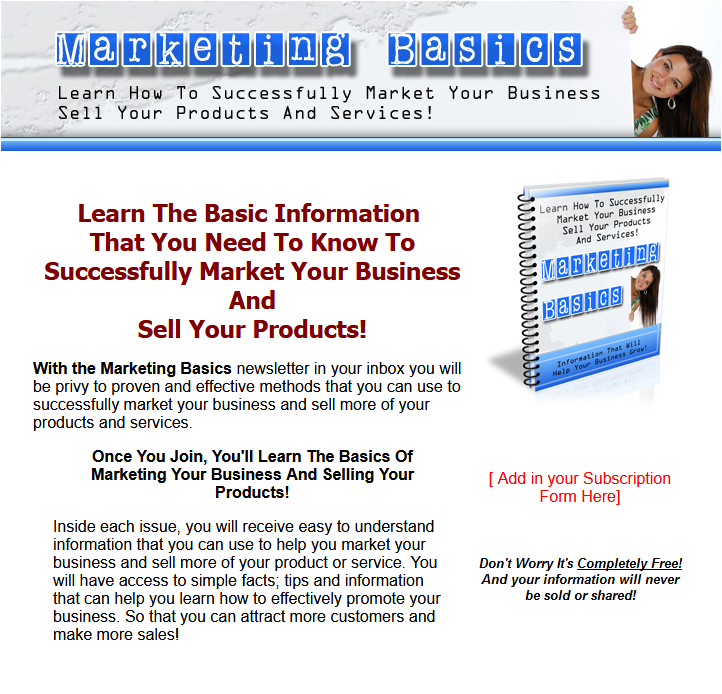 >>> Click Here To View Full Squeeze Page…
Features:
* 12 Issues Full Of Great Content
– Just add in your contact info and plug it in to your favorite auto responder. Each issue contains 500 words or more!
* One Ready To Go Squeeze Page
– Just add in your opt in form, upload to your server and your done!
* One Ready To Go Thank You Page
All ready to remind your subscribers to check their email and confirm their subscription. It even has built in revenue!
* 4 Researched Click Bank Products
These are top selling products on Click Bank that I've personally researched and chosen for each series.
* Extra Copy And Paste Article Content
You will get:
– Extra titles
– Extra opening paragraphs
– Extra closing paragraphs
– Extra fill in paragraphs
(these would make great tips that you add in to your follow ups system for more frequent contact with your readers)
Sample Content Preview
Hello "autoresponder code here",
In the last issue we talked about characteristics of an effective
online selling strategy. In this issue we are going to talk about
increasing profits by using promotional gifts.
Let's face it, gifts are loved by everyone. Gifts are a good way of
expressing appreciation and marketing gifts are given to
consumer's to say thanks to them and most of the customers are
more than happy to receive gifts from businesses they patronage.
These thank you gifts cannot only be presented to existing
customers and also to potential customers when they try out a new
product. This will entice them to purchase other products, which
will increase sales.
This practice can be made more effective by using it as marketing
and branding strategy, which helps in expanding business along
with earning customer loyalty. To make it marketing focused, a
large amount of planning should be put it in an attempt to not to
loose its essence.
Sending promotional gifts is a means of rewarding clients to
appreciate their kind cooperation through out the years; they will
make customers feel that they are highly valued. Flyers are
discarded the moment they are received, and are seldom read.
But when a person is presented with something that they can use,
there is a probability that they will not only appreciate it, but they
will also keep it for sometime, possibly for several years and
during the time they have it, they will remember your business.
This will work whether you are marketing online or off. For instance
when you are marketing online you can offer free downloads like
ebooks, reports, templates, software as well as printable gifts like
calendars, checklists or worksheets.
One of the tried and true methods is to print the name of the
company on the gift. This doesn't involve any strategy and can be
implemented even if there is lack of imagination.
Name and brand recognition can be established by getting the
logo of the company or information of the company printed on the
gift. This also helps build recognition among potential customers.
Also give the customers the gifts that last. The longer the gift
lasts the longer the customer will remember your company. Gifts
like pen, key chain, coffee mug, calendar, refrigerator magnets,
etc. which not only lasts forever but are something that is observed
and used many times a day. There are certain gifts, which can fit
the budget, promote marketing and at the same time serve the
purpose of gift.
Calendars are one of the most opted gifts by small companies as
promotional products. They aren't expensive and are used year
round. Following them are office supplies. Stationary tub,
embedded pens, sticky pads and diaries containing the logo of
the company are very good gift ideas too. Desktop accessories
are the next best things. Things like pen stands, paperweight are
hot giveaways.
For home gifts like fridge magnets, coffee mugs and thermo-flask
make ideal gifts. They, too, get noticed many times a day. The
good thing about them is they can be modeled in different colors,
shapes and styles and can be unique when compared to other's
promotional products. And hence, they are more like collectible
items. Innovation can increase the interest of the user in this
regard.
Key chains are also something which is carried everywhere and
they don't even cost too much. Usually people use the promotional
ones to store spare keys. T-shirts and cap are a bit expensive, but
are worth the investment. They are usually worn outside and
people around can easily sight the company's name and logo and
they function like a walking billboard.
Creativity is the key to selecting a right gift to market your and so
is the money. The more the money invested, the better the gift, but
the gift should be selected such that it earns maximum returns.
Make sure you look for your next issue soon. We will be talking
about effective relationship marketing.
"your name here"
"your email address"
"your URL here"
Sample Extra Titles
What You Don't Know About Marketing May Shock You
The Dirty Truth on Marketing
The Marketing Trap
The Low Down on Marketing Exposed
Dirty Facts About Marketing Revealed
The Undeniable Truth About Marketing That No One Is Telling You
What Everybody Else Does When It Comes To Marketing And What You Should Do Different
The Idiot's Guide To Marketing Explained
Unknown Facts About Marketing Revealed By The Experts
The Hidden Truth on Marketing Exposed
The Secret of Marketing That No One is Talking About
The Unexposed Secret of Marketing
The Marketing Diaries
Marketing – An Overview
The Ugly Side of Marketing
An Unbiased View of Marketing
What's Really Happening With Marketing
The Ultimate Guide To Marketing
5 Simple Facts About Marketing Explained
What To Do About Marketing Before It's Too Late
And More…
Sample Extra Paragraphs
Advertising is one of the most important components of any
marketing strategy and also the most expensive. Advertising
constitutes sending the message across the public about your
company, product or services. It also constitutes behind the
scenes work like the process involving formation of various
strategies and coming up with a right one to target the viewers.
————————————
In this type of marketing, affiliate management companies, in-
house affiliate managers and third party vendors are effectively
utilized to use E-mail Marketing, Search Engine Marketing, RRS
Capturing and Display Advertising for the success of the product.
The web traffic can be traced with the help of a third party or own
affiliate programs. A lot of work is involved in this process. At first
marketing by this method involved lots of spamming, false
advertising, trademark infringement, etc.
————————————
The strategy consists of planning things like placing ads, deciding
what media to use, what time, frequency etc. The advertisements
are generally placed via mediums like television, snail mail,
newspapers, internet, emails, radio, magazines, mobile
messaging, flyers, billboards etc. The most popular one is of
course television although advertising on internet is becoming
increasingly popular too.
————————————
There is a possibility of using pull and push message technologies
in conjunction like the email sent to a potential customer can have
a URL or a banner ad, which on clicking downloads information. If
there is enormous group of people to be reached via email, Email
service providers can be hired who sends loads of emails to the
customers on behalf of the marketer and they take measures so
that the messages are not considered as spam.
————————————
Once the corporate image is created, it should be retained. It
should not be like here today and gone tomorrow. This image
should be reflected in all the brands and product line of the
corporation. Even if one of the products isn't up to the mark, it will
lead to confusion among the consumers and will hit the sales of
the company.
And More…
Other Details
- 12 Part Autoresponder Email Messages (TXT, DOC)
- Squeeze Page (HTML, PSD)
- Ecover (PSD, JPG)
- Affiliate Programs List
- File Size: 13,900 KB