Squeeze Page Preview: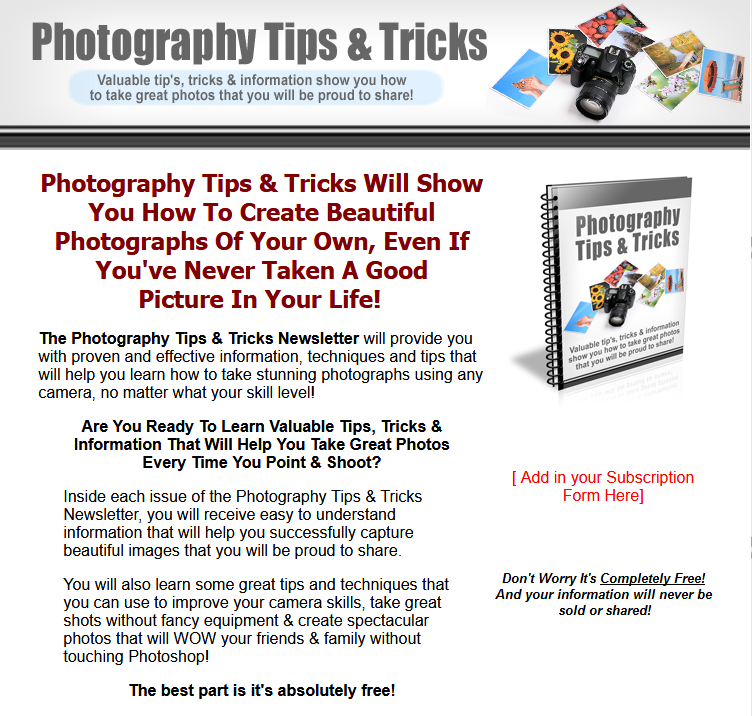 >>> Click Here To View Full Squeeze Page…
Features:
* 12 Issues Full Of Great Content
– Just add in your contact info and plug it in to your favorite auto responder. Each issue contains 500 words or more!
* One Ready To Go Squeeze Page
– Just add in your opt in form, upload to your server and your done!
* One Ready To Go Thank You Page
All ready to remind your subscribers to check their email and confirm their subscription. It even has built in revenue!
* 4 Researched Click Bank Products
These are top selling products on Click Bank that I've personally researched and chosen for each series.
* Extra Copy And Paste Article Content
You will get:
– Extra titles
– Extra opening paragraphs
– Extra closing paragraphs
– Extra fill in paragraphs
(these would make great tips that you add in to your follow ups system for more frequent contact with your readers)
Sample Content Preview
Hello "autoresponder code here",
In the last issue we talked about great still life photography techniques.
In this issue we are going to talk about taking a professional landscape
photograph.
Landscape photography is widely popular. I am sure if you look around
your home you will see at least two landscape prints that spoke to you.
Photography is an art that has a message. As a photographer you
have to find the message you want to portray. If you specialize in
landscape photography you might think your task is easy to complete.
As with any photography you have to pay attention to the details, the
lighting, shadows, subject, and the equipment.
Black and white landscape photography is the hardest section to attain
true artistry because you are not relying on the colors as much as the
lights and shadows the image will create. Composition is very
important. Composition in photography means to look for sharp edges,
tones and textures.
The basis of black and white photography is getting the camera to see
what your eye sees in color; to bring the highlights and shadows
forward with the angle of the picture. Typical subjects for black and
white photography are buildings and water. Water gives the
surrounding trees and rocks a contrast while drawing the eye.
Landscape can encompass buildings or bridges among other subjects.
Buildings lend to the angles and contrast you seek when trying for
definition and emotion.
When landscape photography is your subject in color you will need to
have contrast between the colors. If the sky is blue and you have blue
water below chances are the picture isn't going to have the contrast
you are hoping for. Like black and white photography you need to have
definition or composition in the shot. You will need to take a few
minutes to set up the shot and perhaps take several frames before
being satisfied. Color photography takes less skill than black and white
photography so if you have master the last you will succeed at the first.
Lighting for landscape photography is natural rather artificial. This is
important when setting up your shot. You will need to have filters for the
sunlight if it is a bright day, perhaps a tripod to set up the shot and a
professional grade camera to create professional prints. Studying your
subject from all angles is also important. You want to make sure you
are picking the best angle for the shot. Remember the message is
brought forth by the skill of the photographer.
You abilities should be honed and practiced. Digital photography
makes landscape photography easier because you can assess the
photo before you leave a site. Again the LCD screen isn't going to
show you every aspect of the print so you will want to take a few shots
of the same site to ensure a perfect picture.
Even being an amateur photographer you can gain professional
looking landscape photography. The best way to gain great
photographs is to practice with a subject. Going back to the same site
during different seasons can help you hone your skills and net you an
even better print the next time around. All photographers' start at the
same level, some may have innate skills and an eye for the photo, but
practice will lead to the best print. Landscape photography may not
require the skills of wildlife photography with panning the subject or
portraits where you have to enliven your subject; however, it does
require skills and practice.
Make sure you look for your next issue soon. We will be talking about
how to take great photos of babies.
Until then,
"your name here"
"your email address"
"your URL here"
Sample Extra Titles
The Bad Photography Trap
The Low Down on Great Photography Exposed
The Idiot's Guide To Great Photography Explained
Unknown Facts About Great Photography Revealed By The Experts
The Hidden Truth on Great Photography Exposed
The Secret of Great Photography That No One is Talking About
The Unexposed Secret of Great Photography
The Photography Diaries
Photography – An Overview
The Ultimate Guide To Great Photography
5 Simple Facts About Great Photography Explained
The Secret To Great Photography Revealed in 5 Simple Steps
The Ultimate Solution For Taking Great Photographs Today
The Truth About Great Photography
Find Out Who's Talking About Photography And Why You Should Be Concerned
5 Odd-Ball Tips on Great Photography
The Photography Chronicles
And More…
Sample Extra Paragraphs
Wedding photography is often seen around the home with the portraits.
The portraits of the bride holding her flowers, the wedding party posing,
and the groom and bride together. The traditional wedding
photography will include the hands with the shinning wedding bands
placed on a pillow or wrapped around the bride's waist. The
arrangement of the wedding couple is as important as the photograph.
The wedding photographer should be able to pose you while capturing
the light and background.
————————————
Every bride has that perfect romantic setting in their heart. If you can
discover that hidden treasure, you may be able to frame a special
wedding photo just to fit that dream. Perhaps she there is a public
gardens in the city that has a fountain that she has loved since she was
a child. If so you can make arrangements to have the wedding party
meet out there when the lighting is just right in full dress and get some
wedding photos that will be in her heart forever.
————————————
How do you know what subject you will shoot? This is where your
interests lie. If you wish only to take pictures of wildlife then you will
have to wait for the subject to come into view. Obviously you can go to
a wildlife park such as the Rocky Mountain National Park and hope to
find subjects. Most often it will depend on the time of year. Elk and
Deer are more prominent when they come down the mountains to mate
and eat. Birds will always be available, but the type of birds will vary. If
you are in Alaska chances are you will have several chances of
shooting a Bald Eagle, while in Florida you may find heron or cranes.
————————————
Aside from taking fingerprints, dusting the crime scene and bagging
evidence carefully to bring to the forensics lab and later the Court room,
Photos are an important part of every crime investigation and later as
evidence in Court.
————————————
Forensics Photography is a fantastic Tool to collect and catalog Data
as well. Sometimes a sweep of the surroundings with the Camera logs
in Images which would otherwise would have been overlooked or
forgotten. The Person in the third row of the onlookers. That broken
piece of glass in the shadow. Our busy Patrol Officer might have not
noticed it, but our Camera Lens has picked it up.
————————————
Digital photography can encompass the professional cameras with the
interchanging lenses, manual setting or it can be a simple point and
shoot camera. Whether you are looking for a professional grade
picture or something your friends will laugh over digital photography has
made taking photos easier. As I said before we can see the picture
before we ever print, and also a lot of digital cameras will allow you to
crop and save the photo before printing.
————————————
Never, ever disturb the crime scene. The first round of photos has to be
taken before anything has been touched, removed or altered. It is the
freeze frame of the Crime Scene. The closest you will come to having
been there during the crime. So make sure you plan the photo before
you take it. Later if you must small adjustments, like the adding of a
measuring tool to show distance is permissible, but not during the first
go over.
And More…
Other Details
- 12 Part Autoresponder Email Messages (TXT, DOC)
- Squeeze Page (HTML, PSD)
- Ecover (PSD, JPG)
- Affiliate Programs List
- File Size: 14,100 KB