Salespage Snapshot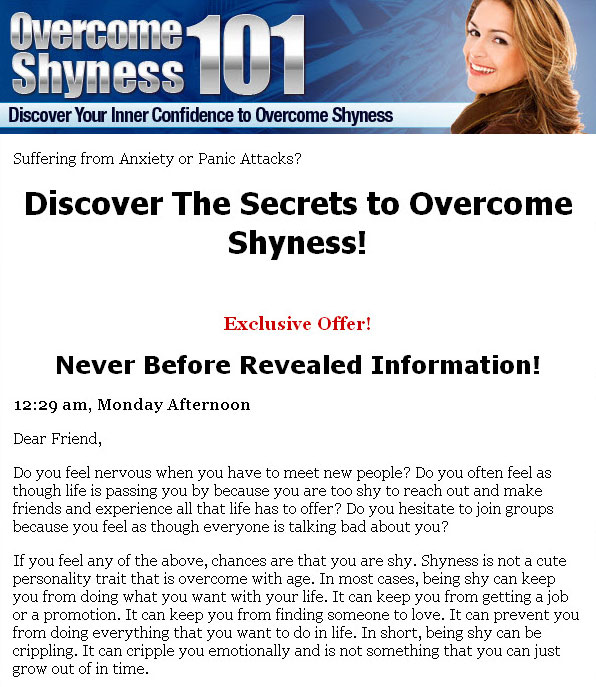 >> Click Here To View Sales Page...
PLR Ebook Table Of Contents
Chapter 1 – Why Are We Shy?    3
Chapter 2 – When Shyness Can Be A Problem    7
Chapter 3 – Discovering The Inner You    10
Chapter 4 – Shyness In Business    13
Chapter 5 – Shyness In Social Situations    17
Chapter 6 – Using The Internet To Overcome Shyness    19
Chapter 7 – Taking A Step Towards Joining Groups    22
Chapter 8 – Taking A Class On Public Speaking    23
Chapter 9 – Do You Need Counselling?    24
Chapter 10 – How To Remain Free From Being Shy    26
Ebook Sample Content Preview
Chapter 1 – Why Are We Shy?
When we think of someone being shy, we may think of a child who is hiding behind the leg of her mother because she fears strangers.  Shyness was once considered to be an asset for little girls as well as women because it was associated with modesty.  I can remember my daughter hiding behind my leg when she was a little girl and thinking that it was so cute.  I never saw shyness as an impediment and, like many other adults, found this type of behavior very "cute."
Shyness is not cute.  To the contrary, it can cause you all sorts of problems in life.  People who are shy are usually unable to express their feelings and have a much more difficult time when it comes to building relationships.  My daughter, for example, found it difficult to make friends as she got older and to talk to strangers at parties.  While people found her to be cute as a child as she hid behind my leg, they found her to be aloof and unfriendly as she blossomed into adulthood.
Before we can overcome shyness, we have to figure out why we are shy.  There is no easy answer to this question.  Some people appear to be born shy and have a hard time coming out of their shell to others.  Other people seem to be more outgoing.  I have done a bit of research into what makes someone shy and found that two things often figure into shyness – birth order as well as a lower self esteem.   It is also important to realize that shyness is not always so apparent.  Some people, in an effort to not seem so shy will go off in the opposite direction and appear to be very outgoing when they are struggling, on the inside, to overcome this affliction.  I can relate to this as I am one of those types of individuals.  Others often find me to be outgoing, but in reality, I get a sick feeling in my stomach when I have to meet new people or exert myself in social situations.
Other Details* Sales Page:
Included, HTML
* File Format:
MS Word Doc, PDF
* Number of Pages:
26
* Included Graphics:
Ecovers
* Download File Size:
633 KB