Salespage Snapshot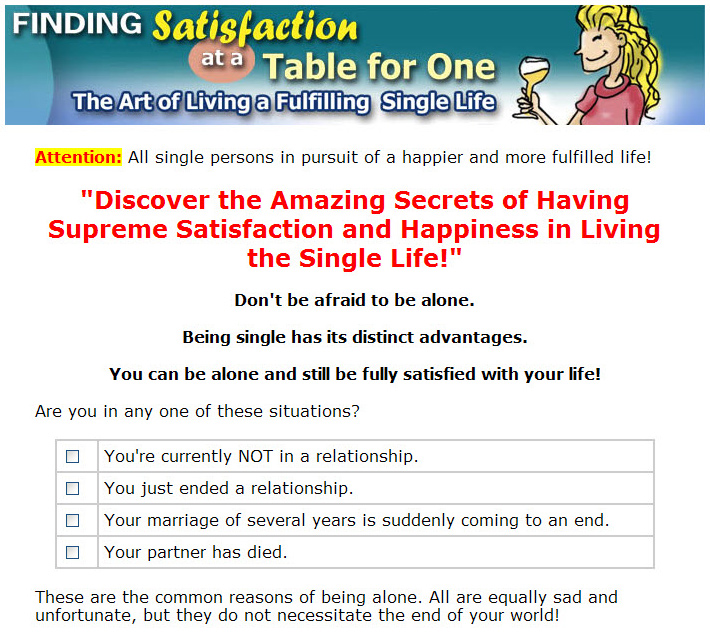 >> Click Here To View Sales Page...
PLR Ebook With Audio Table Of Contents
I. INTRODUCTION: What This Book Offers                     4
The Empowered Single
It Takes Two To Tango, But Only One To Live And Love Life
(On Improving Your Self Image)
II. CHAPTER ONE: GENERAL CONCEPTS ON SINGLEHOOD        9
Is There No Love Left In The World
Why Finding Love In The Modern Times Is A Challenge    Answering The Annoying Question: So Why Are You Single?
III. CHAPTER TWO: DEALING WITH EMOTIONS                16
Savoring Your Time With Yourself
Enjoying Time With Others
Responding To Negative Attitudes
Overcoming Loneliness And The Why Me's
Loneliness Survival Tips
IV. CHAPTER THREE: UPPING YOUR SOCIAL IQ                26
Socializing 101
Understanding Your Ambivalence To Meet People
Combating Your Uncertainties
V. CHAPTER FOUR: ROMANCE AND INTIMACY                34
Give And Take
Pointing Out Pseudo-Intimacies
Is It Love Or Infatuation?
People Who Can't Commit
Avoiding Commitmentphobics
VI. CHAPTER FIVE: THE ART OF FLYING SOLO                45
The Path To Self-Acceptance
Designing A New Attitude Toward Singlehood
Letting Go Of Wanting
VII. CONCLUSION                                    51
PLR Ebook With Audio Sample Content Preview
INTRODUCTION
What This Book Offers You
You are single in the world of mobile phones and the Internet. You may not realize it, but you actually have more power than you think you hold.
Think of it this way: back when the only entertainment that existed were the likes of the movie theater, the parks, or the nearest video and record store, the solo-flighter's dilemma was how to avoid being singled out in such family environments; where he/she is most likely to be asked the annoying question, "Hey, how come you don't have a girl/boyfriend?"
In these modern times, gone are the days when you have to sit through events watching partnered people smother the world with their "love" and "concern". With the introduction of broadband Internet access, cheap mobile phone rates, a plethora of coffee shops, over a hundred late-night bars and restaurants, and travel opportunities, singlehood has become the identity-to-be.
While your married friends are spending some couch time at home or frequenting amusement parks with their kids, you are out with friends, hopping from place to place, meeting new people and, ultimately, letting go of fears, laughing the night away and having a lot of fun.
Being single is not a curse, contrary to what most people think. In fact, there is so much room for mobility that you actually know better about the things around you, have more friends and are freer to further your development and know-how without having to factor a partner's whims.
The Empowered Single
Unlike the past, the single of today is empowered and knows what he or she is worth. And that there is no pressure to hook up with anybody that comes along, just for the sake of being with somebody.
The modern day single has the power to make better choices, engage in more fruitful activities and expand networks. Gone are the days when you just choke on your food and fall silent when people ask why you're still taking on the road alone. You can always say, "Because I want to" or "I'm busy enjoying life" and just leave them speechless.
This book is not meant to douse on the merits of being in a relationship and encourage singlehood. See, there really should be no comparison between the two statuses, because, well, they each have their advantages and disadvantages.
What should be realized here is that being single is not a curse. While society often dictates that a person is to be miserable for the rest of his or her life if the right partner does not come soon, there is also a lot to be gained by choosing to be single…
Other Details* Sales Page:
Included, HTML
* File Format:
MS Word Doc, PDF, MP3
* Number of Pages:
49
* Included Graphics:
Ecovers, PSD
* Extras:
Promotional Autoresponder Email Messages
* Extras:
Keywords
* Download File Size:
19,508 KB