Salespage Snapshot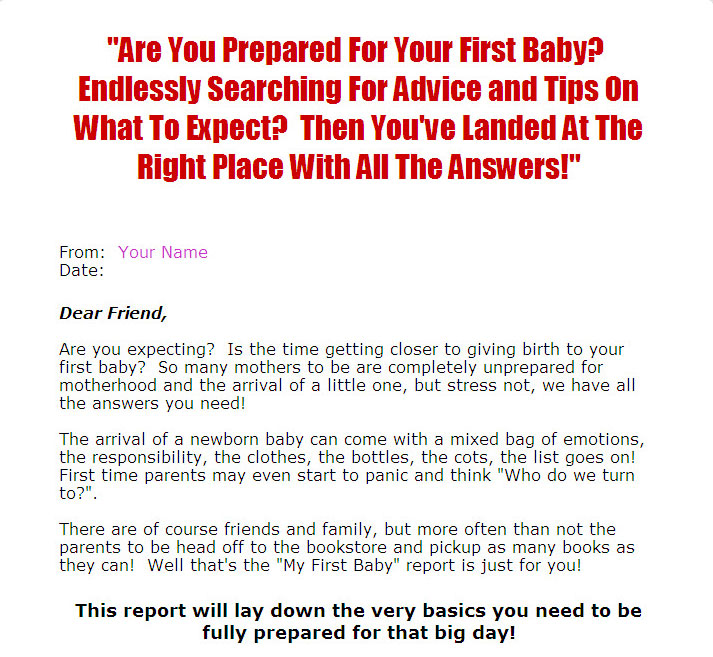 >> Click Here To View Sales Page...
Ebook Table Of Contents
Chapter 1 – Bonding Time With My First Baby
Chapter 2 – Communicating With My First Baby
Chapter 3 – Fashion Tips For My First Baby
Chapter 4 – How To Change My First Baby's Diaper
Chapter 5 – My First Baby Essentials
Chapter 6 – My First Baby Feeding Guide
Chapter 7 – My First Baby-Learning The Basics
Chapter 8 – My First Baby-Understanding The Crying Game
Chapter 9 – Nutritious Bites For My First Baby
Chapter 10 – The Joys And Angst Of Holding My First Baby
PLR Ebook Sample Content Preview
Bonding Time with My First Baby
Most parents hit it off with their little ones right away. The tremendous need to bond with a newborn is normally triggered by an intense emotion that makes a parent-particularly the mother-want to love and protect her young offspring. For some people, however, this may require a longer period especially after a complicated pregnancy or a strenuous labor.
Nonetheless, "my first baby" guidebooks usually reiterate the value of bonding time in spite of the preceding circumstances.
The Importance Of Bonding Time
Research suggests that babies who cultivate satisfying relations with their parents are likely to develop into well-adjusted and confident adults. Plus, they have also shown to do better in school.
In truth, the necessity of spending some quality time with your baby has an absolutely natural origin. It is actually an instinctive process-one that had been interwoven in the fabric of human nature.
Bonding Tips For Parents
If you wish to improve your relationship with your little one, you surely need to make an effort towards the fulfilment of your goal. First-time parents-such as yourself-would certainly consider the following bonding tips to be of use.
1) Use touch
One of the baby's earliest means of communication is through touch. So make the most of this by holding your little one closely. You may cradle him (or her) in your arms or make use of a sling as an alternative in case you need to carry out a few chores.
2) Breastfeed
Breastfeeding a baby will guarantee that he (or she) gets frequent close contact with his (or her) mom. This certainly helps foster an early connection between mother and child. Sadly, the task isn't always that easy. In order to resolve breastfeeding difficulties and other related issues, you may seek the advice of a health counsellor or simply talk to an experienced parent who can help you with your predicament.
Other Details* Sales Page:
Included, HTML
* File Format:
MS Word Doc, PDF
* Number of Pages:
22
* Included Graphics:
Ecovers
* Download File Size:
882 KB